Force India can target Red Bull and its third place in the Formula 1 constructors' championship once its introduced its upgrade for the Spanish Grand Prix, believes Bob Fernley.
Though Force India is currently fourth in the F1 standings and drivers Sergio Perez and Esteban Ocon have both finished in the points at all four races so far, those results have come despite the likes of Renault, Williams, Haas and Toro Rosso showing superior race pace.
Strong racecraft and strategy have helped Perez and Ocon achieve those results, but Force India's deputy team principal Fernley believes the aerodynamic upgrades due for Barcelona will mean it can beat its current rivals on raw pace and start to look ahead.
Asked by Autosport if Force India could now target Red Bull, Fernley replied: "If everything works to plan from Barcelona, that's where we can reassess it.
"We mustn't forget the other teams are not standing still either, so we need to just be cautious on that.
"The first objective is to make sure we can consolidate the fourth place, and deliver that.
"Then if we can from a performance point of view keep moving it through, it will be ideal.
"It's been quite a tremendous run for four races.
"Hopefully in Barcelona we can bolt on that missing performance and then we can go toe-to-toe with the others."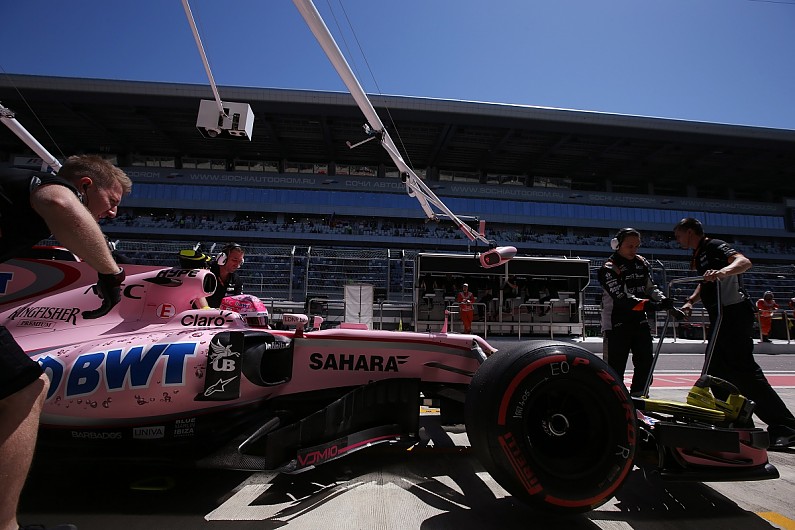 Fernley believes the way Force India has maximised its chances when on the back foot so far, plus how quickly Ocon has settled in after joining from Manor, bodes very well for the rest of 2017.
"Right from day one we set our stall out in Australia knowing we had a slight performance deficit, with a view to using racecraft, strategy and reliability to overcome that - and that's what we've done," he said.
"[Ocon] is doing a super job. He's still learning when it comes to the qualifying and going through the first part of the weekend.
"What is super is the maturity that he shows in the first part of the race.
"And that's been there from the start - he's a remarkable racer.
"From our point of view that's where we gain the points, and we can help him with the other bits.
"Sochi was the first weekend when he got into Q3, and he's been the in the points in four races.
"It doesn't get an awful lot better than that for a team where we are."
"I think by the time we get to Silverstone we will see both drivers absolutely pushing hard, and from our side it will be very exciting.
"If we can just get that performance deficit dealt with, I think it could be an incredibly exciting second half of the season."