Honda could receive consultancy assistance from Mercedes to solve its current problems with its Formula 1 programme.
McLaren's engine partner hoped it would get on top of its pre-season troubles during the opening races, but the run of woes it suffered during the Bahrain Grand Prix and subsequent test prompted a rethink.
Sources have revealed Honda has recently begun discussions with Mercedes about it potentially providing consultancy assistance to speed up work on Honda's F1 engine, which has suffered from poor reliability as well as being down on power.
Although it is understood specifics of the deal have yet to be signed off, it is believed the main focus could be on the electronic and hybrid area of the power unit.
Talk of Mercedes involvement comes against the backdrop of Honda ramping up its use of outside consultants in recent weeks.
Renowned engine firm Ilmor is understood to be involved.
Honda's F1 chief Yusuke Hasegawa has declined to confirm exactly who is involved in its plans, but said his company was doing whatever it took to improve its form.
"We have been doing everything we can do," he told Autosport.
"We are utilising every source from outside.
"From the beginning of March, we are almost changing our organisation [completely].
"I think it works better, but it was too late to modify our development [in time for the season].
"Of course it is not easy, because engine modifications take time, which is an issue.
"We have seen some good elements, but still the whole package is not ready."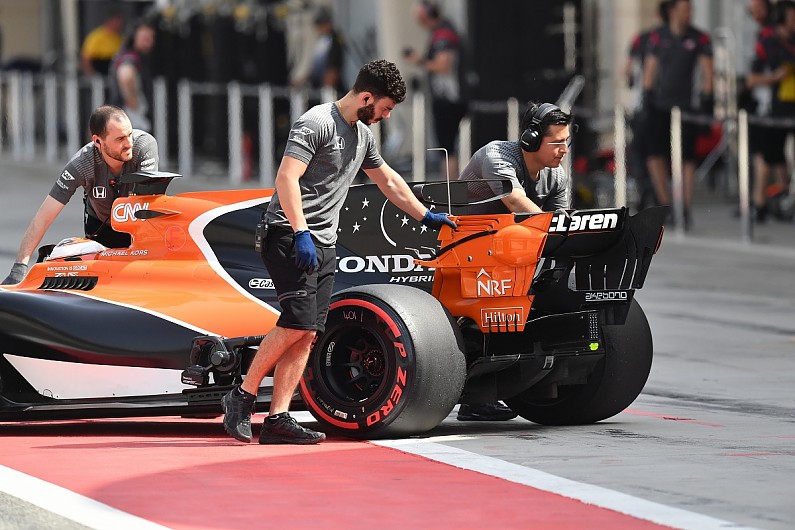 When asked specifically about Ilmor, Hasegawa replied: "We don't disclose any consultants or supplier, but we are using lots of outside resource."
Hasegawa also declined to elaborate on the Mercedes plan, but said that Honda had made use of experts who have worked previously with all current F1 manufacturers.
He joked that their insight had been valuable in helping Honda better understand what it was missing.
"Of course we have many people from Mercedes, Ferrari and Renault - so from that point of view we are 'spying' on their ideas," he said.
Mercedes declined to comment on the Honda link when contacted by Autosport.
Not all of Honda's rivals are happy with the idea of it getting Mercedes assistance, with suggestions Red Bull is against the plan.
Its argument is that a potential transfer of intellectual property rights on the engine front is as bad as teams using a rival's chassis.
But Mercedes and Honda do not necessarily need the approval of other teams to go ahead with the scheme, which could be put in place imminently if both parties can agree on the scope of co-operation.
The prospect of Honda receiving assistance or rules breaks to help it catch up is likely to be a talking point in Tuesday's F1 Strategy Group meeting, though it is understood it has not been formally put on the agenda.