The McLaren Formula 1 team has a bigger budget for 2017 despite the continuing lack of a title sponsor, executive director Zak Brown revealed at the launch of the MCL32.
While the new largely orange livery attracted plenty of attention as the car was unveiled on Friday, there was little evidence of commercial changes bar Castrol replacing Exxon Mobil as oil partner.
But Brown, who joined McLaren in December following Ron Dennis's departure, insists the team has all it needs to improve its performance thanks to further investment from controlling shareholders Bahrain Mumtalakat Holding Company and Mansour Ojjeh.
"Sheikh Mohamed and Mansour Ojjeh have increased our budget in areas, so we have everything we need," said Brown.
"Now we just need it to work and a little bit of time for it to come together."
While Brown was a successful and high-profile F1 sponsor gatherer before joining McLaren, he has remained cautious about attracting a title backer for his new team.
He is targeting 2018 to announce a new commercial partner.
"To get a sponsor takes about a year," Brown said. "No miracles were going to happen in 2017.
"Most companies, any big decisions they are making are taken by October, November, December at the latest.
"We were just getting started in December, so there was no way - or at least it was unlikely - that we were going to get anything significant.
"I've been focusing on restructuring our commercial department and to get some good buzz back in this place, which I think we are accomplishing.
"I think our team launch has been the most anticipated.
"The partners we currently have, I've visited all and they are very happy.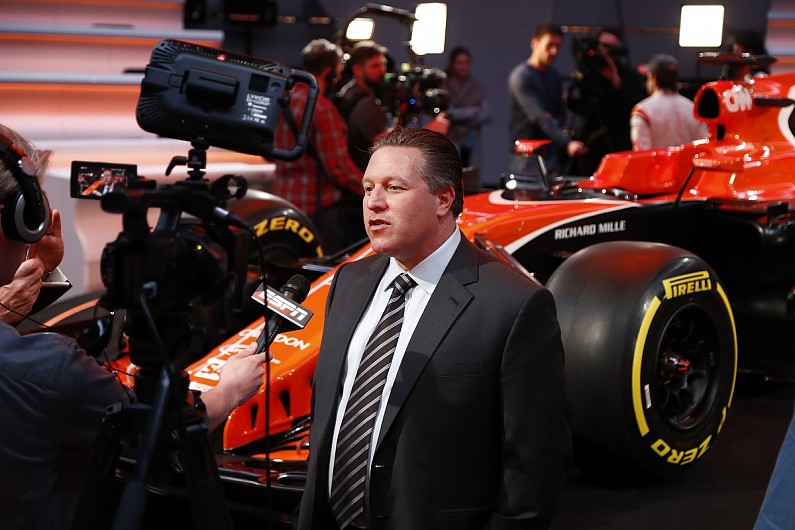 "2018 is when we need to deliver a title partner. I already feel that pressure because it takes a year.
"But I haven't seen any new sponsor announcements on any car, including on those that have won the championship for the past three years.
"I think that's an indication of the headwinds we've been facing in F1.
"With Liberty Media coming in we now have a great story about where the sport is going.
"McLaren is now a good story, and so is F1 - so there are positive times ahead."
McLaren racing director Eric Boullier echoed Brown's view of the team's resources.
"To be honest we're fine, it is not only the number of stickers on car, it is amount we get out of each sticker," he said.
"It is also the way you spend money.
"We all know the more money you get the more competitive you are.
"You can also say the more money you spend and the more cleverly you spend it, you can also be more competitive.
"We don't have the budget of Mercedes or Red Bull, but we have a good budget and we have enough resources to do well.
"I use the words lean and agile, this is how our organisation is moving and this is how we get to the front."