Esteban Gutierrez does not think the criteria Haas used to drop him for the 2017 Formula 1 season in favour of Kevin Magnussen was fair.
Gutierrez had been hopeful of staying with the American outfit for a second year, but on Friday Haas said Magnussen would partner Romain Grosjean next season.
Grosjean has scored all of Haas's 29 points this season and while Gutierrez has come close, finishing 11th five times, he has so far failed to add to that tally.
But the Mexican did suffer a string of mechanical issues early in the season, when Grosjean took advantage of the opportunity to score points, something that Gutierrez does not feel was taken into consideration.
When asked if he understood the decision, Gutierrez said: "No, I don't.
"There were a lot of situations which were not under my control.
"At the end of the day, I respect the decision because it's their team.
"But on the other hand, it's not a fair way in general because in the beginning of the season, it wasn't ideal for me to get a rhythm.
"As a new team, there were a lot of mechanical problems when the opportunity to score points was there.
"There were a lot of mistakes, yeah there were some mistakes on my side as well, but it was more on the team.
"I don't think that was evaluated in the right way.
"They just looked at the paper and then made a decision.
"I respect it but I don't necessarily agree with that."
Gutierrez said his priority is to "stay in F1" and that there was "around 70%" chance of him driving in F1 next year.
However, he said the role had to "make sense" in terms of providing a "plan for the future".
When asked if he would consider a reserve role, he said: "There are a few options there.
"Preferably, I want to drive. To keep driving is the most important thing."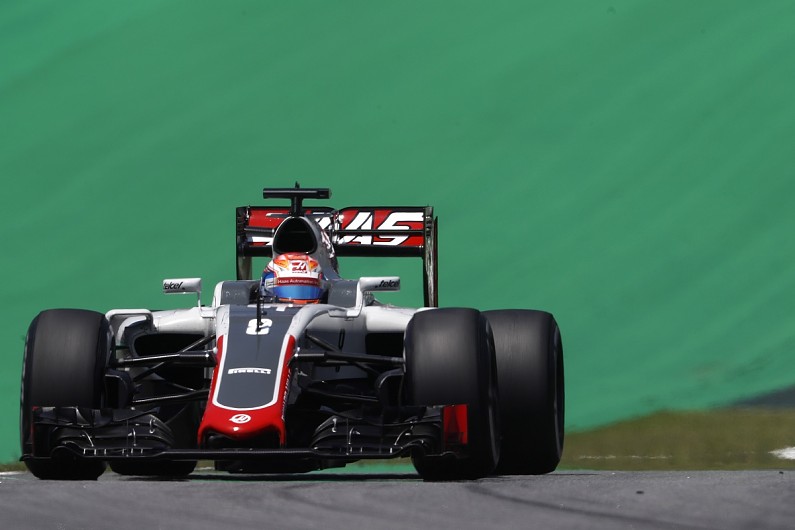 GROSJEAN NOW HAPPY WITH BRAKES
Gutierrez's Haas team-mate Romain Grosjean tested a new brake supplier in Friday practice for the Brazilian Grand Prix and was pleased with the change.
The Franco-Swiss did one run with Brembo brakes and then switched to Carbon Industrie for the remainder of Friday running.
"We tried the Carbon Industrie brakes which I quite liked," he said.
"What I like with the Carbon Industrie was the control of the braking at the end of the corner.
"Going in I can feel I control my car more.
"There are some downsides compared to Brembo, but that last part of the feeling was the main thing I was lacking and I was pretty happy with that."
Grosjean said he planned to run the Carbon Industrie brakes for the remainder of the weekend.