Renault team principal Fred Vasseur says the French team is recruiting "from top to bottom" in its efforts to return to competitiveness in Formula 1.
The French manufacturer is gradually expanding its Enstone base following its takeover of the former Lotus outfit last December, and has been seeking more quality personnel to add to the fold.
Former Ferrari and Lotus technical director James Allison is believed to have elected not to return to Enstone after leaving Maranello, but Vasseur told Autosport that plenty of other new people have joined since the beginning of the season.
"We have recruited a lot, so far something like 85 people since the beginning of the season, and we are increasing the size of the building," Vasseur said.
"You can't decide 'OK I take 100 people more, they will come tomorrow, and I will have the facility'.
"You can't jump from 400 people to 800 people in one week - you have to do it step by step.
"It makes no sense also to recruit just because you want to make numbers. It would be a mistake.

Why Renault doesn't have to panic yet
"We have to reinforce the team position by position - as soon as we have the feeling we have a weakness.
"I can't give you names, because it's unfair, but we will reinforce the team.
"From the bottom to the top we are recruiting some key people.
"They will join the team in the next few weeks and months."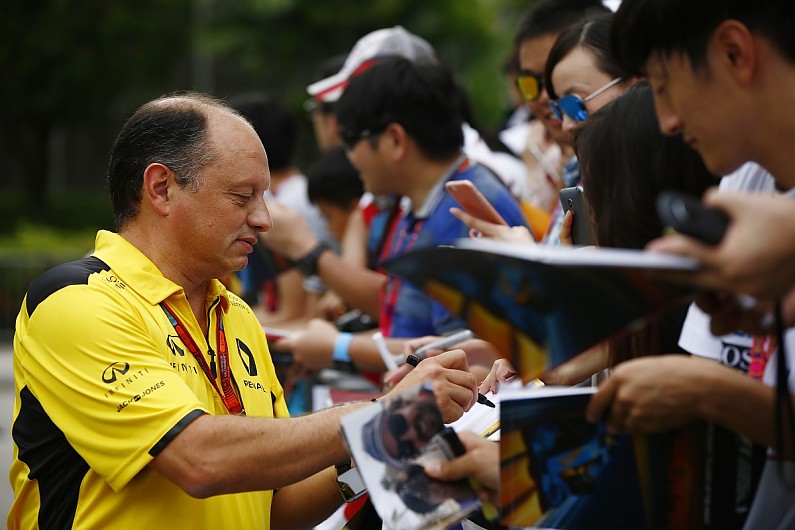 Vasseur said Enstone's personnel expansion had to be managed carefully and gradually, to avoid overloading the nascent infrastructure.
He said Renault's new multi-million-pound building project would be completed before the end of next season.
"When you reinforce the design office you have to [also] reinforce the production, the windtunnel etc," Vasseur added.
"It makes no sense to have 20 guys in the windtunnel if you have nobody to design the parts.
"You have to do it step by step.
"For me it's not a matter of numbers, we need to attract the good guys.
"You will see over the next weeks that we are doing the job."