Sebastian Vettel says there is nothing to sort out with Maurizio Arrivabene after the Ferrari boss said the German has to earn his place at the team beyond next season.
Vettel's has taken one podium since Baku in June has scored just 57 points compared to 79 by team-mate Kimi Raikkonen in the same period.
Speaking to Sky Sports Italia, Arrivabene said: "Sebastian has a contract [until the end of 2017]. We work together this year and next year.
"Then during next year we'll see.
"Each of us has goals so it is only right that anyone, no matter who it is, earns their place and their salary."
When asked by Autosport to respond to the comments, Vettel said: "I haven't [heard what he said] but generally I enjoy a very straightforward and honest relationship with him.
"If there is something I don't like, I tell him and equally the other way round.
"I know there is nothing between us, nothing we need to sort out.
"Both of our focus is on trying to achieve the same thing, we're trying to win races, get stronger, especially in the future and that is where the main focus goes."
Vettel would likely have been ahead of Raikkonen in the championship standings had he not encountered a series of technical problems at the start of the season.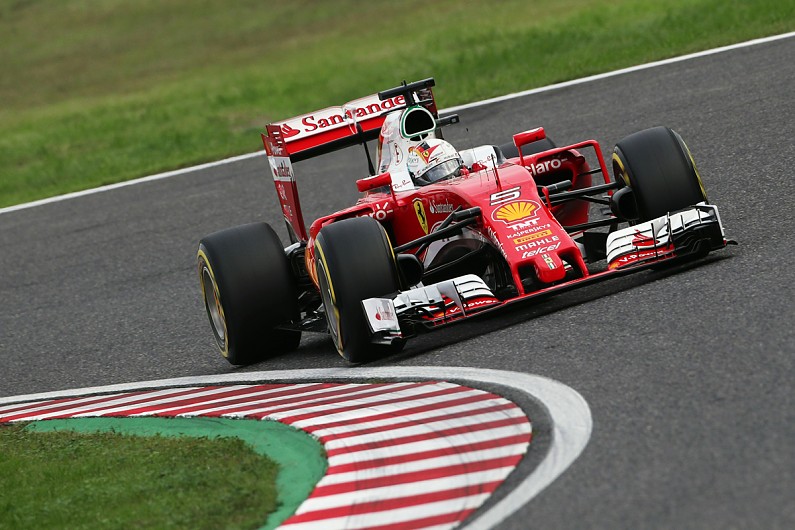 But since Raikkonen signed a new deal in July, the Finn has upped his game and Vettel has struggled to respond.
At the last race in Malaysia, he crashed into Nico Rosberg at the first corner, earning him a three-place grid penalty for this weekend's Japanese Grand Prix.
Vettel admitted he has been disappointed with his form this season but he remains highly motivated to turn things around.
"As much as the team wants to perform, I want to perform," he said after being fractionally outpaced by Raikkonen in qualifying at Suzuka.
"I've had other races where I didn't do so, I wasn't happy with myself because there was more on the table.
"It's been an up-and-down year.
"The results we have were not always fair and rewarding, given the pace we showed on different weekends but sometimes it's like this.
"The main focus now is not looking at that too much, to try and make progress to the end of this year.
"We carry everything we learn this year into next year, even though the rules are changing.
"There are still a lot of things we learn about this year's car which will help us."