Nico Rosberg said the Formula 1 halo did not "disturb" him at all as he set the Belgian Grand Prix opening practice pace while carrying the device on his Mercedes.
Rosberg became the first driver to do more than an installation lap with the halo when he used it for two runs at Spa on Friday morning and set the session's benchmark lap in the process.
"It was good to try it and they've done a great job with it because it doesn't disturb me at all when I'm driving, it just increases the safety a lot," said Rosberg.
"I know it's not nice visually, looking from outside it doesn't make the cars prettier of course.
"But it's such a big step in safety and I think it's a good thing."
He said if anything the structure could have been closer to the driver's head.
"You don't even notice the top part," Rosberg said. "They could even come down with that."
Four drivers tried the halo for the first time at Spa, with Red Bull's Daniel Ricciardo, Force India's Nico Hulkenberg and Toro Rosso's Carlos Sainz Jr completing installation laps with it.
Autosport understands teams are currently making their own halo moulds to the required shape to conduct visibility tests, but that the prototypes being run are not full-strength versions.
Sainz echoed Rosberg's view that it had no negative implications.
"My biggest concern was visibility. Visibility is not a problem," he said.
"Through Eau Rouge, you don't have to go like this [ducks] to see where the corner goes.
"Obviously when you leave the box you have this thing in the middle which disturbs you a bit but at the end of the lap you don't even notice it's there anymore.
"The eyes get used to it, they get used to looking across it. That's why we have two eyes!"
But he did feel the current iteration of the device creates access difficulties.
"Probably the biggest concern and margin for improvement is that getting in and out of the car is quite tricky at the moment," Sainz added.
"I defend the halo a lot and I am a big supporter of it because it can save lives, but if there is something to be improved we need to say it.
"At the moment extraction is not easy."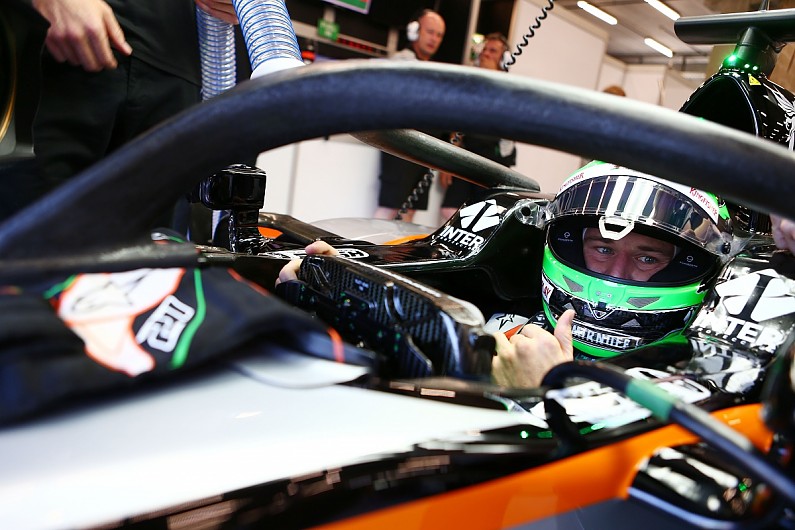 Hulkenberg was one of the leading sceptics when the halo was first unveiled, and he remained equivocal about its merits after trying it.
"It felt weird," he said. "To have something there which limits you, it was a new experience.
"The visibility was not too bad. But also I only did an installation lap."