Christian Horner believes Red Bull engine supplier Renault has helped his team halve the gap to Mercedes in Formula 1 this season.
After winning three grands prix in 2014, Red Bull's championship challenge failed to materialise in 2015, resulting in a major fallout between the team and engine manufacturer, and a near split.
After being reunited with Renault for this season, and rebranding its power units as TAG Heuer, Red Bull has moved past Ferrari to become Mercedes' nearest rival.
"The most significant area is on the engine, and credit where's credit's due," Horner told Autosport.
"The guys [at Renault], with the restructuring they put into place at the back end of last year, the philosophy changes made, the developments brought in, the engine has clearly made a step forward.
"We've probably halved the gap to Mercedes, and there seems to be a real direction, and good leadership technically at Viry.
"We've made progress on the chassis, and of course these things have to work in combination, but the biggest element I would say is the step forward in the engine."
Renault plans to hold fire on its next major upgrade until the start of next season.
After finding a laptime gain of half a second for this year, Horner is hoping Renault can do something similar ahead of the 2017 campaign.
"The engine we had this year was delivered absolutely on target to what was projected pre-season," added Horner.
"So if they can do the same again, then hopefully we should really reduce that gap significantly to at least this year's Mercedes - and who knows what they have in the pipeline for next year - but it should be another good step."
BEATING FERRARI 'UNBELIEVABLE'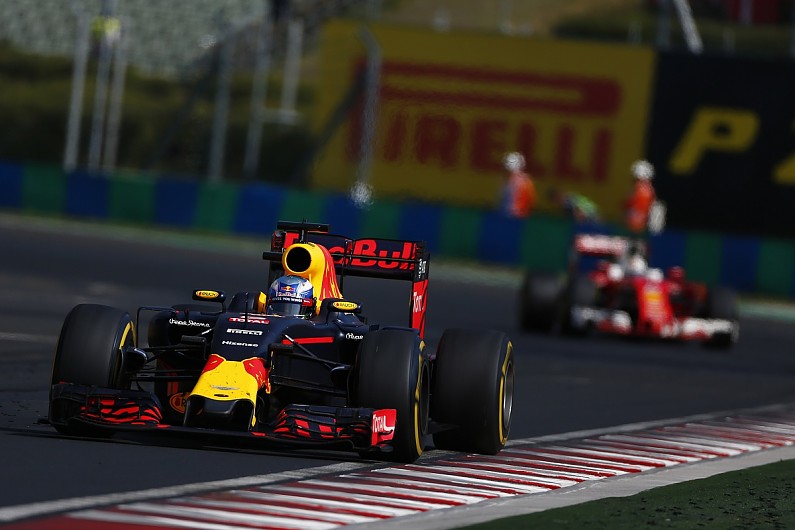 With Red Bull having edged ahead of Ferrari in the constructors' championship this year, Horner is now looking for a strong finish to the season to build into next year.
"We could never have imagined in a million years what we have achieved in the first half of the year, it's been very positive," said Horner.
"It's great motivation for everybody to have got back on the right trajectory.
"You can feel in the factory there's a real buzz around this.
"Our feeling is we should get stronger in the second half of the year and hopefully we can put up a good fight with Ferrari as we head to the end of the championship.
"If we can build on what we've achieved in the first half, and if we could beat Ferrari to second place in the constructors', that would be an unbelievable result."
Autosport has produced a standalone special magazine to celebrate our 70th birthday. All current print subscribers will receive a copy for free. To order your copy of the 196-page Autosport 70th Anniversary issue, please go to: autosport.com/autosport70th