Daniil Kvyat labelled the Red Bull Ring kerbs "stupid" following the suspension failure that caused him to crash in Austrian Grand Prix Formula 1 qualifying.
The Toro Rosso driver crashed in Q1 after his suspension failed between the final two corners when he ran over the raised yellow kerbing that is designed to prevent drivers abusing track limits.
Championship leader Nico Rosberg had a similar crash running over a smaller kerb at Turn 2 in final practice, while Sergio Perez had to park his Force India with a suspension breakage in Q1.
"They should take them off," Kvyat said. "They've done a mistake, they have to admit that it's stupid.
"Last year we had Astroturf at that corner, which is completely fine - you lose time.
"Now if you go on the kerb you continue because you don't lose time, but the suspension fails."
Though drivers did not raise strong objections to the kerbing in Friday's briefing with race director Charlie Whiting, Kvyat argued "today the consequences are stronger".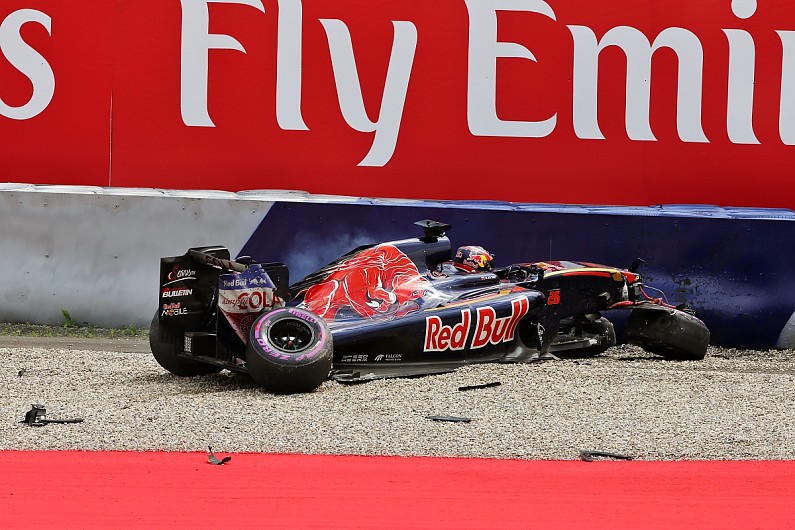 Polesitter Lewis Hamilton added: "I can't speak on behalf of all the drivers but from me looking at it, those yellow kerbs are quite dangerous.
"We've now seen a couple of incidents already.
"I don't know how many more of those it is going to take before a car ends up in the wall and perhaps someone gets hurt.
"I'm sure it is something Charlie and the FIA are looking at."
Max Verstappen criticised the kerbs after his own incident during practice one and now felt vindicated after failing to get fellow drivers' backing on Friday.
"All the drivers were very happy with the kerbs, so maybe now they're not so happy," he said.
"You could clearly see what happened today and I experienced it yesterday."
But his Red Bull team-mate Daniel Ricciardo remained in favour of the kerbing.
"I'm honestly treating it like a wall," he said. "I know if I hit it then I'm going to damage my car.
"Us drivers complain that you can run off and not pay a price and this weekend we're paying a price.
"It's not like we can't see them, they're high enough and bright.
"It's a good compromise to keep us on the track limits."
Rosberg declined to criticise the kerbs despite his crash.
"Stay off them," he replied when asked for his view.
"I even stayed off them in qualifying most of the time apart from when it really counted."
Sebastian Vettel echoed Rosberg's view, although he believes changes should be made for next year.
"First off, don't go there," said Vettel. "We've seen something go wrong.
"We need to find a solution for next year that works a little bit better, but for now there's not anything we could do."