Sir Martin Sorrell is a name likely unknown even to the most passionate Formula 1 fan, yet the 71-year-old is a highly-influential member of the F1 board alongside Bernie Ecclestone and Donald Mackenzie.
Sorrell may be below the radar to many, but given his list of accomplishments in the business world, when he speaks - which is rare, particularly when it comes to F1 matters - it is wise to listen.
So when Sorrell gave an interview to Formula1.com this week, many of his remarks were eye-opening as they offered an insight into where the future of F1 lies, and it would be a surprise if his thoughts did not come to fruition.
Over time we have naturally become weathered to Ecclestone's pronouncements - if they come true, fine, if not, 'ah well, it was Bernie being Bernie'.
Sorrell, the CEO of WPP, a global leader in communications and advertising, is a different animal altogether, and it is fair to assume, in this instance, his vision has gravitas.
For a start, Sorrell identifies F1 as being "entertainment" that "competes with other entertainments and not with other racing formats. It competes with people's time on a weekend. So you have to deliver."
That may not be particularly revelatory in itself because it has long been debated where F1 draws the line between been being a sport, entertainment and a business.
But it is where F1 is heading on and off track that makes compelling reading in a bid to sell itself as the entertainment described by Sorrell.
F1 is regarded as the most technologically advanced form of motorsport on the planet, yet seen as somewhat backward when it comes to adapting itself to the modern media world.
Sorrell sees the introduction of virtual reality potentially shaking up F1's world, describing the technology as "already incredible" and that "will improve massively in the next few years".
While Sorrell can understand Ecclestone's business model of wanting flat fees for broadcasting rights from one organisation, such as Sky, he suggests that "is not necessarily the answer in the long run".
Instead, Sorrell has called for out-of-the-box thinking when it comes to further maximising profits, claiming "a lot of people in Formula 1 are starting to understand this".
Hence Sorrell's vision of F1 in 2025-26 that he claims "will be very different, as the technology will be very different, and that will make fans consume it in a completely different way.
"I believe virtual reality will hit it big time. I know some of my colleagues disagree, but I believe in it.
"Vodafone is building a digital stadium in Istanbul. It is really worth going to see that. The whole experience will change with the possibilities viewers will have.
"Technology will have moved on to an unimaginable level in 10 years."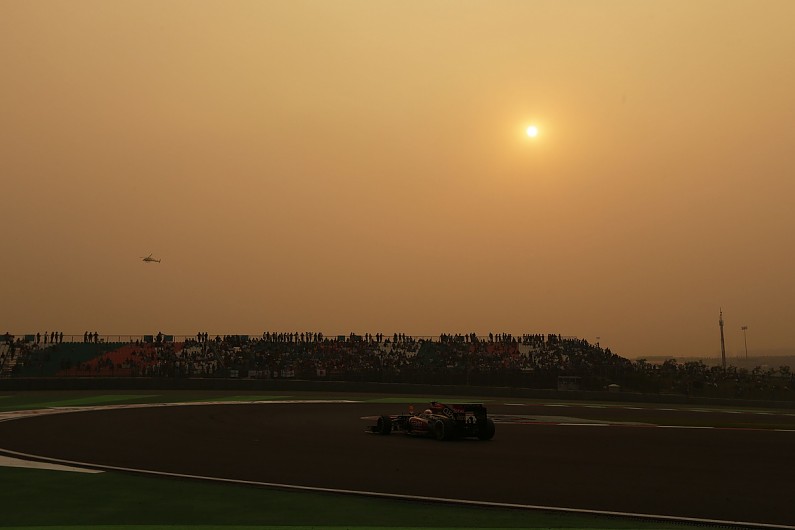 THE FUTURE OF THE F1 CALENDAR
F1's ageing European heartland is dwindling, but if the championship is to flourish it has to mine the likes of "Asia, Latin America, Africa and the Middle East", according to Sorrell.
Press him on where and he highlights some interesting countries, adding: "Why not look at Indonesia? It will be the third biggest country in the world in population in 25 years' time - after India and China.
"Then you could think about Vietnam and at some point in time about Nigeria.
"And then you head to South America: Argentina, Columbia, Peru. Probably not all of them will have an F1 race, but they are definitely considering events."
Explaining why Europe is fading, Sorrell said: "The challenges some European economies have are such that it makes it very difficult for them.
"You have to go where the growth is. That goes for my business, as it does for Formula 1.
"When I think back to 2005, the fast-growth markets were probably 10% of our business. They are now 31%."
While Sorrell may have crossed swords with Ecclestone in the past, once claiming the 85-year-old was "totally out of touch with reality", and "any other CEO in any other business would be gone" following his admiring remarks on Adolf Hitler, he can still appreciate the "very entrepreneurial" side to the man.
Sorrell cites Ecclestone as being "unique", "impossible to replace", "still at the top of his game", adding therefore that any replacement "has to be different".
That is not buttering up to Ecclestone in any way because he recognises change is needed for F1 to survive as he declares it to be "too tactical and not strategic enough".
Concluding, Sorrell said: "And that brings us back to the digital issue: you may have to invest in order to gain - sacrifice some short-term effects in order to make high returns in the future."
For the sake of dragging F1 into the digital era, Ecclestone would be wise to listen to Sorrell.