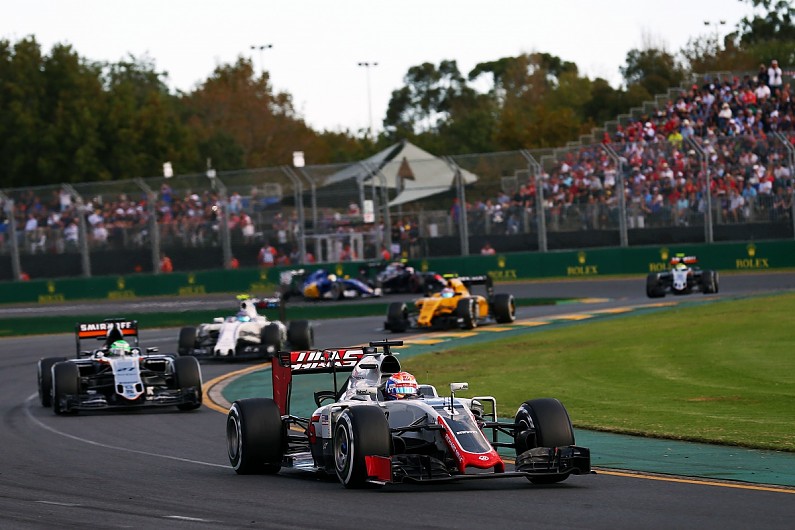 Haas team principal Gunther Steiner believes the Formula 1 newcomer surpassed expectations by scoring points on its debut in the Australian Grand Prix.
While Esteban Gutierrez was involved in a frightening crash with Fernando Alonso, the subsequent red flag played its part in helping the other Haas car of Romain Grosjean to finish sixth.
Grosjean made his only tyre change of the race during the stoppage, with the Frenchman running from lap 19 through to the end on a set of medium compound Pirellis.
Come the chequered flag, with Haas becoming the first team to claim points on its debut since Toyota in 2002, Grosjean proclaimed over the radio that "sixth feels like a win".
Steiner said: "You aim high and you want points, but after qualifying [19th and 20th] we didn't expect to finish sixth.
"A deserved sixth, on merit, because the speed is there, it is pretty cool. This is beyond our expectations."
"Being competitive with the other cars - that is more satisfying than taking points.
"We were there and we could do the same times as a Force India, which isn't bad."
Steiner concedes the red flag was fortunate in some respects for his team, but he feels it made up for misfortune suffered earlier in the weekend.
"Some you win, some you lose," he said. "Yesterday we lost, today we won.
"The secret to today is with the red flag we had the right reaction.
"We didn't do a [live] pitstop, maybe that was lucky.
"It at least gives us a little more time to practice before we do a real one."
Grosjean also feels the team surpassed its objectives, particularly as he thought the best result possible would be just scraping into the points.
"We were not expecting such a good result," said Grosjean.
"It's been great for the team, great for everyone.
"P6 is amazing. I did not even know we finished there.
"It feels like a win for all of us. Everyone has done a top job. We did 100 per cent of what we could do.
"We don't have the best car, we're not standing on the top step, but we've done the best we could have done.
"The morale boost we will get from this top result will help everyone get more confidence."