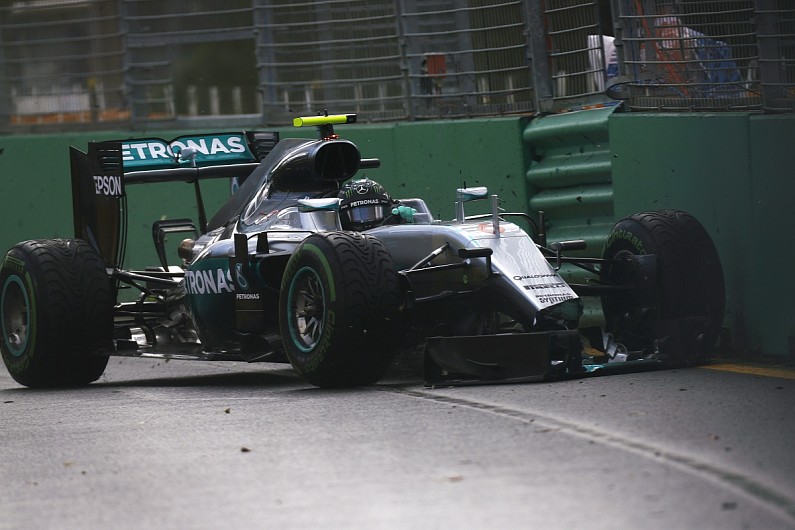 Nico Rosberg has conceded he simply "got it wrong" after starting the new Formula 1 season with a crash into a wall in Australian Grand Prix Friday practice.
On a rain-hit opening day in Melbourne, Rosberg's Mercedes aquaplaned out of Turn 6 and straight into a concrete barrier early in the wet second session.
The impact wrecked the new-for-2016 front wing on the W07 Hybrid, and resulted in Rosberg watching the remainder of practice from the garage.
Suggested to Rosberg he was brave for venturing out into the conditions, he replied: "I was not really brave.
"The conditions were OK, on the edge, but they were fine.
"I just accelerated too much, I got it wrong and damaged the car.
"It's not good the car was damaged, far from ideal, so unfortunately the boys will have some extra work to do tonight.
"My apologies go to them and a big thank you for their hard work."
The team has since replaced the wing, along with the left-front corner of the car - which executive technical director Paddy Lowe claims has been done "as a precaution".
The upside for Rosberg is the conditions did not improve enough for anyone to attempt a soft-tyre timed lap.
"It was good for me in the end the track didn't dry out as I didn't lose any dry running as a result," added Rosberg.
"Tomorrow is going to be a big day, though. We get to practice for qualifying and the race in the morning, straight into qualifying in the afternoon, first time on the super-softs.
"Add all that together and there's going to be a lot going on."
The suggestion is Mercedes sandbagged in testing and will likely blitz the new-style elimination qualifying to such an extent it could put in a hot lap at the start of Q3 and not venture out again to save a set of tyres.
Rosberg dismissed that possibility.
"That would be over-confident. We don't plan to do that," he said.
"With the changes we need to adapt, do things differently, so we'll have to wait and see what happens tomorrow."
Team-mate and reigning champion Lewis Hamilton topped both sessions, with his lap late in practice one of 1m29.725s the best of the day.
Hamilton knows the conditions were not representative of what is to come over the weekend.
"Topping the times doesn't really mean anything, but I'm happy with how the session went considering there wasn't a lot of running," said Hamilton.
"I got all my procedures done, a lot of tick-offs, so it was a positive short-run session.
"But I just hope the weather is better tomorrow, and I've not driven the super-softs, so I'm looking forward to that."