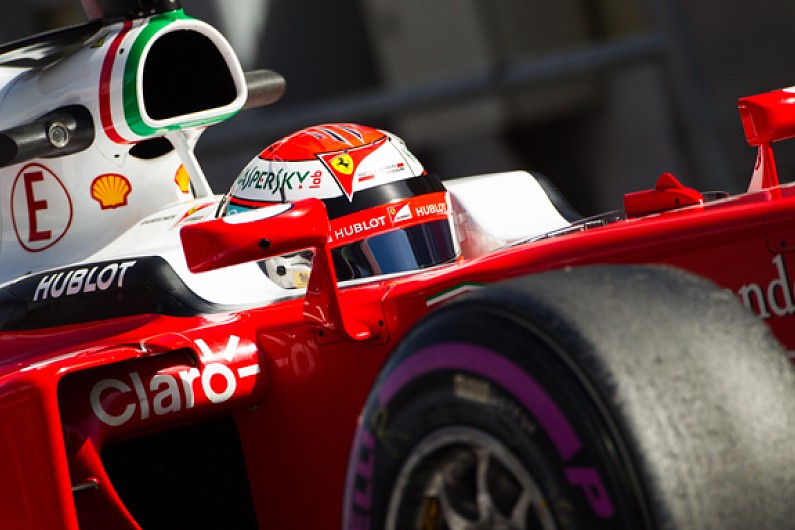 Ferrari stepped up its preparations for the new Formula 1 season as Kimi Raikkonen set the fastest lap seen in testing so far and completed a race simulation on Thursday.
After starting his day with a trial run of the FIA's halo cockpit protection system the governing body hopes will be on all F1 cars in 2017, Raikkonen went on to set the pace on the third morning of the second test.
Using Pirelli's ultra-soft tyre, Raikkonen set a time of 1m22.765s, 0.045 seconds quicker than team-mate Sebastian Vettel's benchmark from day two of test one, which was also set on the new-for-2016 rubber.
Come the afternoon, the Finn put the SF16-H through its paces with a 66-lap Spanish Grand Prix run around Barcelona's Catalunya track.
Raikkonen's laptimes fared well against the simulations of Mercedes duo Lewis Hamilton on Monday and Nico Rosberg on Tuesday.
The run was put on hold for a short period as Romain Grosjean brought out the red flags for a second time with an excursion across the gravel, as he had done at the very end of the morning session.
The Frenchman made it a hat-trick late on to bring the day to an end six minutes earlier than scheduled.
Although Raikkonen finished comfortably quickest, Williams's Felipe Massa was only 0.428s adrift with an early afternoon run on soft tyres.
Massa managed to get ahead of two other drivers on ultra-softs in Force India's Nico Hulkenberg and Max Verstappen in the Toro Rosso, the former just under half a second down, and the latter just over 0.6s adrift.
Verstappen finished with the highest lap count of the day on 159, more than the two Mercedes drivers combined after Rosberg had run in the morning and Hamilton in the afternoon, the duo clocking up 144 laps between them.
Rosberg opted for a different run programme for his stint, working from a baseline with his car in order to focus on different set-ups.
It resulted in Rosberg completing 81 laps, the highest tally in the morning, before Hamilton took over.
Rosberg finished up fifth quickest, 1.3s down, with Hamilton down in 11th, 3.7s off the pace. Both set their times on mediums.
In between the Mercedes, Sauber's Felipe Nasr finished two seconds off the pace on soft tyres, with McLaren's Fernando Alonso in close attendance on super-softs.
Alonso also conducted a heavy-fuel race simulation of his own, and even had a blast on the ultra-softs in a productive afternoon.
Pascal Wehrlein posted Manor's best lap of testing to date, using ultra-softs, to finish 2.148s behind Raikkonen, with Red Bull's Daniil Kvyat ninth on softs, and a further two tenths of a second down.
Jolyon Palmer finally managed to get in some meaningful running in his Renault in the afternoon, after only completing 26 laps in the morning to add to the 79 over two days last week when he encountered a range of issues.
A late run on softs elevated Palmer over Hamilton to 10th, with the best of his 98 laps being a 1m26.224s.
Grosjean brought up the rear in his Haas, and despite his trio of red flags, still managed 78 laps after the American team finally overcame the turbo problems that had plagued it since Tuesday afternoon.
THURSDAY TIMES:
| Pos | Driver | Car | Time | Gap | Laps |
| --- | --- | --- | --- | --- | --- |
| 1 | Kimi Raikkonen | Ferrari | 1m22.765s | - | 136 |
| 2 | Felipe Massa | Williams/Mercedes | 1m23.193s | 0.428s | 119 |
| 3 | Nico Hulkenberg | Force India/Mercedes | 1m23.251s | 0.486s | 137 |
| 4 | Max Verstappen | Toro Rosso/Ferrari | 1m23.382s | 0.617s | 159 |
| 5 | Nico Rosberg | Mercedes | 1m24.126s | 1.361s | 81 |
| 6 | Felipe Nasr | Sauber/Ferrari | 1m24.760s | 1.995s | 116 |
| 7 | Fernando Alonso | McLaren/Honda | 1m24.870s | 2.105s | 118 |
| 8 | Pascal Wehrlein | Manor/Mercedes | 1m24.913s | 2.148s | 48 |
| 9 | Daniil Kvyat | Red Bull/Renault | 1m25.141s | 2.376s | 121 |
| 10 | Jolyon Palmer | Renault | 1m26.224s | 3.459s | 98 |
| 11 | Lewis Hamilton | Mercedes | 1m26.488s | 3.723s | 63 |
| 12 | Romain Grosjean | Haas/Ferrari | 1m27.196s | 4.431s | 78 |