Mercedes has unveiled a revamped nose as drivers Lewis Hamilton and Nico Rosberg say the team has to keep innovating with new ideas to stay ahead of its rivals in Formula 1.
The team brought a new floor design to Barcelona for the second day of F1 testing, with a new nose arriving at the circuit on Wednesday.

Follow Barcelona F1 testing live
Dubbed 'Bruce' by the team, the shallow nose appeared first thing on Thursday morning with Hamilton behind the wheel, also sporting an S-duct near the top and new turning vanes.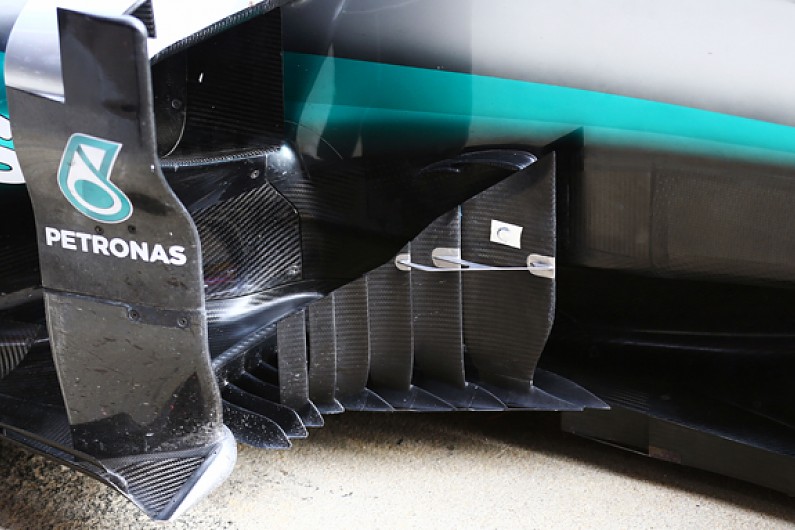 CRAIG SCARBOROUGH's analysis: How innovative is the new nose?
Mercedes' technical chief Paddy Lowe has promised "lots of new parts on a daily basis all the way up to the first race" for the team's new W07.
Rosberg said: "It's important to be innovative, to be one step ahead of the others.
"It's easy to copy afterwards. When they see things on our car, they'll take them and they will go faster, so we always try to be a step ahead.
"If we want to do better, we have to keep inventing, and that's what's really cool to see because it shows the quality of the team at the moment."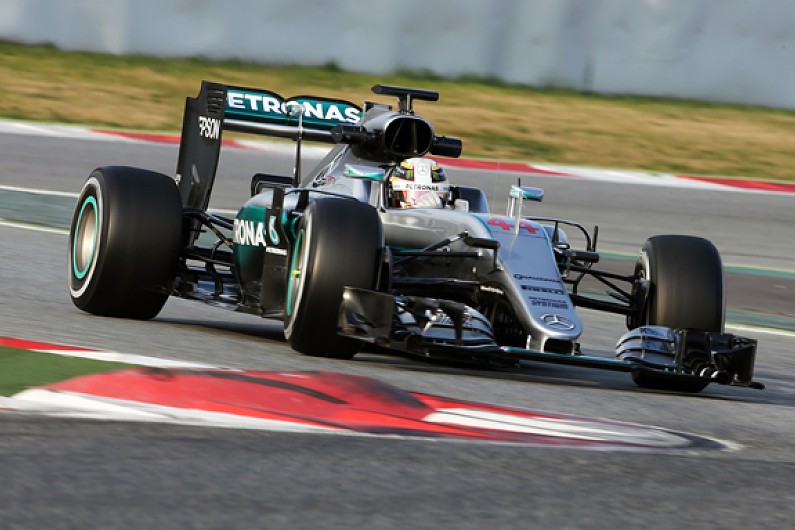 Mercedes will not use soft tyres this week
Hamilton added: "It gets harder and harder to continue to develop within the same [rules] envelope, so the team are working as hard as they can to keep us ahead of the competition.
"It's easier to chase and catch up than it is to stay ahead, but we've started on the right foot and we've already got new bits on the car.
"You don't want to show all of your cards, although you need to bring these parts to test them.
"All the teams are spying on each other, so every time you bring a new component they will take loads of pictures of it and take it back to their engineers.
"If it's better than a design of their own, they'll probably come up with their own version of it, test it in the windtunnel and see if it works on their car.
"But by the time they've done that, it's a couple of months down the road so we hopefully have the advantage."
AUTOSPORT SAYS
Gary Anderson, technical consultant, on Mercedes' Wednesday upgrades
Mercedes' bargeboard itself is like a vertical-mounted, slotted flap wing.
Basically you can make this type of design do a lot more work with these slots. This in turn will pull more of the airflow from underneath the front of the chassis, making the front wing work more efficiently, and introduce it onto the leading edge of the underfloor.
If higher energy airflow is introduced to that leading edge, the diffuser will be able to pull it through and under the floor area at a higher speed, which will mean it will produce more downforce underneath the car.
As with any component that is being used to influence the airflow, the mounting system is very important.
You can lose all of the benefit if the mounting system is not sympathetic to the airflow. As can be seen, each vertical section is mounted on its own little support, with its own leading and trailing edge.
As the airflow comes around the leading edge of the sidepod, each of these sections will create some downforce in its own right.
The sum of all these components might add up to something like 10kg of overall downforce, which would be equivalent to around 0.1 seconds of lap time.