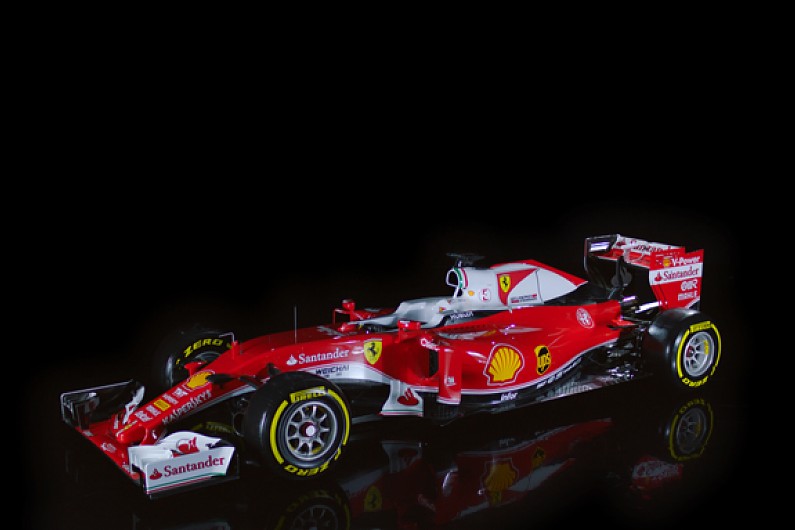 Ferrari has become the latest team to unveil its new Formula 1 car, the SF16-H, as it aims to push Mercedes to the wire in the 2016 championship.
The team opted for an online launch, with team principal Maurizio Arrivabene, technical director James Allison and drivers Sebastian Vettel and Kimi Raikkonen on hand to reveal the Scuderia's new challenger.
The livery sports more white than has been seen in recent years, predominantly on the engine cover and front wing.
In terms of making the car "properly competitive", according to Allison, Ferrari has opted for changes in a number of areas.
The nose is shorter and higher, impacting positively on the aerodynamics, while after four years with a pullrod suspension, the car is now fitted with a pushrod system.
Ferrari has worked on its power unit's architecture, making it tighter and narrower, so influencing the engine cover, which again aids aero.
The engine team has also improved combustion, the turbo and air intake in a bid to find more performance.
Asked as to the car's prospects, Arrivabene said: "Normally I am not setting the objectives, my boss sets the objective for the team.
"I think this year, we need to push a bit more. We would like to fight until the end for the championship.
"I know that is not going to be easy, because our competitors are not sleeping, but we are committed to do our best."
After scoring three grand prix victories with Vettel last season, the team will be looking to push Mercedes even further this season.
Ferrari made considerable gains with its power unit in 2015 that allowed it to step out of the shadows of its winless campaign the year before.
But come the conclusion to the season, Vettel still finished 103 points behind Lewis Hamilton in the drivers' standings, with Mercedes 275 points clear of Ferrari in the constructors' championship.
That underlined the gap Ferrari still has to bridge to Mercedes this year if it is to consider itself a realistic title contender.
Assessing Ferrari's challenge for the year ahead, Allison said: "Back in 2013, Ferrari was not at the right level, the championship, except for maybe doing pitstops.
"We've worked very hard on all of those areas. Last year was a decent step forward and we hope this car will be another good step forward to make us properly competitive.
"We have improved across the board. All our hopes are in this car, and we can't wait to see it on the track."