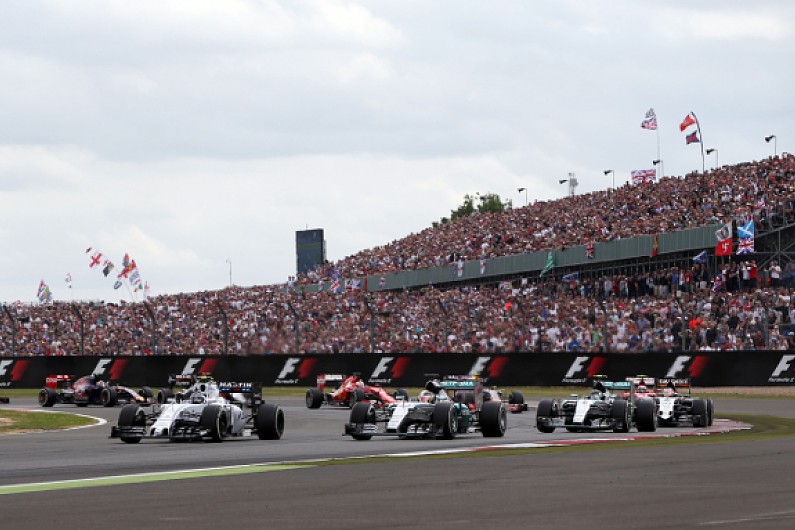 The BRDC is no longer under pressure to sell British Grand Prix Formula 1 venue Silverstone, says its president Derek Warwick.
In August 2013 it emerged the BRDC was prepared to sell the Northamptonshire circuit.
A number of expressions of interest followed, the latest from Jaguar Land Rover in early December.
The BRDC's decision was followed a month later by a deal with MEPC in which the property group, owned by the BT pension fund, paid £32million for a 999-year lease on 280 acres of land surrounding the circuit.
The business now appears to be on a much stronger financial footing, aided by Silverstone managing director Patrick Allen recently confirming last year's British Grand Prix made a profit for the first time in years.
It means the BRDC now has far more flexibility over whether to sell at all, or which potential buyers to consider.
"The last five years have been difficult for us. We've not made money," Warwick told Autosport.
"That is why we almost had to close the doors in order to survive. We were unable to spend or do anything.
"Eighteen months ago, in particular, we would have bitten anybody's arm off [to sell].
"There's no doubt about that because we were in such a difficult situation, and not knowing a way out.
"Now I don't care if we do a deal or not. We're still talking to two or three people and we've said 'These are our terms'. It's no longer about their terms.
"That gives you that added confidence you need to negotiate. I can only negotiate from strength. If I do so from weakness, then they will know straight away.
"But this is no longer a deal we need or have to do. There are now lots of options for us, which is the good thing."
Warwick believes a lot of the credit must go to Allen, who joined a year ago with a remit to turn Silverstone's fortunes around.
An aggressive pricing structure for the sale of tickets was implemented, and along with other streamlining ventures, money has finally been made.
Warwick added: "He came in with great credibility. He was very influential in turning around the image of the Co-Op, so we knew he had a good CV.
"We knew he would do a good job, but we didn't know how good a job.
"In the early days, some of the ticket pricing he did, he would admit now was wrong, so he's learned as well. It's a new world for him.
"But hey, he learns bloody quick, and the thing with Patrick, if he doesn't quite get it right, he puts his hand up and puts things right."