Force India has been forced to approach Formula 1 supremo Bernie Ecclestone for an advance on its championship payments from next year.
As a result, a letter has been sent from Ecclestone to the other nine F1 teams requesting their permission, as unanimous consent is required before the 85-year-old can facilitate such a request.
Teams currently receive payouts from Ecclestone's Formula One Management on a monthly basis, from February through to the end of a season in November.
It means for two months of the year - December and January - there is a cash shortfall, making it difficult for a team like Force India to pay suppliers and bills.

The team has previously sought advance payments for the 2015 season.

Speaking to Autosport, deputy team principal Bob Fernley said: "We start to lose payments as soon as a season finishes.
"So what we're trying to do is balance things better, get a better cash flow, because cash flow over the winter for us is the worst time.
"But this is not necessarily about us, it's about making our suppliers' lives a bit easier. They are under a lot of pressure, and can be stretched too far, especially when other teams are struggling as well.
"We're trying to get ahead of our programme, as opposed to last year when we were slightly behind it.
"We just have to be pragmatic because if we know now we're going to have to tighten up a bit then we have to act."
Force India is now awaiting a decision from the other teams, and some may even make their own application.
Fernley added: "We've made our application in a transparent way, and it will go through due process.
"Much will depend on whether other teams feel they need to do the same thing, in which case it might be a slightly longer process.
"It may be a collective thing, not for everybody, but for a few teams that were involved last year.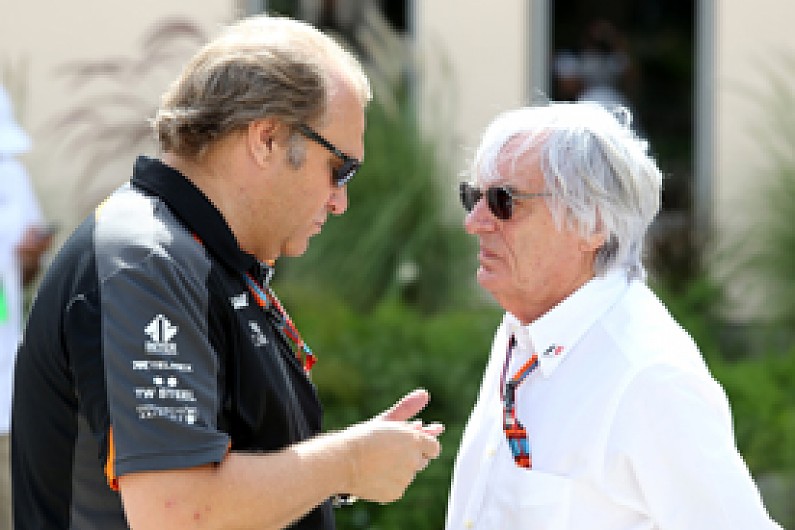 "The fact Bernie has facilitated it so readily, as the letter has to come from the commercial rights holder, is an indication he is supportive."
BIGGER CHALLENGE LOOMING

Force India's request highlights again the issues the team faces, and why it has approached the European Commission to resolve the row over the disparity in payments from FOM to the teams.
"If we don't get the payments it will just make things more difficult," Fernley said.

EU complaint leaves F1 in limbo
"It won't necessarily cause us any major problems, but what we are trying to do is avoid those.
"But then we wouldn't be fighting the way we are for a better distribution of income if we weren't struggling, but that's just not us, that's half the field.
"Next year is relatively easy because it is a continuation of this one. The biggest step will be '17 when we have to do a completely new design.
"Hopefully by then we may have come to some better solutions on distribution."

Autosport has produced a standalone special magazine to celebrate our 70th birthday. All current print subscribers will receive a copy for free. To order your copy of the 196-page Autosport 70th Anniversary issue, please go to: autosport.com/autosport70th