Ferrari team principal Maurizio Arrivabene wants his team to run full tanks of fuel in Formula 1 free practice sessions to avoid getting a "fake" idea of its pace.
Ferrari often looks stronger during Friday practice of a grand prix weekend relative to Mercedes, but the gap increases in qualifying and the race.
While part of that is likely to be down to Mercedes changing its engine settings for the sessions that count, Arrivabene believes Ferrari can play its part in making Friday's running a more accurate representation of the battle.

Ferrari: 'Too early' to decide Kimi Raikkonen's Formula 1 future
When asked why Ferrari often looks stronger on Fridays, Arrivabene said: "My analysis is that it depends on how much fuel Mercedes have compared to us.
"I said to the engineers that it's better to go on Friday with a full full tank so we can see a correct comparison instead of seeing a fake one."
Despite Mercedes taking a comfortable one-two last time out in the Austrian Grand Prix, Arrivabene believes Ferrari's pace was not too far adrift.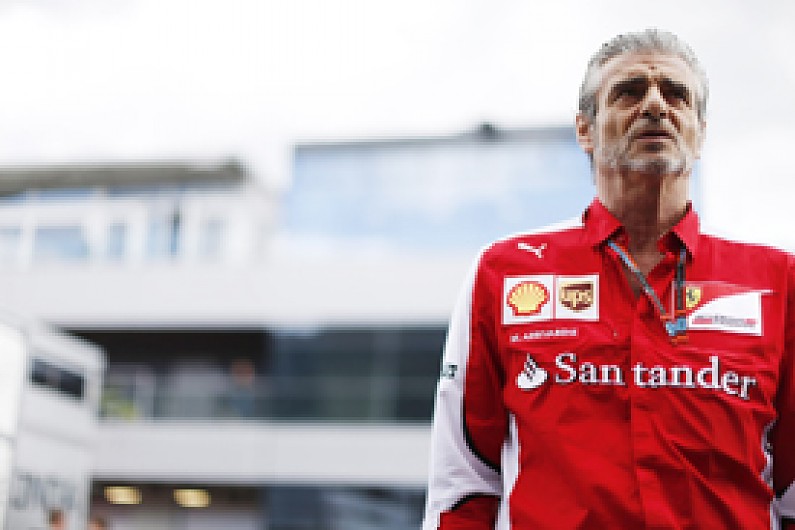 "As soon as the tyres went into [the right] temperature we were more or less two tenths slower than [Lewis] Hamilton," he said.
"The gap from [Nico] Rosberg was bigger but it depends on a lot of factors.
"We were not that far away in the race.
"It's the downforce, it's the traction, they are all issues we are working on to be solved.
"I don't want to use an excuse - it's a challenge on us to work better and make sure we are very very good."
Sebastian Vettel, who finished fourth in Austria after a wheelnut problem delayed him in the pits, believes Ferrari is continuing to make gains on Mercedes.
"We're a lot closer than we have been in the past but surely we were hoping to be closer to put some pressure on them," said the four-time world champion.
"But especially in the opening laps they were very impressive - they were more than three tenths quicker per lap.
"Towards the end we stabilised to around one, two, three tenths per lap.
"Overall I think we were close the whole weekend but unfortunately not yet close enough to put pressure on them."