Fernando Alonso described his dramatic Austrian Grand Prix crash with Kimi Raikkonen as "scary" and "strange" after his McLaren Formula 1 car ended up perched on the Ferrari.
Raikkonen lost control under acceleration out of Turn 2 on the first lap of the Red Bull Ring race and collected Alonso, taking both into the barriers.

Stewards say no driver at fault in crash
"I was in the wrong place," said Alonso.
"It was a very strange incident because he lost the car in fifth gear or something like that.
"Obviously it was quite scary.
"Kimi started with the prime [soft] tyre and had a lot of wheelspin out of Turn 2.
"The car was moving left, right, left, right, with a lot of wheelspin.
"We were overtaking him left and right - all the cars - and then he lost the car on the left and I was on the left at that point and we crashed.
"I could not see anything because with the seat position I was looking only at the sky and then I looked in the mirror and when I stopped I saw the car under my car.
"I jumped quickly and checked that he was OK."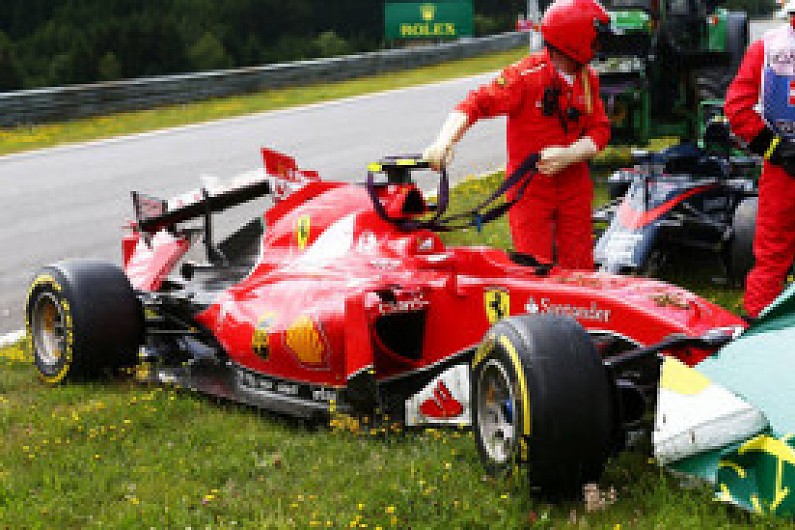 Both drivers were unhurt in the accident but paid precautionary visits to the medical centre.
The incident will be investigated by the stewards.
Raikkonen was left puzzled by the crash.
"I got some wheelspin and then went left, which was unusual so it's hard to say [what happened]," he said.
Alonso's team-mate Jenson Button had been right behind the collision and said it was frightening to watch.
"It looked like Kimi tried to get on the power - there's very low grip there - lost the rear and went one way and tried to correct and went the other way," he said.
"Horrible accident. You never want cars to be in the air or on top of each other so I'm glad they're both OK and can walk away from it."