Renault admits it is considering leaving Formula 1, prompting Red Bull to suggest it could do likewise if its engine partner pulled out of the world championship.
Tensions over Renault's F1 plans were already high as it pondered whether it should create its own works outfit again.
Red Bull team boss Christian Horner also complained that the French firm's engine programme was in a "bit of a mess" following a poor Australian Grand Prix display.
Renault's motorsport chief Cyril Abiteboul had initially insisted that the company had no intention of leaving F1, but he changed his stance on Friday in an FIA press conference.
Speaking while sat between Horner and fellow Renault-powered F1 team chief Franz Tost of Toro Rosso, Abiteboul said a complete exit could be on the cards.
"I can confirm that we are looking at a lot of options, including getting out of Formula 1," said Abiteboul.
"Honestly, if Formula 1 is that bad for Renault's reputation, if we see that we struggle with the current formula, if Formula 1 is not delivering the value that it costs Renault bearing in mind that when you have an engine supplier, you have no financial incentive to develop and fund engine development, then this is what we're looking at.
"[But] our first priority is to get the engine right. We have seen with Red Bull it has not been the start to the season we have been expecting.
"We have to get the engine under control.
"Then if we can do that, we have to review the situation from a marketing perspective to see if there is anything we can do better to do more or less of Formula 1."
RED BULL WOULD BE 'FORCED OUT'
Horner claimed that Red Bull advisor Helmut Marko's recent suggestion that the team could pull out of F1 had been misinterpreted.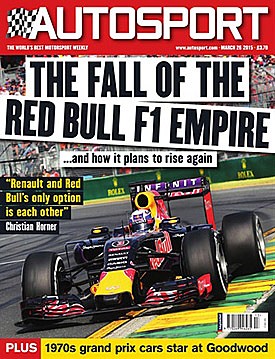 He said Marko's actual point had been that Red Bull could be forced out if Renault went.
"I think what he was trying to say was should we find ourselves in a situation where we are without an a engine supplier, should Renault choose to withdraw, Mercedes wouldn't supply Red Bull with an engine and it's unlikely we would be in a position to take a Ferrari engine," Horner said.
"So we could actually find ourselves forced out of the sport.
"As with any company, Red Bull reviews its return on investment. Is Formula 1 delivering for Red Bull as a brand?
"There are some worrying signs when we see races like we saw in Melbourne. But hopefully that's one chapter in a longer story.
"Red Bull wants to compete and wants to be in F1."
For an in-depth analysis of the Red Bull/Renault crisis including exclusive thoughts from Abiteboul and Horner, read this week's AUTOSPORT magazine