Jenson Button is adamant that McLaren-Honda is the team best able to topple Formula 1 dominator Mercedes in the long term.
McLaren suffered a poor beginning to the 2015 season, with Kevin Magnussen unable to start the Australian Grand Prix after his Honda engine hit trouble before the race and Button the last-placed finisher in 11th.
But Button remains convinced that the longer-term potential of the McLaren-Honda alliance is higher than any of Mercedes' other rivals.
"This could be great in the future," he said.
"This is what we need in the sport, someone that is going to challenge those Mercedes that are out in front.
"I really do think that this is the team that can do that.

GARY ANDERSON: F1 2015's real winners and losers
"I know that we are a long way off right now but it was always going to be very difficult."
McLaren has a mountain to climb in closing the gap to Mercedes, with Button's best lap in Q1 in Melbourne 4.5 seconds off the first flier set by Lewis Hamilton in similar conditions at the start of Q2 when the track was not significantly faster.
FAITH IN CHASSIS PHILOSOPHY
Honda has plans to make major strides over the course of the season, while Button believes that a fundamental change in the design philosophy of the car means that McLaren is in good shape chassis-wise.
This follows the recruitment of Peter Prodromou from Red Bull as chief engineer. He has spearheaded a shift in the aerodynamic philosophy of the team.
"The way the car is is very different to anything I've driven that has had a McLaren logo on it," said Button.
"In terms of aerodynamics, the design philosophy behind the airflow of the car, it's very different.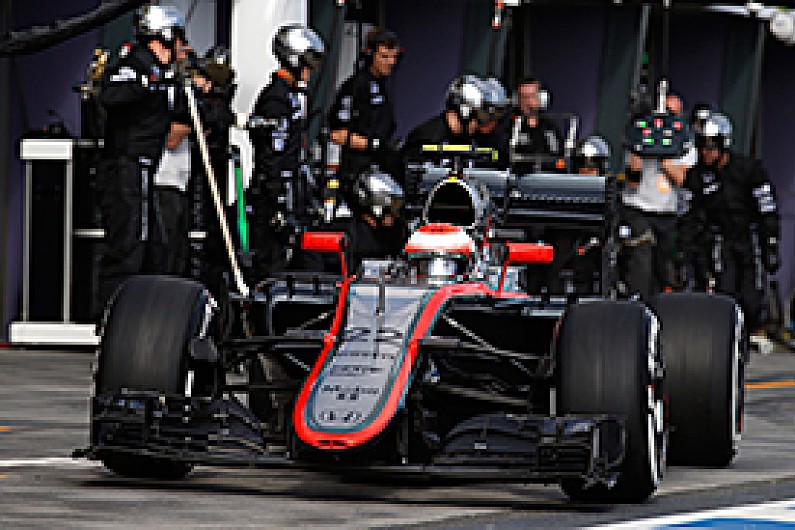 "This will be, in the future, a very important car for McLaren and Honda in terms of direction.
"There are areas we need to work on of course, but the basic car is good and hopefully we can keep adding downforce and performance to this car."
Button contrasted the car favourably to last year's McLaren, which did not offer a sound foundation for development.
"When you have a good base, it makes a massive difference," said Button.
"Last year's car, for example, we could extract a good lap from it but in a race it made it very difficult because the car was very on the nose on initial turn in.
"[At the] apex you would get washout at the front; it was very dirty in the way the aerodynamics worked.
"This is different. It's very clean and we can build on what we have.
"You will see big progress form us this year, but don't expect us to gain two seconds at the next race."