Sebastian Vettel says Formula 1's move to ban helmet design changes may not be enough to deter him from tweaking his colours still.
As AUTOSPORT revealed, the F1 commission voted earlier this week to outlaw drivers from changing their helmet designs during the course of the season.

F1 chiefs believe that having drivers use the same helmet design all the time will be better for those who follow the sport as it will be easier to recognise drivers.
Vettel is the person who has changed his helmet more than any other in F1, having used more than 90 different designs during his career.
And although he intends to not change as much this season, he said at Barcelona on Saturday that if the penalty for using different colours is just a small financial one then he may be willing to pay it.
"The plan was to calm down a little bit," said Vettel, who is using a white helmet with the colours of the German flag.
"It seems in these difficult times, it [banning helmet changes] is the only thing that people can agree on!
"I don't know what is the penalty. If it is a little fine with money for charity, then I am happy to keep changing my helmet."
Vettel's former Red Bull team-mate Daniel Ricciardo joked that the German was probably responsible for the ban in the first place.
"I think Seb started it all - it was ironic that they used him in the photo," he said.
"I'm not fussed. The helmet novelty has worn off a bit so if I have to keep the same one I will.
"I think someone like Seb will suffer a bit more!"
MASSA UNHAPPY ABOUT BAN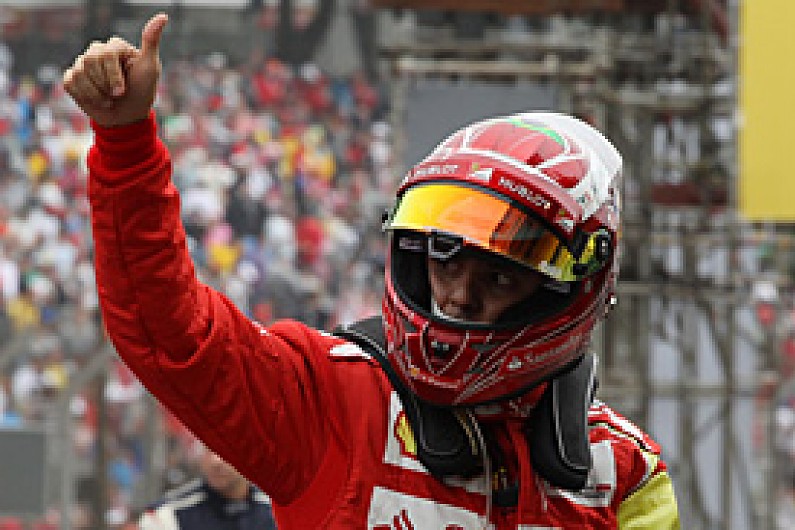 Felipe Massa believes that drivers should stick to a single design for their career, but he thinks it wrong that they be forced to do so in case of special occasions such as when he used a special design [pictured] for his final race with Ferrari.
"Honestly I don't like the idea to change helmets," he told AUTOSPORT. "The helmet is like our face, so I don't think really it's good [to keep changing].
"Drivers need to have the proper colour, the proper helmet and the proper design that people are looking from far and understand who is driving.
"But honestly I don't like the idea to block it. It's up to the driver.
"Maybe in a few years, what are they going to decide? We need to make a rule on the haircut?
"I don't think that's really nice. But it won't change for me. Because I don't like to change."