Four-time Formula 1 world champion Alain Prost says Jules Bianchi's accident at the Japanese Grand Prix left him furious about the way the situation was handled.
While Bianchi continues to fight for his life in a Japanese hospital, Prost believes that the FIA should have acted differently in dealing with the recovery of Adrian Sutil's stricken Sauber.
He suggests that although it is standard procedure for double waved yellow flags to be used when retrieving vehicles, the circumstances of the Suzuka race should have resulted in the governing body acting differently to ensure there was no risk of another accident.
"I don't want to make any polemics with the FIA, because I have a lot of respect for what has been done in terms of safety over the past 20 years," said Prost, when asked by AUTOSPORT for his feelings on events in Japan.

Bianchi crash: Key questions answered
"It is cars and tracks [that have been improved] and there was only one thing left: it was this f**king truck on the track."
Prost said he could not believe that the FIA allowed a crane to be allowed trackside of barriers while cars were still driving by at high speed.
"I was furious. I was really shocked by the accident," he said.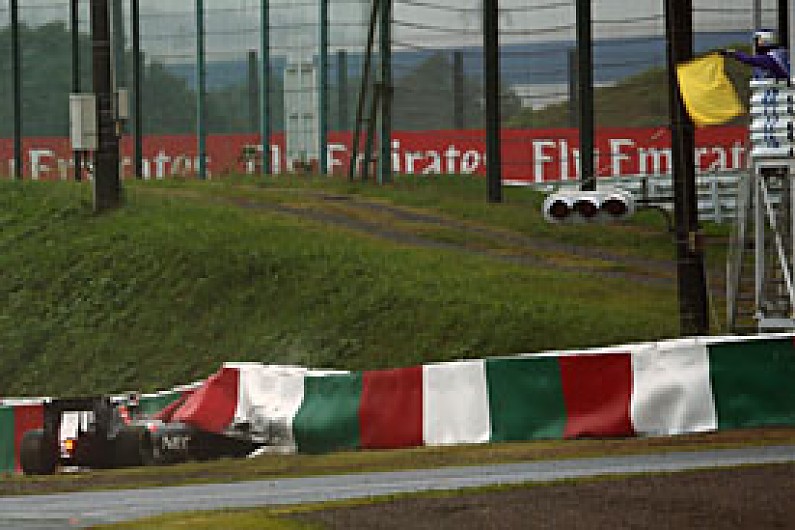 "You have the procedure, but the weather conditions were getting worse and worse with more and more water, so visibility was very bad.
"So you cannot have the same decision according to the procedure if the weather was good or bad. That is why I say I am not convinced.
"In this condition, especially with all the experience they have in terms of safety, they should have zero risk."
Prost accepts that Bianchi was unlucky to hit the crane, but he feels it is the governing body's job to ensure that such a thing cannot happen in the first place.
FIA plans yellow flag speed restrictions
"It was safe in the beginning when it started with the safety car, because it was a difficult decision to stop the race after three/four laps and start again," he said.
"That is why I was shocked, because you take the right decision at one stage.
"It is huge bad luck, but you should not judge the cause of the accident, you should judge the consequence. You don't want to have that.
"If it was my son, I wouldn't want this type of accident with a truck on an F1 track. That is what I cannot accept."