Lewis Hamilton was fastest in opening practice for Formula 1's 2014 Italian Grand Prix at Monza by 0.623 seconds from McLaren's Jenson Button, with Hamilton's Mercedes team-mate Nico Rosberg third.
It was not a hotly contested session at the sharp end as the majority of the frontrunners swapped to race simulation runs after setting their quick laps.
As is usual in practice one, there was a brief flurry of activity towards the end of the first half hour while teams took advantage of the extra set of tyres they are permitted to use before handing back to Pirelli at the 30-minute mark.
Several drivers observed that the orange-striped hard-compound tyres were taking longer than expected to reach a working temperature.
Max Chilton was the first to benefit from the Parabolica's controversially revised run-off area, running wide and brushing the astroturf 15 minutes into the session.
Kevin Magnussen and Button provided demonstrated that the MP4-29 is not lacking straightline speed, setting the early pace on the hard-compound tyres before being overhauled by the 'works' Mercedes.
Button then sliced three tenths of a second off his previous best during the course of his second run, but his tenure at the top of the timesheets lasted just eight minutes before Hamilton went top.
McLaren did not attempt to respond, switching Button on to a used set of tyres to complete his programme.
Fernando Alonso brought his Ferrari to within a second of the Mercedes with a late effort, lapping in 1m27.169s.
Kimi Raikkonen was nearly four tenths off, having flirted with the Parabolica run-off on his flying lap.
Sebastian Vettel was the fastest of the two Red Bulls in sixth, behind Magnussen, but Daniel Ricciardo completed just 12 laps and had to retire to his garage with a power unit issue with 30 minutes to go.
Both Williams were outside the top 10 in spite of being among the quickest through the speed trap, and Valtteri Bottas was noticeably on the edge of the FW36's envelope in several places on the track.
There was disappointment, too for Lotus; it took most of the session for Pastor Maldonado to summon a lap clean enough to overhaul both Marussias.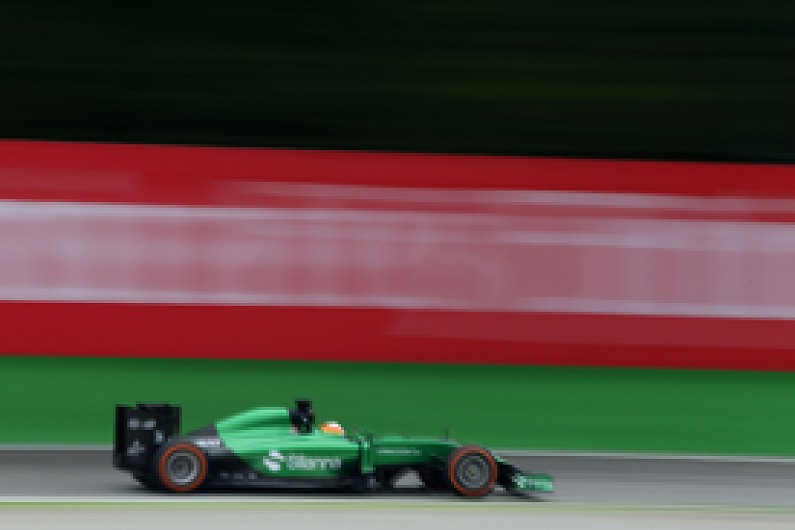 A handful of teams ran test drivers in addition to or in place of their regulars: Daniel Juncadella sat in for Sergio Perez at Force India initially, Charles Pic for Romain Grosjean at Lotus, Giedo van der Garde for Adrian Sutil at Sauber, and Roberto Merhi for Kamui Kobayashi at Caterham.
Perez took over from Juncadella with 20 minutes to go and was straight on the pace on his first run, slotting into the top 10 and outpacing Nico Hulkenberg by nearly half a second. He was also fastest of all through the speed trap.
F1 debutant Merhi (pictured) completed 29 laps to Caterham team-mate Marcus Ericsson's 16 and rounded out the session two tenths faster.
| Pos | Driver | Car | Time | Gap | Total laps |
| --- | --- | --- | --- | --- | --- |
| 1 | Lewis Hamilton | Mercedes | 1m26.187s | - | 25 |
| 2 | Jenson Button | McLaren/Mercedes | 1m26.810s | 0.623s | 27 |
| 3 | Nico Rosberg | Mercedes | 1m26.995s | 0.808s | 26 |
| 4 | Fernando Alonso | Ferrari | 1m27.169s | 0.982s | 23 |
| 5 | Kevin Magnussen | McLaren/Mercedes | 1m27.228s | 1.041s | 30 |
| 6 | Sebastian Vettel | Red Bull/Renault | 1m27.271s | 1.084s | 27 |
| 7 | Kimi Raikkonen | Ferrari | 1m27.493s | 1.306s | 27 |
| 8 | Sergio Perez | Force India/Mercedes | 1m27.687s | 1.500s | 13 |
| 9 | Daniil Kvyat | Toro Rosso/Renault | 1m27.741s | 1.554s | 33 |
| 10 | Nico Hulkenberg | Force India/Mercedes | 1m28.112s | 1.925s | 23 |
| 11 | Esteban Gutierrez | Sauber/Ferrari | 1m28.114s | 1.927s | 21 |
| 12 | Valtteri Bottas | Williams/Mercedes | 1m28.148s | 1.961s | 20 |
| 13 | Felipe Massa | Williams/Mercedes | 1m28.150s | 1.963s | 21 |
| 14 | Jean-Eric Vergne | Toro Rosso/Renault | 1m28.300s | 2.113s | 30 |
| 15 | Giedo van der Garde | Sauber/Ferrari | 1m28.429s | 2.242s | 19 |
| 16 | Daniel Ricciardo | Red Bull/Renault | 1m28.487s | 2.300s | 12 |
| 17 | Daniel Juncadella | Force India/Mercedes | 1m29.192s | 3.005s | 10 |
| 18 | Pastor Maldonado | Lotus/Renault | 1m29.512s | 3.325s | 24 |
| 19 | Max Chilton | Marussia/Ferrari | 1m30.017s | 3.830s | 25 |
| 20 | Jules Bianchi | Marussia/Ferrari | 1m30.081s | 3.894s | 27 |
| 21 | Charles Pic | Lotus/Renault | 1m30.125s | 3.938s | 23 |
| 22 | Roberto Merhi | Caterham/Renault | 1m30.704s | 4.517s | 29 |
| 23 | Marcus Ericsson | Caterham/Renault | 1m30.948s | 4.761s | 16 |