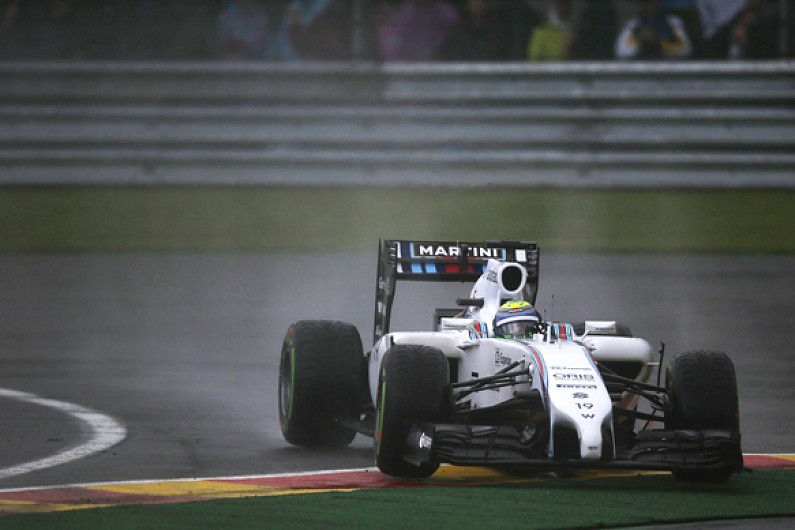 Felipe Massa has urged the Williams Formula 1 team to change its brake systems after struggling in wet qualifying at the recent Belgian Grand Prix.
Massa qualified a lowly ninth for the Spa event, on a track where Williams was expected to run at the front.
Massa was among a selection of drivers to suffer glazed brakes in the wet session, and he has called on his team to switch from its current Carbone Industrie-only set-up to allow its car to run Brembo pads and discs.
When asked whether he wanted to move to Brembo brakes, which the Brazilian used at his previous team Ferrari, Massa said: "Yes. It's not the first time we had [glazing] this year.
"Normally the brakes we used in the conditions like this, we had [glazing] a few times this year.
"It's not great to be honest, so it's something that we are still working on.
"It's impossible to warm up the [CI] brakes [in the wet]."
Williams performance chief Rob Smedley confirmed Williams was evaluating redesigning its car to accept both types of material, but said the FW36 was designed around using CI brakes, so any change would not be straightforward to make.
"You have to set out at the start of the year essentially with your mechanical fixing that fixes the brake disc to the car able to accept both," Smedley explained.
"If you haven't done that, then it's a very big change to make to the car. It's something you couldn't just do between sessions.
"We're going through the process now, but this team has been geared up to run with CI for many years now, so to change to another manufacturer is not wholly straightforward.
"With a certain amount of resource we have to consider where to put that resource the best. We can't put all of the company on to changing to Brembo material.
"We're considering the design and considering what to do for the future.
"For next year, that [a change to design of the mechanical fixing] will more than likely be the case."
Autosport has produced a standalone special magazine to celebrate our 70th birthday. All current print subscribers will receive a copy for free. To order your copy of the 196-page Autosport 70th Anniversary issue, please go to: autosport.com/autosport70th