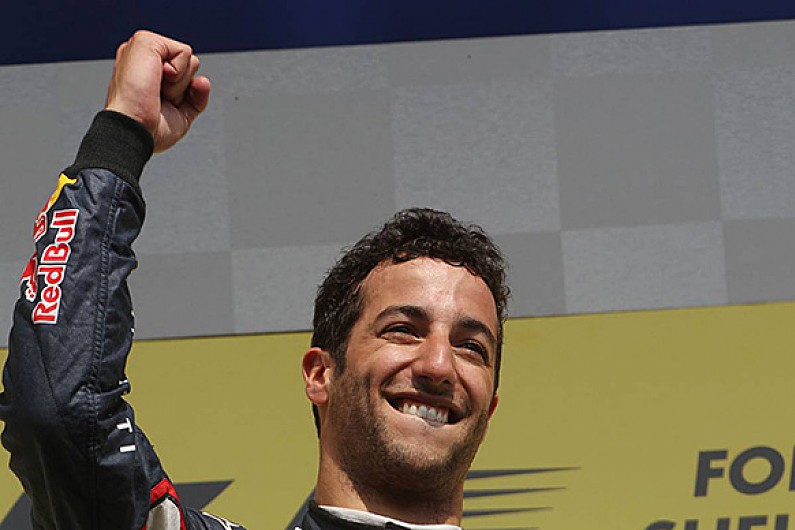 Fernando Alonso does not believe Red Bull's Daniel Ricciardo can challenge the Mercedes drivers for the Formula 1 world championship, despite beating them to victory in the Belgian Grand Prix.
Ricciardo capitalised on a controversial collision between Nico Rosberg and Lewis Hamilton to record his third win of the 2014 F1 season at Spa on Sunday.
The Australian said after the race that he still would not rule out fighting the Mercedes drivers for the world title after slashing the points gap to them.

AUTOSPORT's Belgian GP driver ratings
But Ferrari driver Alonso, who has previously praised Ricciardo for the "fantastic" job he is doing at Red Bull this season, reckons any prospect of a non-Mercedes driver becoming champion this year is still unrealistic, despite the mathematical possibility.
When asked whether Ricciardo was still in the hunt after his win Alonso said: "No, I don't think so.
"Obviously he's doing an amazing job and he's surprising everyone, but the Mercedes advantage... in qualifying they were two seconds clear.
"When they finish the races they will keep increasing their advantage.
"But if any of the rest can do it, at the moment it's only Ricciardo."
Ricciardo's Belgian GP win moved him to within 35 points of second-placed Hamilton in the standings, with leader Rosberg a further 29 points clear.
It also pulled Ricciardo further clear of Alonso in the 'best of the rest' battle, with the fourth-placed Ferrari driver now 35 points adrift of the Australian.