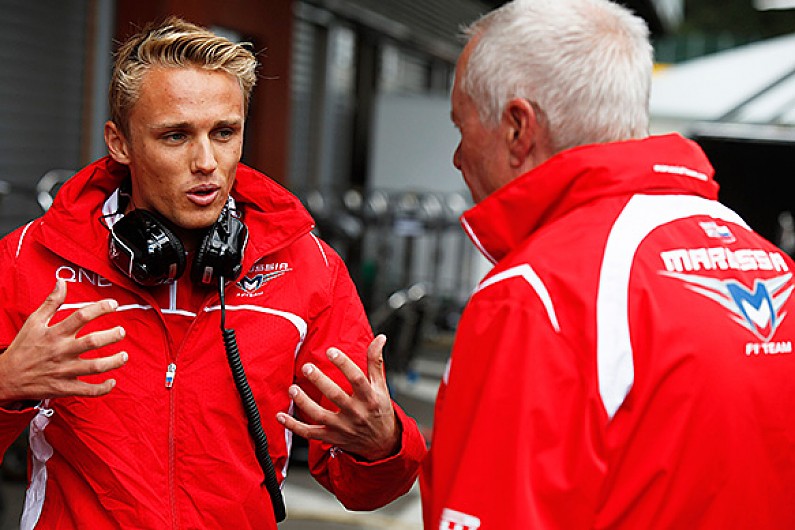 Max Chilton insists that there is more to the story behind his return to the Marussia Formula 1 cockpit at the Belgian Grand Prix that people think.
The Briton had on Thursday been sidelined by the team in favour of Alexander Rossi due to contractual issues, although he later claimed he had voluntarily stepped aside to help the outfit secure funds.
But in a dramatic turnaround on Friday morning, which has not been fully explained, he was put back in the car.
There has been intense speculation that the issue revolves around the non-payment of promised sponsorship money from his backers.
But Chilton said that the situation was very different to what many have suspected.
"It has been a busy 24 hours and lots of things have changed," he said.
"There have been lots of rumours that aren't true. They're the first thing people think of. But there's a lot more going on behind the scenes.
"That's why what happened yesterday was created, but that changed and that's why I got put back in the car."
Although claiming that financial factors were not the reason for events, he declined to elaborate on what the real explanation was.
"I'm not going to comment on anything because the moment I comment on that people will start writing it," he said.
"But I stick to the words that what everyone seems to think has happened isn't the issue."
RUSSIAN OWNERS INVOLVED
Although the Marussia team has also refused to reveal what the change of circumstance was that got Chilton back in the car, there are growing suggestions that the team's Russian majority shareholder Andrey Cheglakov may have influenced the decision.
Chilton himself fuelled those rumours when he confirmed on Friday that his management team had been in personal touch with Cheglakov over the Belgian GP weekend.
"People in my management team have, yes," he said.