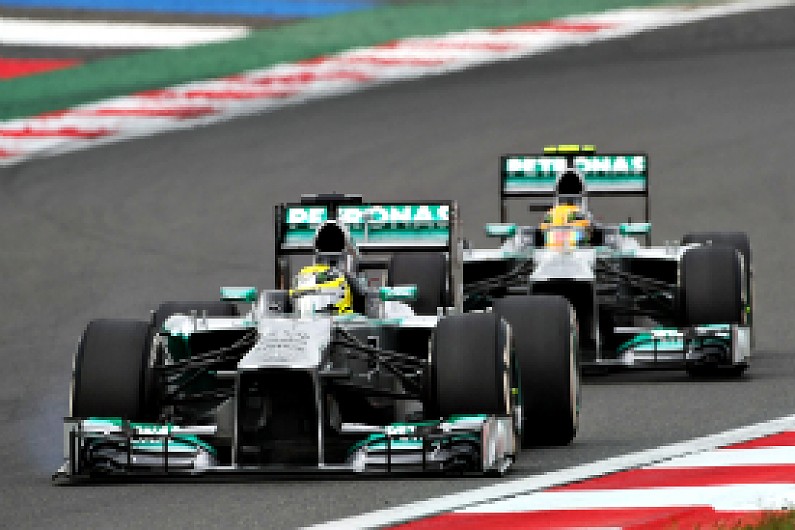 Mercedes has discovered the cause of Nico Rosberg's spectacular front wing failure in the Korean Grand Prix.
Rosberg suffered the problem - which has been traced to a failure of one side of the front wing mounting - while overtaking team-mate Lewis Hamilton in Sunday's GP.
Although he was able to continue at relatively undiminished speed, he was forced to pit for a nose change and went on to finish seventh.
Measures have been taken to ensure that there is no repeat of the issue, and Rosberg does not expect it to happen again.
"No," he said when asked by AUTOSPORT whether he is concerned about a repeat of the failure.
"It [the design] has been there for eight years and it has never been a problem, it's just a very strange, unusual thing.
"I do [know what the problem was] but I don't know what to share. There was a fault in the material and that was it."
Rosberg is optimistic Mercedes can perform well at Suzuka given the configuration of the track.
He believes high-speed corners play to the strengths of the car, although he stopped short of suggesting Mercedes will be in a position to beat Red Bull.
"It's difficult to say at the moment which tracks suits our car and which not," he said.
"If you look at Singapore, we were quickest except for Red Bull, so you can't say our traction is a disaster because Singapore is all traction.
"If anything, maybe my tendency would be to think that high-speed corners are even better for us so this should be a good track."