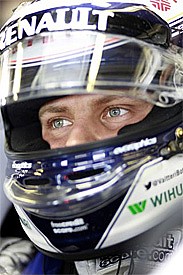 Frank Williams has praised Valtteri Bottas for both his off-track attitude as well as his out-and-out speed.
Bottas was one of the stars of the Canadian Grand Prix weekend when he shone in the tricky wet qualifying conditions to deliver a career-best third on the grid.
Although the Finn was powerless to prevent a drop down the order during the dry race, his pace in the wet showed just why his team had faith in him in the first place.
And Williams says that he has been impressed not only with Bottas' pace, but also with the way he is adapting to the step up to F1.
Speaking during a media event for team sponsor Wihuri in Finland, Williams said: "He clearly has magnificent car control and that's fundamental for F1.
"He's also very quiet and that means he's not talking too much. And if he's not talking too much that's because he's listening and he's listening to some very good advice."
Bottas has kept his head down during a difficult start to the season for the team, but thinks there are grounds to believe the outfit can begin delivering points soon.
"I believe it will be possible to be in the top ten in races," he said. "We do have at least the same resources as those teams. In a way, finding faults in our car drives the development for us and hopefully it is a route that helps us catch them."
Bottas also thinks that the ongoing issue of Pirelli tweaking its rear tyres to cure its delamination issues is not a factor for his team.
When asked if it would help if the tyres are changed, Bottas said: "I don't think it would mean much, really. We seem to be in middle ground with regards to tyre wear."