Pirelli looking at glue solution rather than F1 tyre revisions
| | |
| --- | --- |
| By Jonathan Noble | Friday, June 7th 2013, 22:20 GMT |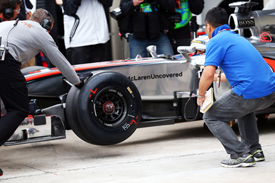 Pirelli will make a decision on Monday about whether or not it will use revised tyres from the British Grand Prix, with it now suggesting that a simple glue change may be enough to cure its delamination issues.
The Italian tyre company gave Formula 1 teams the opportunity to try out development rubber during free practice in Canada to assess what impact a new Kevlar-belt design would have on car performance.
Pirelli has been chasing a cure for the delamination problems that blighted it earlier this season, and moving away from a steel belt was the original solution.
However, with resistance from a number of teams about returning to the Kevlar-belt concept, Pirelli has been working on an alternative solution which may now be used.
Speaking following the first tests of the development rubber in Canada on Friday, Hembery suggested that a simple change to the construction process of the tyres to incorporate the new glue could bring an end to the matter.
"There are a number of approaches," he said. "You will either get agreement from all teams, which I think you will have seen is unlikely to happen. But we have some other ideas which would keep us even closer to the current tyre.
"As time has passed, it has allowed us to do more work. We have developed some indoor testing, drum testing, which allows us to simulate the delaminations that we have seen.
"So we have been working on some process changes - in basic terms, the glue, to increase the adhesion between the components in the tyre.
"We have a few options and once we have today's results fully analysed we will sit down with teams and on Monday make a decision."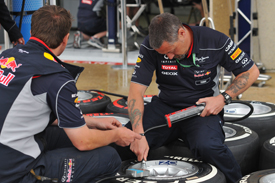 The tweak to the glue would unlikely be deemed to be a specification change to the tyre so would not require the unanimous approval of the teams – as is necessary if Pirelli wanted to introduce the Kevlar-belted tyres.
"The situation you have got is that you have a very large number of the teams that want no change at all, and are very insistent on that.
"So we are sat in the middle of one or two teams that would like to have a change, and the others who don't. We are trying to find something that is almost impossible - which is a consensus."
Hembery revealed that the new development rubber was operating at around 10-degrees Centigrade cooler than the steel belt version.