Renault is eager to reduce the number of customer teams it supplies in Formula 1, dismissing talk that it could provide engines to half the grid.
Amid uncertainty about the engine plans for a number of teams for the switch to V6 turbo engines in 2014, Renault said on Monday that it was keen not to spread its supply too thinly.
The French car manufacturer is already supplying power units to Lotus, Red Bull, Williams and Caterham, while Scuderia Toro Rosso is expected to join it for 2014.
With Mercedes hoping to stick to just three teams for 2014, and Ferrari not wishing to expand its supply too much, there has been speculation that Renault could even add Marussia to its roster if the Banbury outfit needs a deal.
However, speaking at Renault's F1 engine base at Viry-Chatillon in France on Monday, its engine chief Jean-Michel Jalinier made it clear that the company's ideal situation was actually to supply fewer teams.
"Definitely not six," he said, when asked by AUTOSPORT about how many outfits Renault would be supplying in the future.
"Five might be an option but really a maximum because we want to deliver a good service.
"To me, five should be really a max and, if we go back from four to three, I will be happy.
"We were very comfortable with three [teams] in terms of assistance and doing our job properly."
F1 costs a concern for Renault
Jalinier says it is too early to provide teams with a figure for how much a 2014 engine deal will cost, although initial estimates suggest it will be 5 million Euro more than present.
"I can't give you a round figure because today I don't know the cost of the engine," he explained.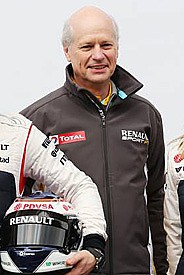 "But the rough figures today are, and you know it depends on the team and marketing rights, that a season costs 15 million Euro. That is 10 million Euro for a conventional engine, and 5 million Euro for KERS and support.
"The cost of a season in 2014 will be more in the vicinity of 20 million Euro in total, rather than 15 million Euro. These are the rough figures. This is what I am communicating with the potential partners."
While a number of F1 teams have expressed concern about the impact of a ramp-up of engine costs for 2014, Jalinier admitted that he too was worried about the financial state of the sport.
"We are very concerned with the current situation in F1 and we all know the situation is not good," he said.
"Today, apart from maybe three teams, there is no team comfortable with their budget, so we need to be careful of what we can do with their teams..."
Jalinier even suggested that it was important that Renault had a say in F1's future rules, because of its expenditure.
"Now Renault is investing all together with four teams, so we have the budget of a mid grid team," he said.
"We are the same size as a mid-grid team, so we should have the voice of a mid-grid team. We are working with FOM and the FIA on that..."