Lewis Hamilton believes Ross Brawn will stay at the Mercedes Formula 1 squad, having been personally assured of the team principal's long-term commitment.
Speculation is rife that Brawn may be ousted from his role, following recent senior management changes at the squad and rumours that Paddy Lowe may be brought in from McLaren.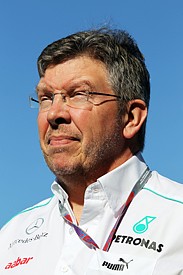 Analysis: Brawn and Hamilton in defiant mood
Hamilton said he had received assurances from Brawn that he is fully committed to Mercedes for the long-term.
"As far as I'm aware there are no plans to bring Paddy here," said Hamilton. "I've been assured by Ross that his commitment is for the long term and he's here to try and win with me.
"That reassures me and gives me a positive feeling going forward. There are lots of great people here. I've had great experiences with Paddy but he works at McLaren as far as I'm concerned."
Hamilton said Brawn's presence at the team had been an important factor in his decision to join Mercedes, and that the two had already developed a strong working relationship.
"It's important in any team to have that head figure who leads the way and inspires everyone to go that extra distance," said Hamilton.
"If I've got any problems and I do hear any whispers then I can just give him a call. Which I do and he sets me straight straightaway.
"We have quite a good relationship already. We have had for some time now.
"Ross has obviously had a great career and runs a great team.
"I believe in all the people in this team. There's a great atmosphere here, a great spirit.
"The guys seem hungrier than any group of people I've seen before. They're seriously hungry to win."
He denied that the changes in Mercedes' structure were disconcerting.
"Everything feels really positive for me," Hamilton said.
"It's important the guys are always analysing and seeing what can be improved. It's important to me that they're prepared to do whatever they need to do to win."