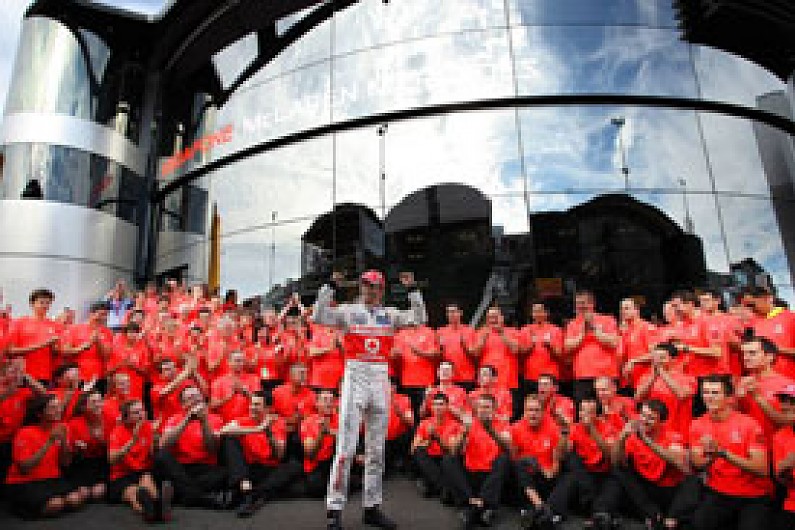 Jenson Button is confident that McLaren will not be haunted by the failures that cost it the world championship this year - as he targets a full-on title assault in 2013.
Although the Woking-based outfit did not make the most of its opportunities in the season just gone, with reliability and errors costing it valuable points, Button is full of hope for next year.
Having taken on the team leader role following the exit of Lewis Hamilton, Button thinks that McLaren will not let what happened in 2012 hamper its determination to push on.
Talking to AUTOSPORT about his hopes for next year, Button said that McLaren would be better prepared to capitalise on a strong car if it could start the season as the best team again.
"I have got a great team behind me," he said. "Starting the 2013 season, if we can start strong like we did this year, I feel that the mistakes and the problems that we have had, hopefully we can put behind us.
"For me being the experienced one in the team, I really like that and I'm looking forward to working closely with the team, not just being the driver but actually working closely with the aerodynamicists, the engineers, and the designers to really keep pushing in the direction that I want.
"I'm not an expert in any of those fields but I'm the guy that drives, I'm the guy who knows what I want from the car and what I need. It's going to be a good winter and we will start strong."
One big factor that could shake up the order in 2013 is the new type of tyre that Pirelli is introducing.
Teams got to try out the rubber at the Brazilian Grand Prix, and Button is looking forward to seeing what it will bring to the races.
"I liked it, actually," he said. "It was very hot in Brazil so it's difficult to be sure, but the idea is that it generates heat a lot quicker and you don't struggle with warm-up, which a lot of teams did in 2012. That is good.
"The grip is different. We were told that it had a certain style of grip but it doesn't quite feel that way, it feels a bit different. It feels like it's going to be a good tyre.
"There is going to be a lot of degradation, definitely. We are going to see more degradation in the latter part of the season - and it will be more like the beginning of 2012."