Charles Pic will move from Marussia to Caterham for the 2013 Formula 1 season, having signed a multi-year deal.
The 22-year-old Frenchman has earned recognition for his performances relative to experienced team-mate Timo Glock at Marussia this season. His best results to date are 15th places in Melbourne and Valencia.
Caterham team boss Cyril Abiteboul said Pic had impressed him while challenging his cars with the Marussia.
"We are thrilled that Charles has decided to join us for his second season in F1 and beyond," said Abiteboul.
"We are all looking forward to working with a young driver who has clearly shown in his first season in F1 that he has the pace, racecraft and demeanour to help us achieve our goals.
"Throughout the 2012 season we have been monitoring the progress that Charles has made, challenging us on several occasions in qualifying, and it is clear that he is a special talent.
"As the year has progressed he has performed extremely well against a very experienced team-mate and we are looking forward to seeing him develop further within the environment we will provide in 2013 and beyond."
Although Marussia is now ahead of Caterham in the constructors' championship and has closed on the Anglo-Malaysian team on-track in late-2012, Pic is still confident his new squad has the better long-term potential.
"It is clear that the team has great ambitions for the future," he said. "The investments already made and the decisions taken in the last few months show how committed the shareholders are to succeed and demonstrates their willingness to keep going forward."
Pic added: "I am very excited about starting my second year in F1 with a team that has so much potential. Caterham F1 team has everything in place to help it move into a position to fight with a number of teams ahead.
"I know how determined the team is to keep progressing and I am looking forward to playing my part in helping them move up the grid."
Both Caterham's current race drivers Heikki Kovalainen and Vitaly Petrov face uncertain futures, with the Finn admitting in Brazil on Thursday that his chances of a 2013 F1 seat now appeared slender.
Pic was promoted from the Marussia reserve role to a race seat this season, having previously been a race-winner in GP2 and Formula Renault 3.5. Current Marussia test driver Max Chilton is expected to take Pic's current drive next year.
AUTOSPORT SAYS
F1 editor Edd Straw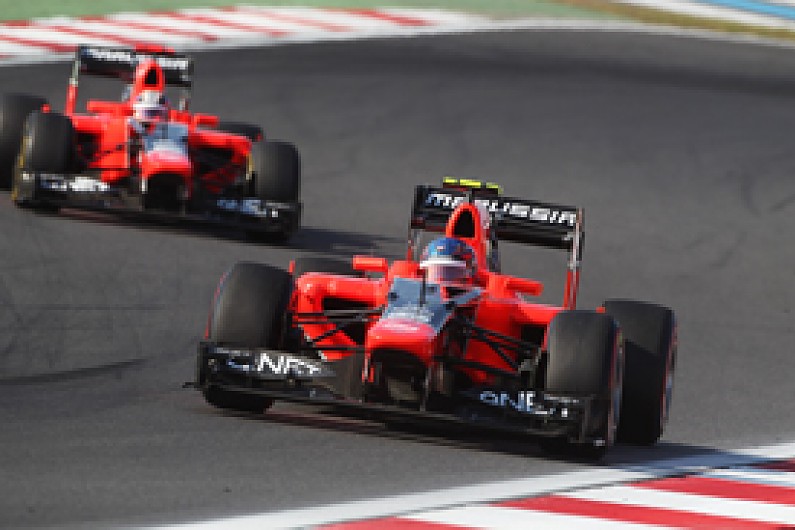 Superficially, Charles Pic's debut season in Formula 1 has been nothing special, with a best qualifying performance of 19th in Abu Dhabi and a best result of 15th in Valencia. But the reality is that he has made a very impressive start in what has very much been an off-the-radar year, in much the same way that his lack of junior titles belied the quality he showed on his rise through the ranks
It's never easy starting out at a back-of-the-grid team, but Pic has outqualified Glock six times and his race pace has compared extremely well to that of a driver who has twice finished second in a grand prix.
During the European phase of the season, in particular, he has shown very well. At familiar tracks, he has excelled, with his performances at Hockenheim and the Hungaroring in particular catching the eye.
Any rookie driver cannot be expected to join the dots of such performance peaks, but were he up against Glock for a second season he would have had the chance of emerging as the team's lead driver.
While he owes his place at Caterham to the financial package he can offer, it's the ultimate win-win scenario for his new team. The 22-year-old has a bright F1 future ahead of him and arguably deserves a berth at a better team than Caterham.
Although Marussia is likely to beat Caterham in the constructors' championship, Pic will see this as a step forward. The question is whether the outfit will be able to give him the machinery capable of challenging for points regularly. If it does, there's no question that Pic will be able to do justice to such a car.