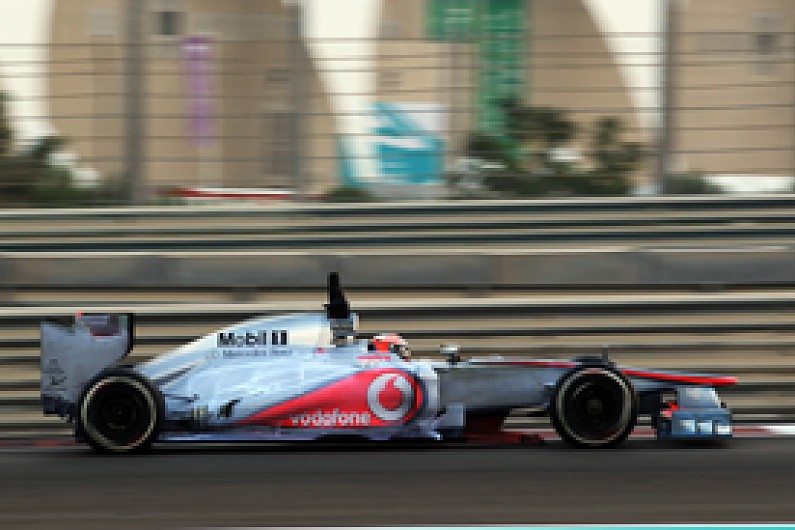 McLaren is confident it will have a faster car at next weekend's United States Grand Prix thanks to progress made during the young driver test in Abu Dhabi.
The British outfit is one of the teams that elected to run at Yas Marina this week, alongside championship rival Red Bull. Ferrari chose to test at Magny-Cours in September instead.
McLaren's Lewis Hamilton was the driver to beat in the Abu Dhabi GP last weekend, grabbing pole and looking set to dominate the race before retiring with a fuel-pressure problem.
The squad used Gary Paffett, Kevin Magnussen and Oliver Turvey this week, and Whitmarsh admitted he would be disappointed if the test did not bringing a step forward for McLaren.
"We do have some technical tests. We have some fairly experienced young drivers, one of them [Paffett] is 31, that is the nature of F1 unfortunately," said Whitmarsh.
"A team like ours uses it for a range of technical developments so you will see a very heavily- instrumented car doing lots of aerodynamic runs and lots of configurations.
"I would be disappointed if we come out of that without arriving in Texas with something that we can put on car that makes us quicker or have a better understanding that makes us quicker, because that is how we are."
Whitmarsh admitted that McLaren has failed to capitalise on having one of the quickest cars this year, where it is already out of contention for the titles.
"We have had a quick car, but you can always make it quicker. It is the normal game. You have to get the points that the car is capable of getting. We haven't always managed to do that this year, which is a little bit frustrating.
"You have seasons like it sometimes when it all goes easy and other seasons that are a bit tougher, but at the moment the season is not over.
"We have two races and we would like to have a go at winning those races before we start talking too much about next year."