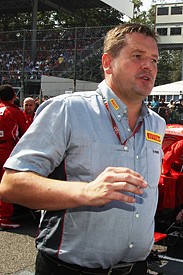 Pirelli believes that forgiving track surfaces, rather than circuit layouts, are the main reason behind the recent spate of comparatively dull races.
Indications from the opening day of Abu Dhabi Grand Prix practice suggest that this weekend's race will be a straightforward one-stopper, as was the case in India.
This is in stark contrast to the thrilling events that dominated the early part of the season.
Pirelli motorsport director Paul Hembery has admitted he is surprised by the lack of degradation encountered this weekend, but thinks there is a straightforward explanation as to why races have been less exciting recently.
Reflecting on criticism from fans after the Indian GP, in which there was little overtaking, Hembery told AUTOSPORT: "You are not going to please everybody.
"It was a small minority who were pleased, but the vast majority were quite outspoken and said boring races are what could happen if we are not careful.
"We need to find the right balance and over 20 races we have found a pretty good one.
"But the new circuits we get near end of season probably also fall into those basket of circuits that are easier on tyres; they have a new and forgiving surface.
"If you put the Malaysian asphalt on the layout we have here at Yas Marina, it would be a very different race. The surface used here is very forgiving.
"There is a specification of asphalt being used which, for what we are trying to achieve, is not very useful. If we could take the Malaysian track surface around with us, then we would have more interesting races."
Hembery expects most cars to employ a one-stop strategy in the Abu Dhabi GP.
"We have half a second difference between the medium and soft compounds, and wear levels are particularly low," he said.
"We have seen low degradation levels, which is a bit of a surprise as we thought we would have some thermal degradation here.
"It probably represents what we've in the last few races. The teams and drivers have an idea of what they need to do to reduce excessive degradation and maybe move towards a one-stop strategy."