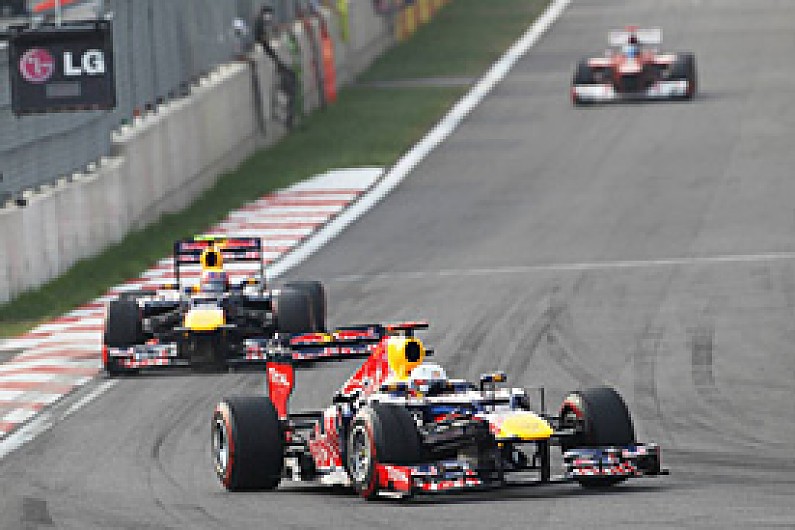 Sebastian Vettel swept into the Formula 1 world championship lead by delivering a dominant victory in the Korean Grand Prix.
Vettel's third consecutive race win came at the head of a Red Bull one-two, with team Mark Webber in second.
Polesitter Webber had immediately lost the lead to Vettel off the line, and after fending off the Australian's attempted retaliation at Turn 3, Vettel was free to pull away. His lead got up to around 10 seconds before he focused on nursing his tyres to the flag.
Fernando Alonso muscled his way up to third in a busy first lap, but had no answer to the Red Bulls' pace.
The erstwhile points leader kept Webber vaguely in sight as he completed the podium.
McLaren had a disastrous day. Jenson Button was taken out on lap one when Sauber's Kamui Kobayashi hit both Button and Mercedes' Nico Rosberg at Turn 3.
Lewis Hamilton ran fourth behind Alonso in the first stint before losing pace on his second set of tyres. He was overtaken by both Felipe Massa and Kimi Raikkonen before switching to a three-stop strategy.
That left Hamilton back in 10th, his efforts to recover positions stymied when he picked up a large piece of astroturf in the final laps.
Having dispatched Hamilton, Massa closed in on Ferrari team-mate Alonso. He received a radio message requesting that he hold formation, and duly finished fourth, ahead of Raikkonen's Lotus.
Nico Hulkenberg drove an excellent race to sixth for Force India, delivering one of the most exciting moments of a largely tedious race when he passed both Romain Grosjean and Hamilton in one sweep as the Lotus and McLaren diced. Grosjean took seventh.
Toro Rosso had a superb afternoon. Jean-Eric Vergne and Daniel Ricciardo came through from their lowly grid positions to eighth and ninth, swapping places late on as Ricciardo's tyres faded. Hamilton's astroturf drama meant the McLaren fell back after putting the STR duo under heavy pressure.
Mercedes' race was as disappointing as McLaren's. Following Rosberg's early exit, Michael Schumacher lacked pace throughout and was eventually pushed back to 13th behind Sergio Perez and Paul di Resta.
PROVISIONAL RACE RESULTS

The Korean Grand Prix
Korean International Circuit, Korea;
55 laps; 308.630km;
Weather: Clear.

Classified:

Pos  Driver        Team                       Time
 1.  Vettel        Red Bull-Renault           1h36:28.651
 2.  Webber        Red Bull-Renault           +     8.231
 3.  Alonso        Ferrari                    +    13.944
 4.  Massa         Ferrari                    +    20.168
 5.  Raikkonen     Lotus-Renault              +    36.739
 6.  Hulkenberg    Force India-Mercedes       +    45.301
 7.  Grosjean      Lotus-Renault              +    54.812
 8.  Vergne        Toro Rosso-Ferrari         +  1:09.589
 9.  Ricciardo     Toro Rosso-Ferrari         +  1:11.787
10.  Hamilton      McLaren-Mercedes           +  1:19.692
11.  Perez         Sauber-Ferrari             +  1:20.062
12.  Di Resta      Force India-Mercedes       +  1:24.448
13.  Schumacher    Mercedes                   +  1:29.241
14.  Maldonado     Williams-Renault           +  1:34.924
15.  Senna         Williams-Renault           +  1:36.902
16.  Petrov        Caterham-Renault           +     1 lap
17.  Kovalainen    Caterham-Renault           +     1 lap
18.  Glock         Marussia-Cosworth          +     1 lap
19.  Pic           Marussia-Cosworth          +    2 lap2
20.  Karthikeyan   HRT-Cosworth               +    2 laps

Fastest lap: Webber, 1:42.037

Not classified/retirements:

Driver        Team                         On lap
De la Rosa    HRT-Cosworth                 17
Kobayashi     Sauber-Ferrari               17
Rosberg       Mercedes                     2
Button        McLaren-Mercedes             1


World Championship standings, round 16:                

Drivers:                    Constructors:             
 1.  Vettel       215        1.  Red Bull-Renault          367
 2.  Alonso       209        2.  Ferrari                   290
 3.  Raikkonen    167        3.  McLaren-Mercedes          284
 4.  Hamilton     153        4.  Lotus-Renault             255
 5.  Webber       152        5.  Mercedes                  136
 6.  Button       131        6.  Sauber-Ferrari            116
 7.  Rosberg       93        7.  Force India-Mercedes       89
 8.  Grosjean      88        8.  Williams-Renault           58
 9.  Massa         81        9.  Toro Rosso-Ferrari         21
10.  Perez         66       
11.  Kobayashi     50       
12.  Hulkenberg    45       
13.  Di Resta      44       
14.  Schumacher    43       
15.  Maldonado     33       
16.  Senna         25       
17.  Vergne        12       
18.  Ricciardo      9       
       
All timing unofficial