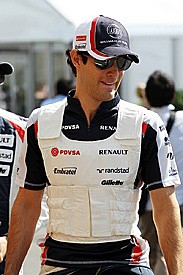 Bruno Senna is confident that he can deliver the strong end to the season that he needs to have a chance of securing his Formula 1 future.
The Brazilian has struggled to match Williams team-mate Pastor Maldonado's performances this year despite being only eight points behind him in the drivers' championship.
But amid question marks over whether Senna will continue with the team in 2013, particularly given the impressive practice performances of reserve driver Valtteri Bottas, the Brazilian believes that a big result is just around the corner.
"When a weekend strings together, it's going to be a good result," said Senna when asked by AUTOSPORT if he is feeling under pressure to prove himself.
"The team wants us to score points and the most important thing is to finish as many positions up in the championship as possible.
"I don't see why we can't have a good end of the year and score some big points."
Senna admitted that his up-and-down form this season is down to several reasons, some because of his own mistakes and some, such as failing in Q1 at Suzuka two weeks ago after being blocked by Jean-Eric Vergne, caused by external factors.
But he accepts that the results are what he will be judged by and that his priority is to have a strong end to the season.
"Sometimes it's our mistake and I've made a few mistakes this season," he said.
"Sometimes it is just bad luck or circumstances.
"It's a fact that, at the end of the day, all that remains is the results, the laptimes and the numbers.
"If you have a whole year where your wing fell off in qualifying and you got outqualified by your team-mate, people will remember that and not that the wing fell off.
"We need to put as many good weekends together as possible and work from there.
"The pressure is the same now as it was at the beginning of the season."