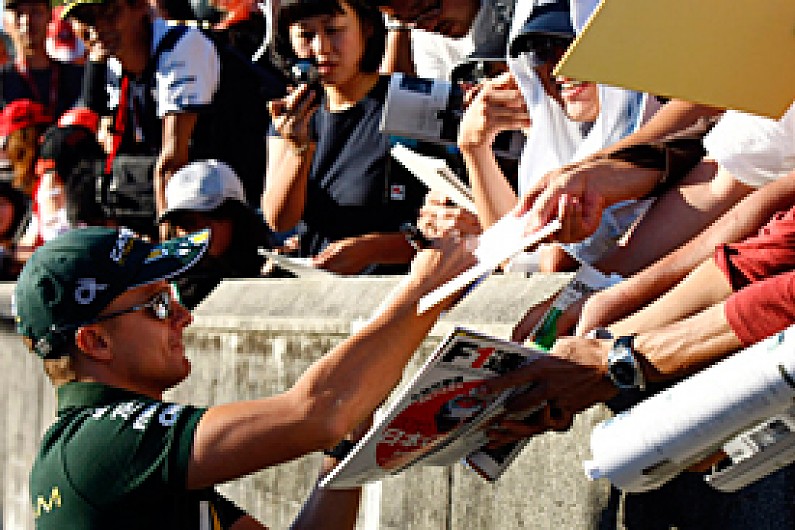 Heikki Kovalainen is confident of agreeing a new deal with Caterham before the end of the season.
The Finn's contract expires at the end of 2012 and he admits that he has not had any "serious talks" with a bigger outfit despite tentative contact from Ferrari, among others.
"Hopefully before the end of the season," he said when asked by AUTOSPORT what the timescale was for agreeing a new contract with Caterham. "Hopefully something this month."
"At the moment, I'm talking to Caterham and seeing what we can come up with.
"I can still see a lot of potential here and the team is doing the right things to move forward.
"If there is anything else available, you have to look at it, but I haven't had serious talks with anyone else."
Question marks over the Finn's Caterham future arose in Singapore two weeks ago, when team principal Tony Fernandes criticised Kovalainen's management on Finnish television.
AUTOSPORT understands that Fernandes was unimpressed by Kovalainen becoming distracted by the possibility of a move to a bigger team.
Despite that, Fernandes also said that he was keen for the Finn to stay on.
Kovalainen is confident that any friction between the two parties is now behind them, adding that the problems were not caused by money.
"We haven't had issues with the money, it has been other issues," said Kovalainen. "Whatever issues there have been with the team and with my management, hopefully in Singapore we put them all behind us.
"It's obviously a different situation now to before when I was on my own.
"The whole reason for me getting IMG on board was to take that management aside away from myself. I didn't really enjoy that and didn't feel I was very good at it and I wanted someone professional doing it.
"But it's not about money. That's not the issue. We're not asking salaries from this team that we would be asking from a top team because it doesn't work like that.
"What I really want at this stage of my career is a car that is performing well. I feel that I have a lot of potential that I'm not able to show.
"I'm certainly a much strong driver now than I was before when I was in a good car so obviously I have a lot of motivation to try to show that. Money is a secondary issue."
Caterham has been in talks with a number of drivers capable of bringing money to the team, including Marussia's promising rookie Charles Pic and Giedo van der Garde, who drove Kovalainen's car in morning practice at Suzuka on Friday.
But Kovalainen is not fearful that he could end up without an F1 seat despite his status as a paid professional driver.
"I haven't thought that I would end up with no seat," said Kovalainen. "I still believe that there will be a seat for a good driver.
"Of course, it has changed. A lot of drivers have come in [to F1] with a lot of money and the teams need that. But I'm still confident of finding a place."