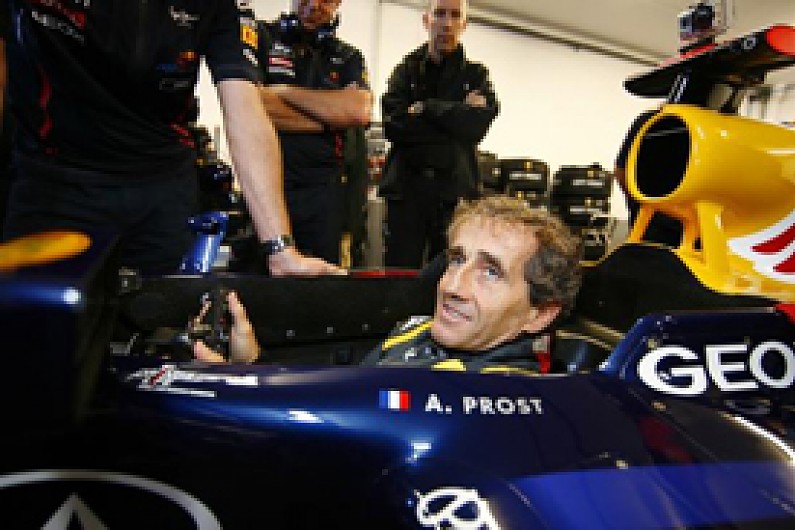 Alain Prost returned to the cockpit of a contemporary Formula 1 car this weekend for the first time since 1996.
The four-time world champion completed a series of demo runs in the 2010 title-winning Red Bull RB6 at the Paul Ricard World Series by Renault meeting.
Prost, who is an ambassador for Renault, had a shakedown run on Saturday evening to get accustomed to the car.
He then ran a series of laps on Sunday morning, with current Lotus F1 driver Romain Grosjean on track too in a 2010 Renault R30.
Prost, 57, last drove a contemporary car when he tested for McLaren in 1996.
Speaking about the opportunity to drive the Red Bull, Prost told AUTOSPORT: "10 days ago Renault told me this was an opportunity if I wanted to do it.
"Before that, I didn't even know it was a possibility. I've had many opportunities with other teams in the past and I never wanted to do it.
"But recently I thought maybe it would not be too bad to know what modern Formula 1 is like."
Prost admitted that he did not want to push too hard in an unfamiliar car, but he said he was still able to grasp an understanding of how F1 has moved on in the 16 years since his last McLaren test.
"I know I cannot go crazy trying to perform, but even what I have done here is enough to see what it is like and judge how modern F1 is," he said.
"It's not too different, it's just using the tools differently. The car is very stiff, and you just need to get used to it.
"If you don't drive a modern car it is impossible to compare it to the old cars. It was very nice, it was a great opportunity and I enjoyed it."
* Gallery: Prost in action in the Red Bull