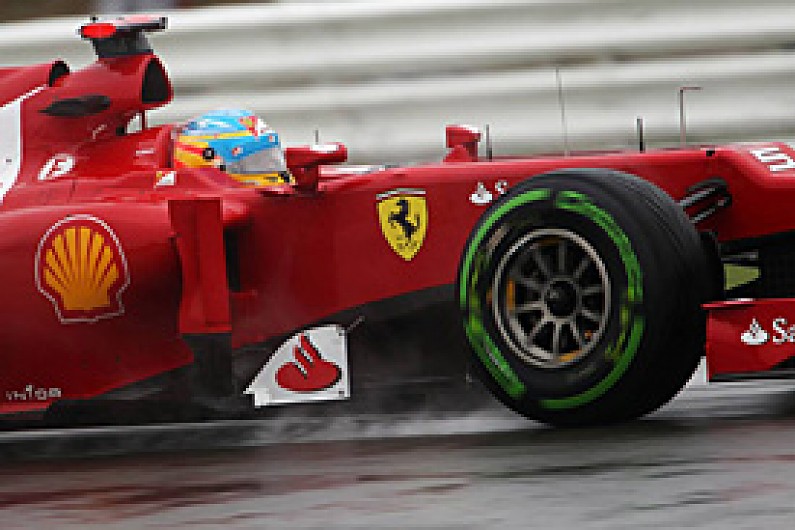 Fernando Alonso claimed his and Ferrari's first pole position since the 2010 Singapore Grand Prix as he came out on top of a tight battle with Red Bull's Mark Webber in a drying and delayed British GP qualifying session at Silverstone.
The session was interrupted for over an hour and a half when the level of standing water became impossible to handle. By the time it resumed, conditions were much improved, and although full wets were still the best choice for the remaining six minutes of Q2, intermediates were the way to go in the pole shoot-out.
Webber looked to be in good shape as he put himself 0.8 seconds clear of the pack with a 1m51.793s in the closing minutes, only for Alonso to pip it by 0.047s. Webber's reply was not quite quick enough and he had to be content with the outside of the front row.
Germany's two Formula 1 world champions will share row two. Michael Schumacher produced one of his best qualifying efforts for Mercedes as he secured third ahead of the second Red Bull of Sebastian Vettel.
Ferrari got both its cars in the top five, as Felipe Massa qualified fifth.
Kimi Raikkonen's Lotus starts alongside the Brazilian, with Catalunya winner Pastor Maldonado next up for Williams.
The leading British driver was only eighth, Lewis Hamilton qualifying his McLaren on row four. Nico Hulkenberg was ninth quickest but will lose five places due to a gearbox change on his Force India.
Romain Grosjean qualified for Q3 only to the spin into the gravel at Vale at the end of Q2. With his Lotus beached, he had to sit out Q3 and settle for 10th.
Inevitably there were some midfield upsets in the rain. Nico Rosberg (Mercedes) was third at the red flag but tumbled to 13th after the restart while Sauber's Sergio Perez dropped further still. Fastest before the stoppage, his choice of intermediates proved too ambitious and he tumbled to 17th.
The headline story from Q1 was yet another Silverstone disappointment for Jenson Button. The McLaren driver could do no better than 18th, his final lap hamstrung by more rain arriving in the final sector plus yellow flags for Timo Glock's spun Marussia on the exit of Club.
Hamilton was the only home driver in the top 10, Paul di Resta (Force India) being edged out of a Q3 place by Alonso in the closing moments, leaving the Scot 11th.
Pos  Driver                Team                 Time          Gap   
 1.  Fernando Alonso       Ferrari              1m51.746s   
 2.  Mark Webber           Red Bull-Renault     1m51.793s  + 0.047 
 3.  Michael Schumacher    Mercedes             1m52.020s  + 0.274 
 4.  Sebastian Vettel      Red Bull-Renault     1m52.199s  + 0.453 
 5.  Felipe Massa          Ferrari              1m53.065s  + 1.319 
 6.  Kimi Raikkonen        Lotus-Renault        1m53.290s  + 1.544 
 7.  Pastor Maldonado      Williams-Renault     1m53.539s  + 1.793 
 8.  Lewis Hamilton        McLaren-Mercedes     1m53.543s  + 1.797 
 9.  Nico Hulkenberg       Force India-Mercedes 1m54.382s  + 2.636 
10.  Romain Grosjean       Lotus-Renault        no time
Q2 cut-off time: 1m56.931s                                   Gap **
11.  Paul di Resta         Force India-Mercedes 1m57.009s  + 2.112
12.  Kamui Kobayashi       Sauber-Ferrari       1m57.071s  + 2.174
13.  Nico Rosberg          Mercedes             1m57.108s  + 2.211
14.  Daniel Ricciardo      Toro Rosso-Ferrari   1m57.132s  + 2.235
15.  Bruno Senna           Williams-Renault     1m57.426s  + 2.529
16.  Jean-Eric Vergne      Toro Rosso-Ferrari   1m57.719s  + 2.822
17.  Sergio Perez          Sauber-Ferrari       1m57.895s  + 2.998
Q1 cut-off time: 1m47.105s                                 Gap *
18.  Jenson Button         McLaren-Mercedes     1m48.044s  + 1.765
19.  Vitaly Petrov         Caterham-Renault     1m49.027s  + 2.748
20.  Heikki Kovalainen     Caterham-Renault     1m49.477s  + 3.198
21.  Timo Glock            Marussia-Cosworth    1m51.618s  + 5.339
22.  Pedro de la Rosa      HRT-Cosworth         1m52.742s  + 6.463
23.  Narain Karthikeyan    HRT-Cosworth         1m53.040s  + 6.761
24.  Charles Pic           Marussia-Cosworth    1m54.143s  + 7.864

107% time: 1m53.718s
* Gap to quickest in Q1
** Gap to quickest in Q2