Britain has been one of the world leaders in motorsport for decades, and Silverstone has played a key role throughout. People within the sport know that many teams and companies are based at or near the Northamptonshire venue, but it's a message that hasn't travelled as far as it should. Sally Reynolds, the woman behind the Silverstone Experience, believes it's time to start shouting a bit louder.
Reynolds arrived at Silverstone in 2011 as a consultant to see what could be done to attract more people and quickly saw a big opportunity. "It became apparent that Silverstone has an amazing story behind it, but nowhere at Silverstone were we telling the story of British motorsport, its role in global motorsport and Silverstone's position," says Reynolds, who is now chief executive of the Silverstone Heritage Ltd charity. "It also became apparent Silverstone couldn't pay for this itself."
Reynolds kickstarted a process that should reach its biggest milestone tomorrow (Friday), when the Silverstone Experience opens. The aims of the attraction - and indeed the charity ­- are the preservation of motorsport history and education of it, and to inspire the next generation of engineers. To that end, the Experience is much more than a museum - it is a modern, interactive venue, the sort that British motorsport should probably have created many years ago.
A key part of the project was getting the support of the Heritage Lottery Fund (now known as the National Lottery Heritage Fund). Reynolds put together the successful development grant application in 2012, which allowed the project to gather momentum. Despite Silverstone's past, which goes back much further than motor racing and includes ecclesiastical and Second World War history, Reynolds wasn't sure it would be interested, but the response was enthusiastic.
Case officer Jeremy Fenn underlined how important technical heritage is to the UK while Sir Peter Luff, chair of the National Lottery Heritage Fund, praised the unique and inspiring blend of sport, science and history: "The National Lottery Heritage Fund has an incredible track record when it comes to funding projects that will inspire future generations of engineers and scientists across the UK. We're delighted that our funding for the Silverstone Experience will continue to do just that, while also highlighting some of the incredible feats in British motorsport heritage that this iconic venue is home to."
"It became apparent that we would appeal as a Heritage Lottery Fund project," adds Reynolds. "You needed somewhere all these stories could be pulled together and told."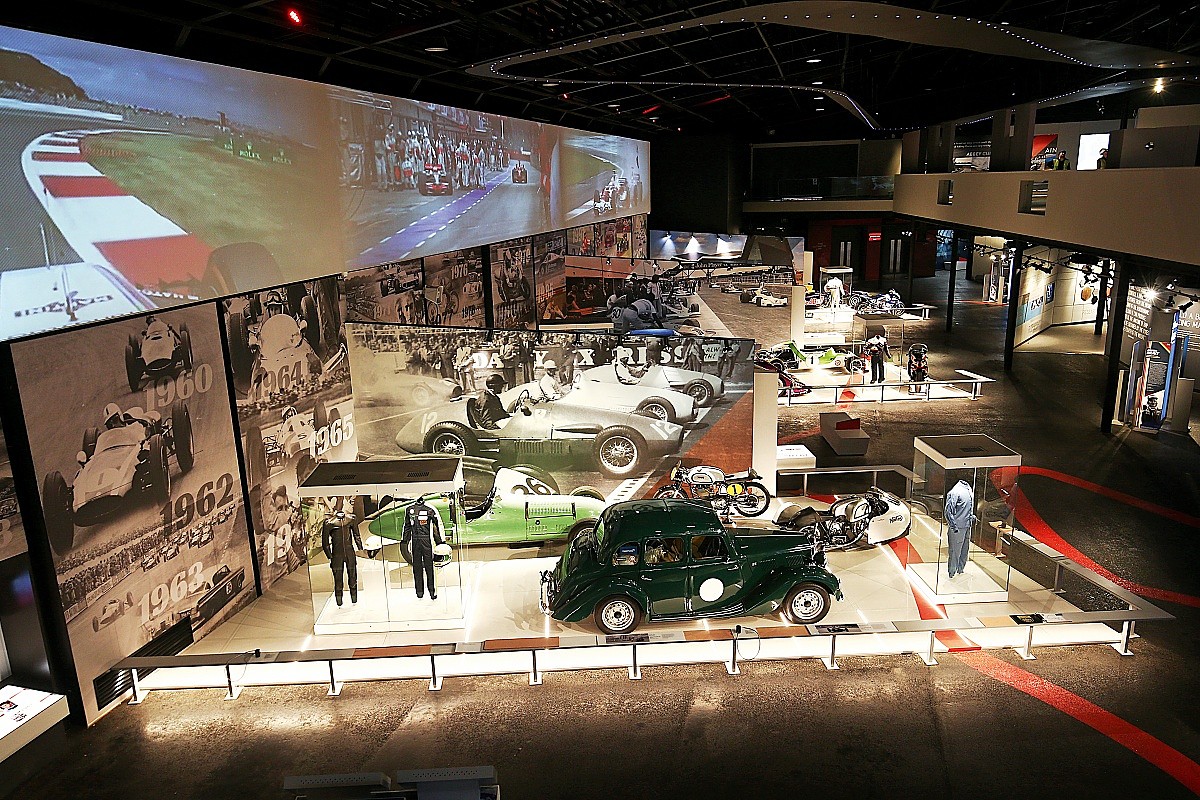 The second-round application to the Heritage Lottery Fund was completed in August 2016 and was confirmed in November of that year. The process was rigorous, but that helped make the plans watertight - as well as providing £9.1million. Mather and Co, which was involved in the National Football Museum, has been a firm supporter throughout and designed the exhibition from Silverstone's brief. Local councils have also been supportive.
So what can you expect from a visit?
Created in the last remaining Vickers Wellington bomber hangar remaining at Silverstone on land provided cheaply by circuit owner the British Racing Drivers' Club, the facility includes a restaurant, education rooms (with views over the old Bridge corner), the BRDC library, plus offices. But the main event is the Experience itself.There is a time-ticketing system "to deliver the best possible visitor experience" and to avoid queues, and a show car is suspended from the ceiling at the entrance.
Visitors are led upstairs to a starting grid, with screens either side depicting racing cars through the ages, including real sound recordings of their engines. The lights go out, double doors open and the first thing visitors see is a Mark Webber Red Bull. The original 1948 circuit is overhead and the current track on the floor.
The site's early history kicks things off, but you will be able to look down upon some of the racing machinery that is part of the tour later. "Some visitors will be desperate to see cars and bikes, so we want people to know it's coming," says Reynolds. "Then they can relax and enjoy the interactive elements first."
The history of Silverstone's corner names come first, and there are various things for kids to climb through or under. "There's stuff for the kids to do while you read everything," explains Reynolds.
The area's WW2 role is covered, as are the exploits of figures such as war hero and racer Tony Rolt, narrated by leading commentator and longtime Silverstone supporter Ian Titchmarsh. Silverstone was a training base, so there is a plane simulator, leaflet-dropping game, and a gun simulator. They are the sort of things that will engross kids, and which many adults may find difficult to resist trying too. More poignant are the stories of some of those lost during WW2, which appear alongside former racers who were also killed during hostilities.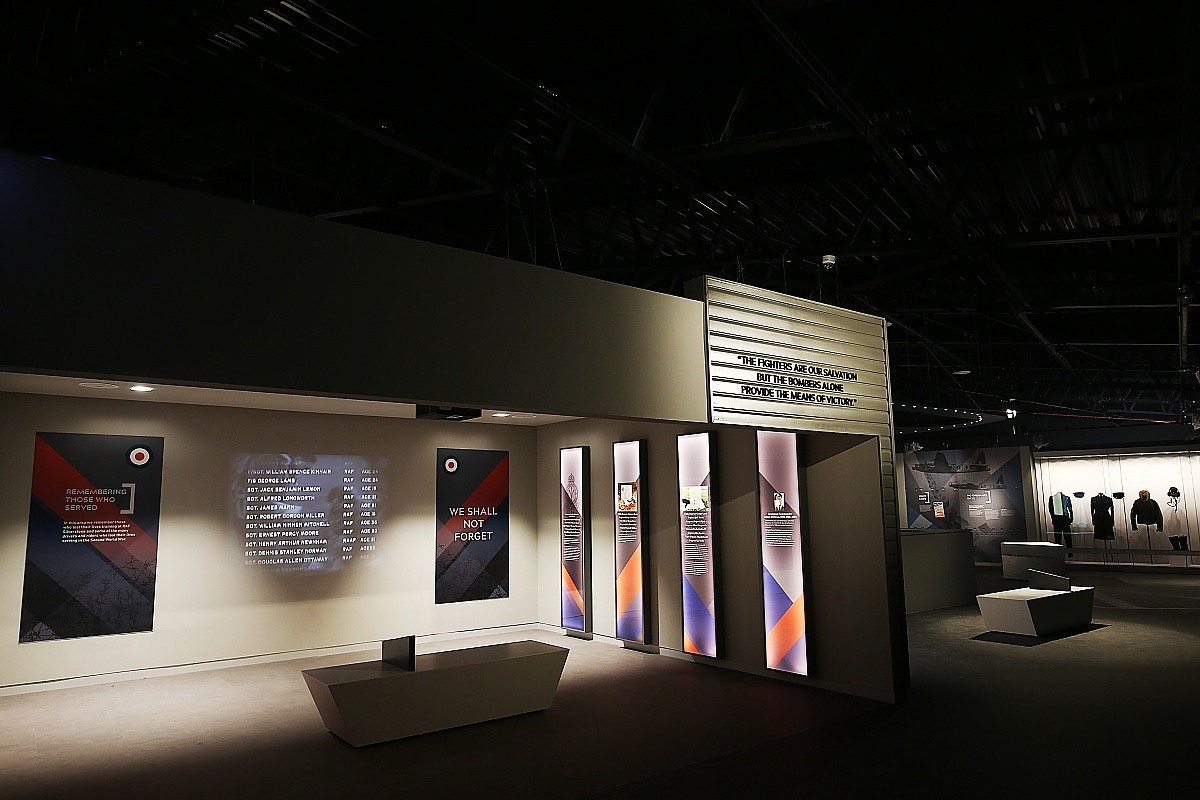 Life on Silverstone's farm isn't ignored, and nor is the arrival of motorsport after the war with the Mutton Grand Prix, an unauthorised race that involved an accident with a sheep! That's just one of many stories visitors are presented with, and great efforts have been made to get oral histories from those who have worked at Silverstone over the years. It's interesting enough to entertain non-motorsport fans, while having enough detail to keep diehards happy. Even hardcore motorsport enthusiasts will learn something.
One of the more unusual elements allows you to design a 500cc Formula 3 car, which you can then 'virtually' race to see how competent a job you've done. There's also an ERA E-type replica for kids to climb into, and footage on a loop, which includes ERAs racing towards you to give a flavour of the original 1948 layout.
"It's part-museum, part-motorsport specialist, part-child entertainment," says Reynolds, and it's hard to disagree. There's also a healthy budget for updates so that things won't get stale.
The next section is the Heart of Silverstone, which has smells, such as rubber and engine oil, piped in. You then descend to the cars and motorbikes, which have been lent to the Experience from various places and owners, and which will also change regularly to keep things fresh. The ground floor is more open, giving visitors more freedom in where they decide to go.
It's hard to know where to look first. There's a circuit evolution screen, showing how much the British Grand Prix venue has changed in 70 years, a Race Day section that mimics a paddock, the Race Control area, marshals station, and you can even have a go at commentating. Medical staff and the press aren't forgotten, while dotted around everywhere are Legends stations, focusing on Formula 1 stars such as Stirling Moss, Jim Clark and Lewis Hamilton, as well as tin-top heroes including Jack Sears, Gerry Marshall, Andy Rouse and Jason Plato.
Perhaps the most important room comes next. Championship-winning designer Mark Williams has helped with the interactive Tech Lab, which provides the important educational element and shows children the sort of exciting jobs they could aim for. "We want to inspire the next generation of engineers," asserts Reynolds. "We're not a museum and we're not just about motor racing."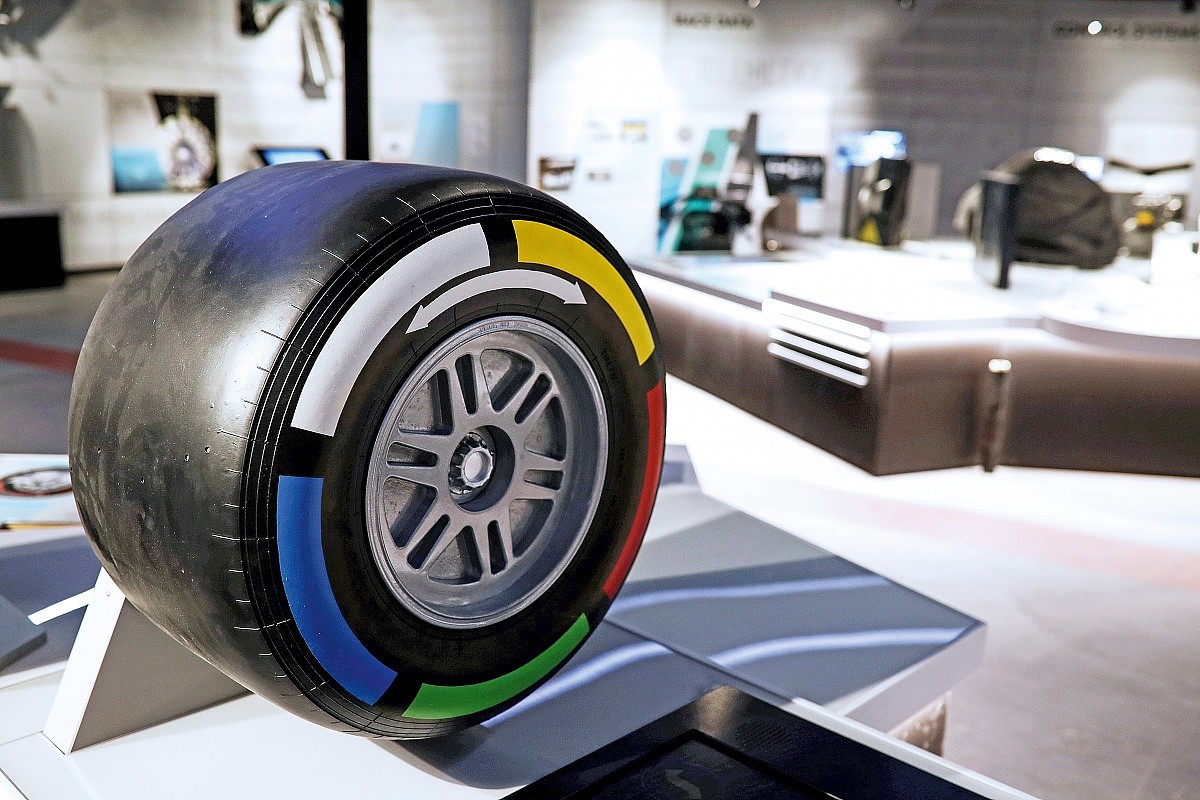 This section explains how an engine works and has a windtunnel with a plane wing and a racing car rear wing, both of which you can manipulate to see how they react to the airflow. Tyres, gears, brakes, suspension - with simple demonstrations of wheels moving over bumps with no suspension, springs only, and spring and damper set-ups - are all explained in a simple and accessible way. You don't have to be an F1 designer to understand everything and to have a go with the experiments.
As well as ex-Lola and McLaren designer Williams, Sir Jackie Stewart, Karun Chandhok, Martin Brundle, David Croft and Murray Walker have all made valuable contributions. Added to these are several F1 teams, including Mercedes, Red Bull, Racing Point, McLaren and Williams, along with companies Hewland Engineering, Premier Fuels and Grand Prix Racewear, which have helped in various ways.
"The industry may not fully understand the scale and scope of our ambition, but we've had massive support," says Reynolds, who believes more organisations will assist once they have seen it. The highlight for many will be the era stations, which go from the 1940s to present. Each one has information screens, memorabilia (some of which are from the BRDC archive), and key machines from that decade. On Autosport's visit, Nigel Mansell's Williams FW14B had just joined an ex-David Coulthard McLaren in the 1990s section, while a Ford RS500 was next door in the 1980s area.
The Future of Motorsport section is next, before visitors head to the grand finale. At the very end, you'll be able to sit down in a cinema-like room to enjoy an Ultimate Lap of Silverstone, being onboard as key moments from the circuit's history take place around you.
The estimate is that visitors will spend a couple of hours there, but some will want to take longer. It's hard to see what more could have been included, but Reynolds hasn't run out of ideas. She wants to subsidise school trips in future and has a folder of other things to add to the Experience.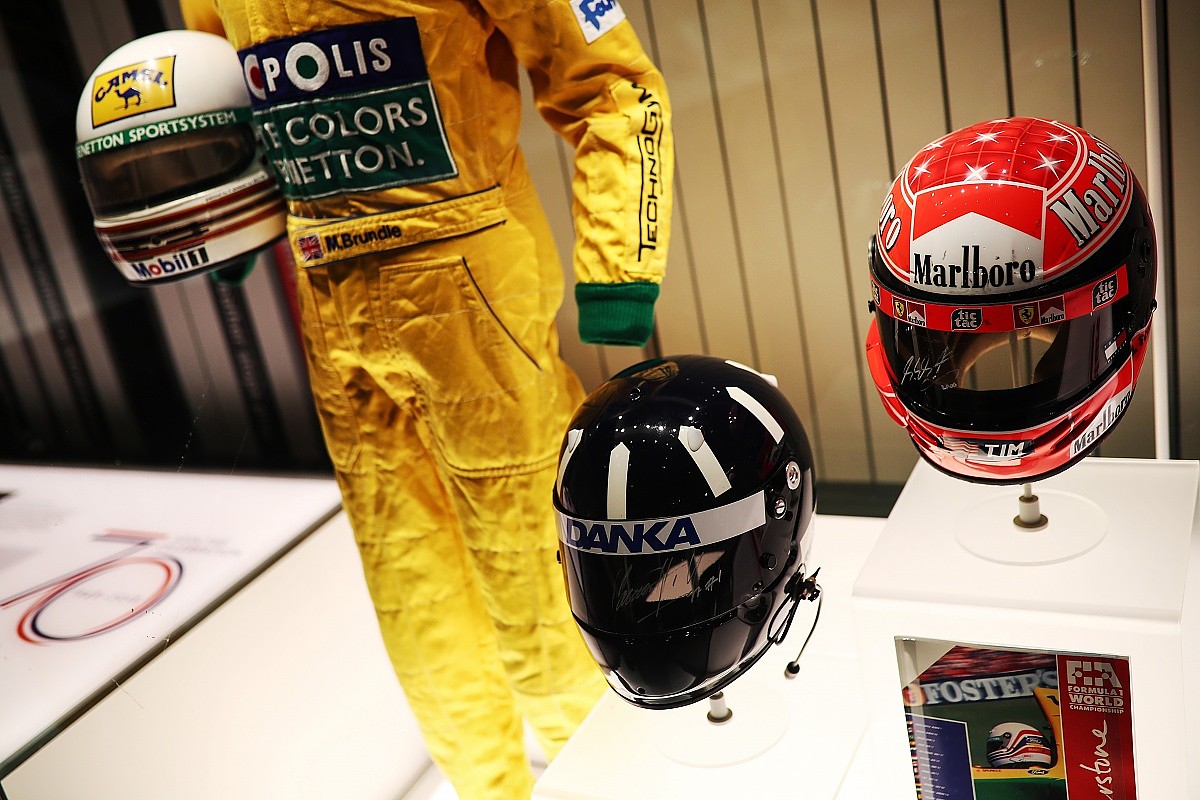 "Every couple of years we'll be able to build a new part of the exhibition," she says. "Everything we do poses a question. What's the problem and how do we solve it? That's what engineers do. It's the story of human endeavour, whether it's the drivers or aircrews."
The BRDC has been a big supporter, hence the archive being on loan - "hiding all the items away is not the right thing to do, we need to use them to excite people about motor racing" - but it should be noted that the Experience is not owned by the club or Silverstone. "None of the money we will make can, or should, go to Silverstone," says Reynolds. "It's to further our charitable objectives, which are independent."
It's clear that Reynolds, who has experience working at such major attractions as Legoland, has been the driving force behind the project. She does, however, point out that a museum and hotel were apparently discussed at a BRDC board meeting in 1971.
"You could say it's my vision, based on a long-held ambition," confirms Reynolds. "This project feels like my third child and it's definitely the most problematic! I'm so proud it'll celebrate something the UK is really good at. We lead the world at this and we don't tell people enough. I think this will help cement Silverstone's position at the heart of global motorsport."
Reynolds expects the Experience staff will probably end up numbering 30, plus volunteers to provide important stories and anecdotes, but its impact should indeed reach far further.
If the Experience reaches its objectives, motorsport will finally have the sort of flag-bearer it deserves - and one that should inspire future generations of designers and engineers.
Experience Information
Book in advance £20 adult (16+), £10 kids (5-15 years). Four years and under go free
Open every day 1000-1800, last entry 1600 (closed Christmas day)
Entry to the Silverstone Experience during the circuit's major events is restricted, therefore if you would like to visit during these times you will be required to purchase an event ticket too.