For 30 years, the McLaren Autosport BRDC Award has searched for the next British Formula 1 star. McLaren will no longer be part of the Award from 2019, so it's time to look back at the past three decades with the winners.
Autosport's Peter Foubister and then-McLaren boss Ron Dennis introduced the Award in 1989. David Coulthard was the inaugural victor and winners have since racked up more than 600 F1 starts, an F1 world title, a World Endurance crown, three DTM titles and an Indianapolis 500 hat-trick, to name just some of the successes.
Before the Award continues with a new partner, Autosport and the British Racing Drivers' Club would like to thank McLaren for its commitment over such a long period with a celebration of the 30 winners.
1989 David Coulthard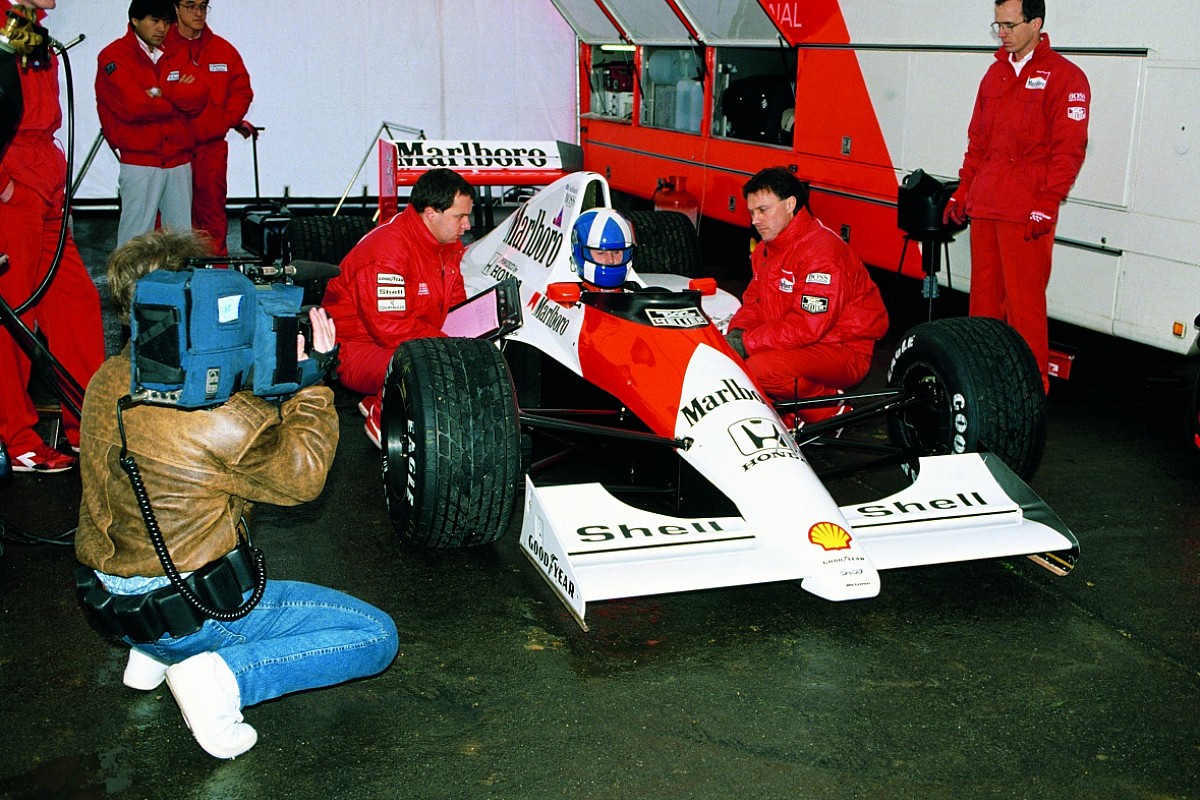 He says: "The Award got me in front of Ron Dennis, got me down to McLaren, and I met a lot of the guys I ended up working with. There's no question it makes a difference.
"I don't have many trophies at my Monaco apartment, but I have the McLaren Autosport BRDC Award. That shows my affection for what it meant to me."
What happened next
Made it to F1, winning 13 grands prix and finishing as runner-up in 2001 with McLaren.
1990 Gareth Rees
He says: "For 1990 the Award was a lot more involved [than in 1989], with six finalists and physical and driving assessments, while Autosport gave it a big promotional push.
"Two of the judges were James Hunt and Marcus Pye and, although I wasn't aware at the time, Marcus told me after the Autosport Awards that the judges were supposed to convene at the end of the driving assessment day to choose a winner, but James declined and instead went home, declaring there was no point in discussions 'because Gareth Rees has obviously won it'!
"It didn't take long for McLaren to arrange my first 'assignment'. Two months after winning the Award, they flew me out to Estoril with Allan McNish to make a promotional video with Ayrton Senna for Honda. I drove a Honda Accord, chased by Allan in a Porsche 911, chased by Senna in the McLaren-Honda.
"It was a fun day, and working with Senna and seeing and hearing that McLaren-Honda blast past my little Honda Accord out of Estoril's final corner will stay with me forever."
What happened next
Was 1996 British Formula 2 champion before running out of funds and becoming a motorsport commentator.
1991 Oliver Gavin

He says: "The test was at Donington Park and I nearly crashed the F3 car on the first lap down the Craner Curves. It really caught me out and I thought it was all over, but I managed to gather it together.
"The F1 test was at the end of 1993 at Silverstone in the cold and rain. Steve Hallam was running the test and he got a huge manual out on how to drive the car - it was page after page because it was the active car with all the technology, including traction control. I was in complete overload on page one!
"It was still a big day, but winning the Award was the big thing for me. The kudos that came with it and the doors it opened were really important and I still get asked about it now."
What happened next
Won the 1995 British Formula 3 title, then forged a GT career with Corvette Racing, taking five class wins at Le Mans.
1992 Dario Franchitti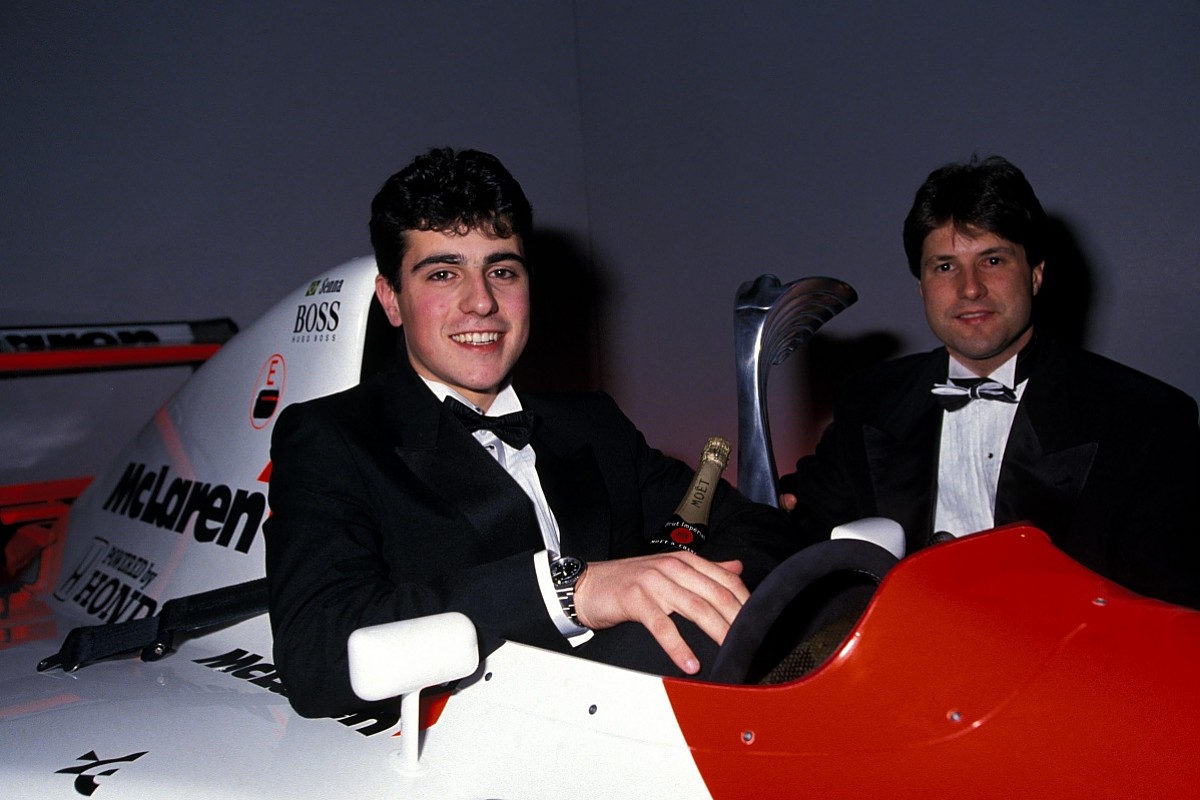 He says: "It was my second turn so I'd been through the disappointment of not having my name called out at the Autosport Awards. I knew I had to lay it on the line - almost drive over the limit.
"It all came into focus when Norbert Haug phoned Autosport to ask who Mercedes should be looking at. They said Oliver Gavin and myself. That really opened the door to my DTM drive."
What happened next
Tackled America after a spell in the DTM, winning three Indianapolis 500s and four IndyCar crowns.
1993 Ralph Firman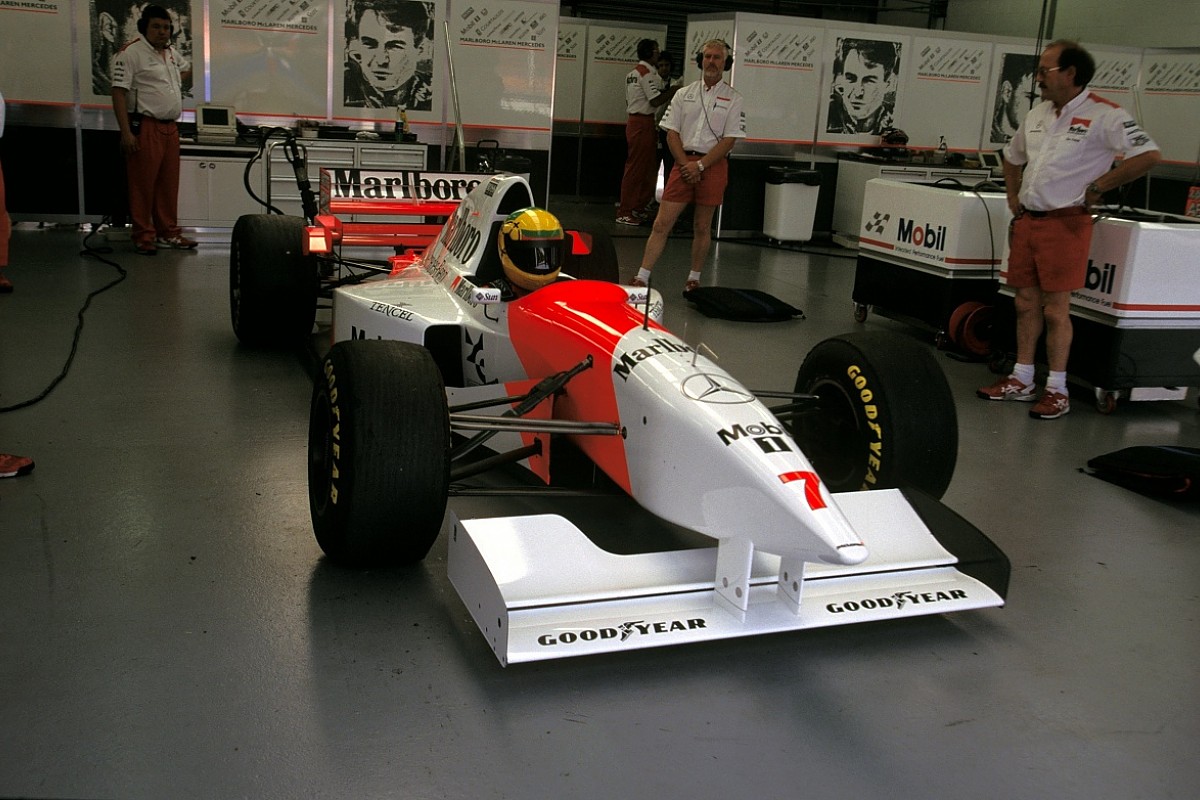 He says: "I think going back the second time did help because I knew what to expect, but it was still starting afresh with five very good drivers.
"It was between James Matthews and me in the F3 cars. The F3 car was so much more nervous and twitchy compared to what I was used to, but I was still able to enjoy it. I had a really good day and thought I performed well, but you never know.
"My F1 test was at Jerez. It was amazing, a dream come true. It was my first time at Jerez, as well as in an F1 car. I think Mika Hakkinen and David Coulthard were there too and they were very helpful."
What happened next
Was the 2002 Formula Nippon champion and made it to F1 with Jordan, then won the '07 Super GT title.
1994 Jamie Davies
He says: "The Award is a good experience - it's nerve-wracking to do things like stand up in front of the judges and talk about yourself. It's a fantastic thing to win, the prestige and the BRDC membership.
"My F1 run was in December 1995 at Jerez. I'd never driven anything more powerful than an F3 car and never driven at Jerez. David Coulthard was testing in the sister car and I jumped in a hire car with him to go round the circuit. He showed me how to kill a hire car, but it did show me the layout of the track.
"The F1 test went really, really well. From the first lap to my last every lap was quicker than the previous one."
What happened next
Got as far as F3000 before switching to sportscars, becoming the 2004 Le Mans Endurance champion.
1995 Jonny Kane
What happened next
After winning the 1997 British F3 crown, he made a career in sportscars and won LMP2 in the 2010 Le Mans 24 Hours.
1996 Darren Turner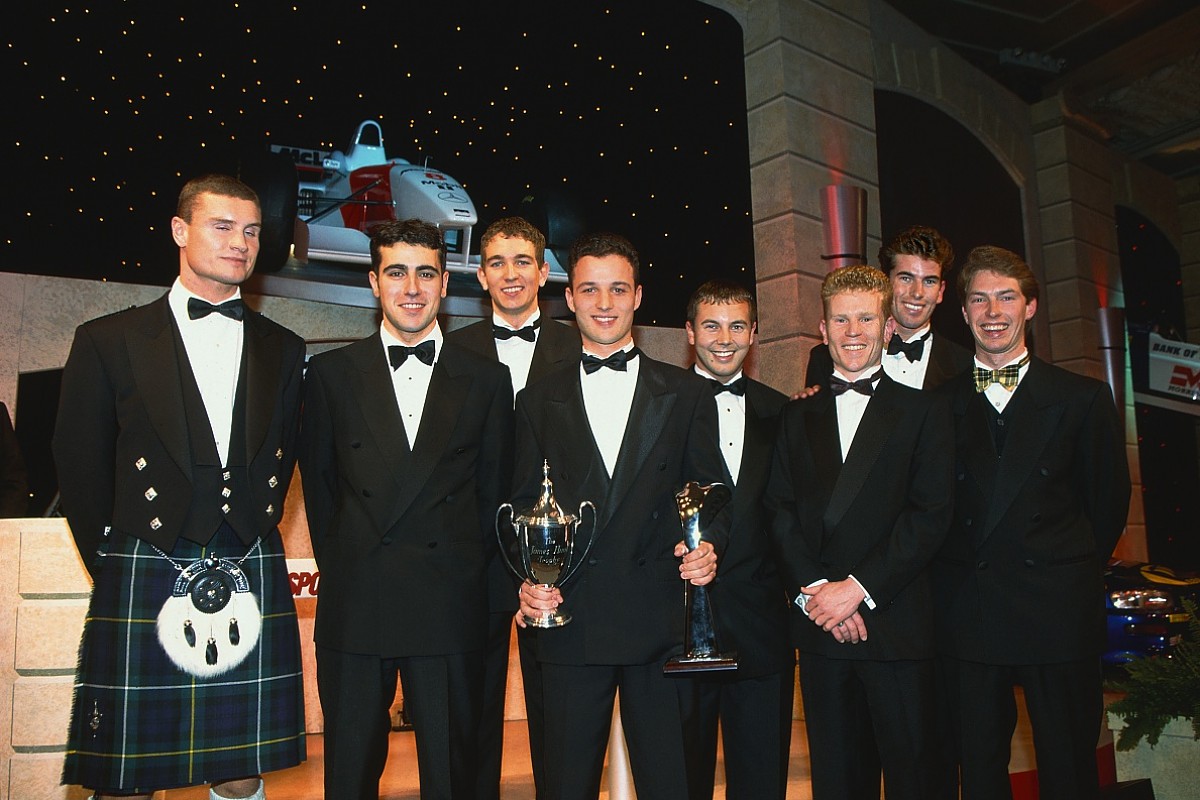 He says: "The F1 test was a big jump. I'd raced in Formula Renault and done a couple of F3 tests. I screwed up the out-lap - I went off at Vale. But I loved it and by the end of the third run I was fairly comfortable.
"I only did three laps on the final run and I came in because I wasn't going to go any quicker and my head was on my shoulder. It was, 'Wow, these things are physical'.
"Without the Award I reckon I'd have cobbled enough together to do one more year of racing. It gave me a big stepping stone to being a professional racing driver and put me on the map."
What happened next
Became an Aston Martin factory driver in 2005 and remains so, having taken three Le Mans GT wins.
1997 Andrew Kirkaldy
What happened next
Reached F3 before switching to GT competition, first as a driver and then a team boss.
1998 Jenson Button

What happened next
Was in F1 just over a year after winning the Award, became world champion in 2009 and scored 15 GP wins.
1999 Gary Paffett
What happened next
Never quite made it to F1 despite becoming McLaren's test driver, but is a DTM ace and has won the title twice.
2000 Anthony Davidson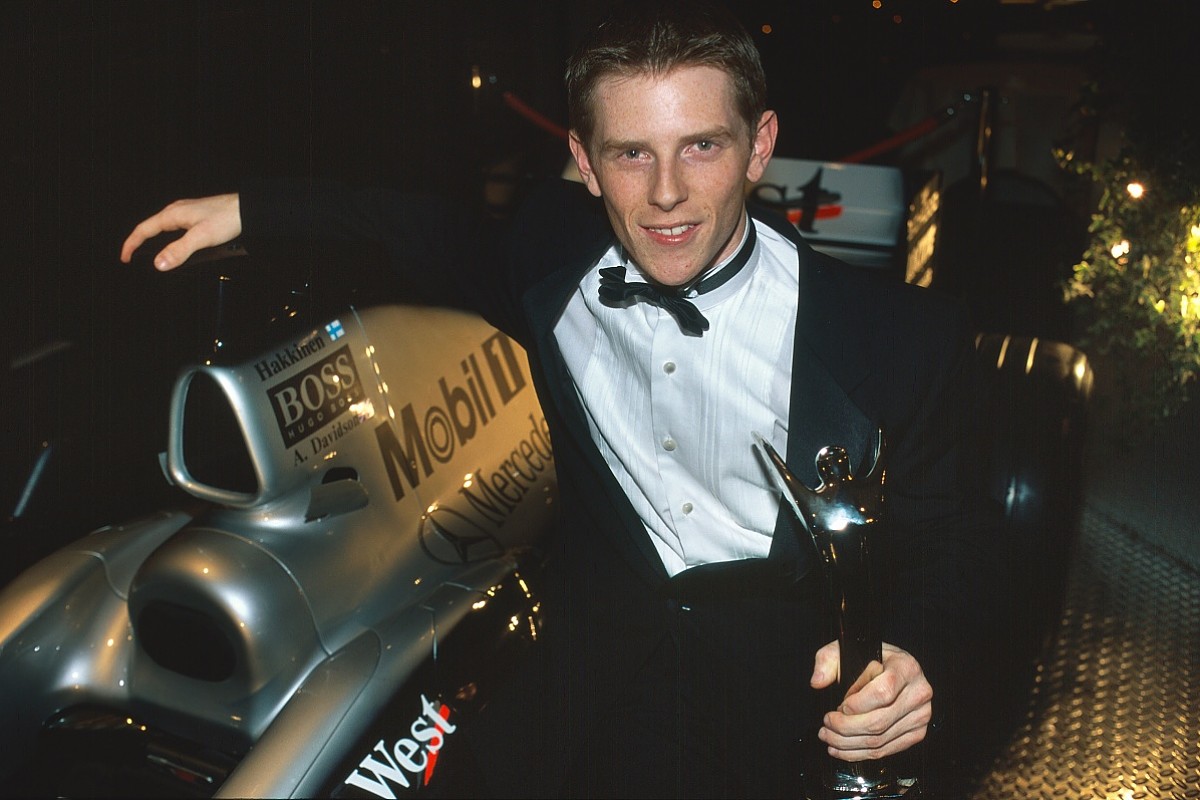 He says: "Winning the Award is a special moment. It marks you as a driver to look out for in the future.
"I'll never forget nervously stepping onto the stage to become the 12th person to win it with what felt like the world of motorsport looking on.
"I hold this achievement in high regard. The trophy proudly sits on the top shelf along with only a select few, because without it I'm not sure the others would have been there at all."
What happened next
Got to F1, but didn't get his hands on frontrunning machinery. Forged a sportscar career, becoming 2014 World Endurance champion.
2001 Steven Kane
What happened next
Got as far as Formula Renault 3.5 before switching to sportscars and touring cars, and is now a factory Bentley GT driver.
2002 Jamie Green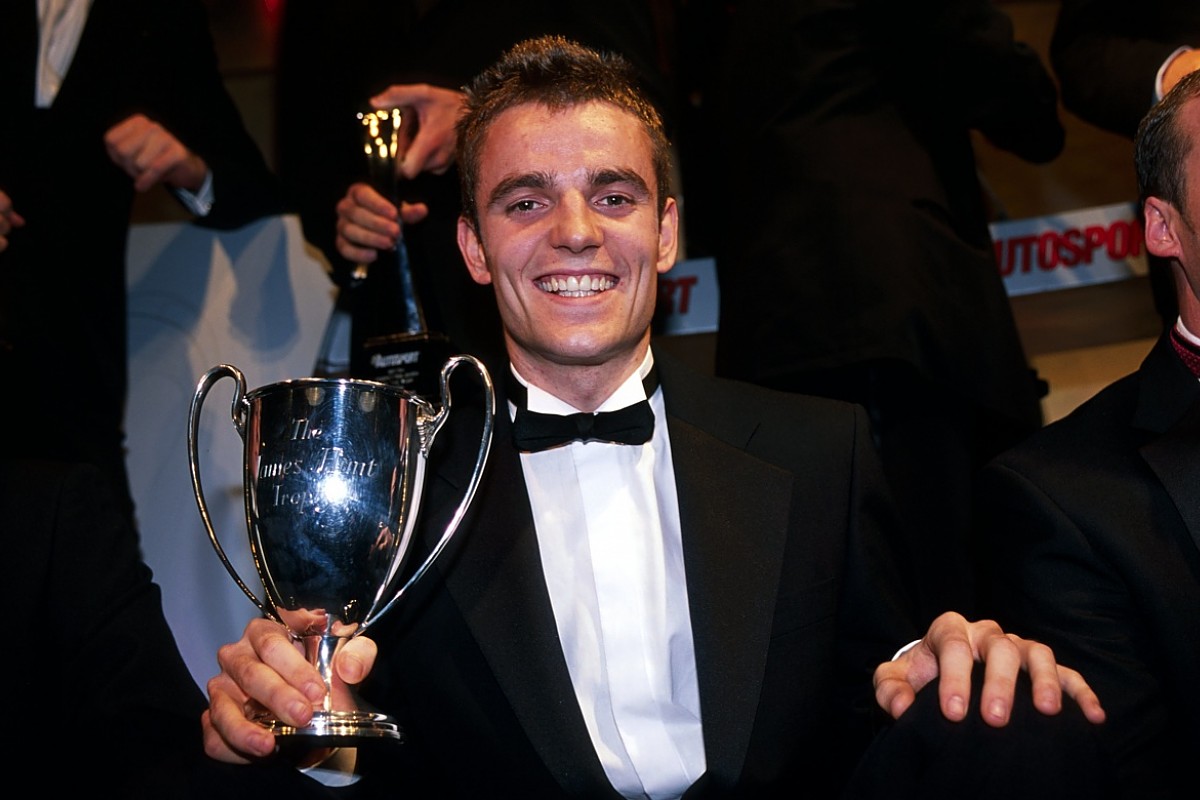 He says: "I thought my biggest challenge was getting up to speed in the F3 car against people like Adam Carroll, who had done F3. I didn't think I did as well on new tyres, but I did well on old rubber and in the other cars, and I was quietly confident on the Awards night.
"When they called out my name I remember this feeling of, 'Yes, I was right, I'm good enough'.
"After the DTM test, HWA called and asked if I wanted to come and drive an F3 car at Hockenheim. That's what led to the DTM a couple of years later.
"As a judge it hit me how pivotal it was for the careers of drivers. While I was doing it I was focused on each step and I didn't feel daunted. But when you're watching as a judge you think, 'Wow, I'm glad I didn't blow it!'."
What happened next
Beat Lewis Hamilton, Nico Rosberg and Robert Kubica to 2004 F3 Euro Series crown, then switched to the DTM and has scored 16 wins.
2003 Alex Lloyd

He says: "The standout moment at the test for me was driving the Mercedes DTM. While the car wasn't overly powerful, it did things no machine with a roof should be able to.
"For my F1 test, I was incredibly lucky that it was dry at Silverstone in December. It's the most incredible experience I've had at the wheel of a racecar; you just can't explain how fast those machines are - and back then it was the high-revving V10 monsters.
"When I moved to America in 2006 the Award gave me enormous credibility. It means something in every corner of the motorsport world."
What happened next
Won the 2007 Indy Lights title and made 27 IndyCar starts between 2008 and '11.
2004 Paul di Resta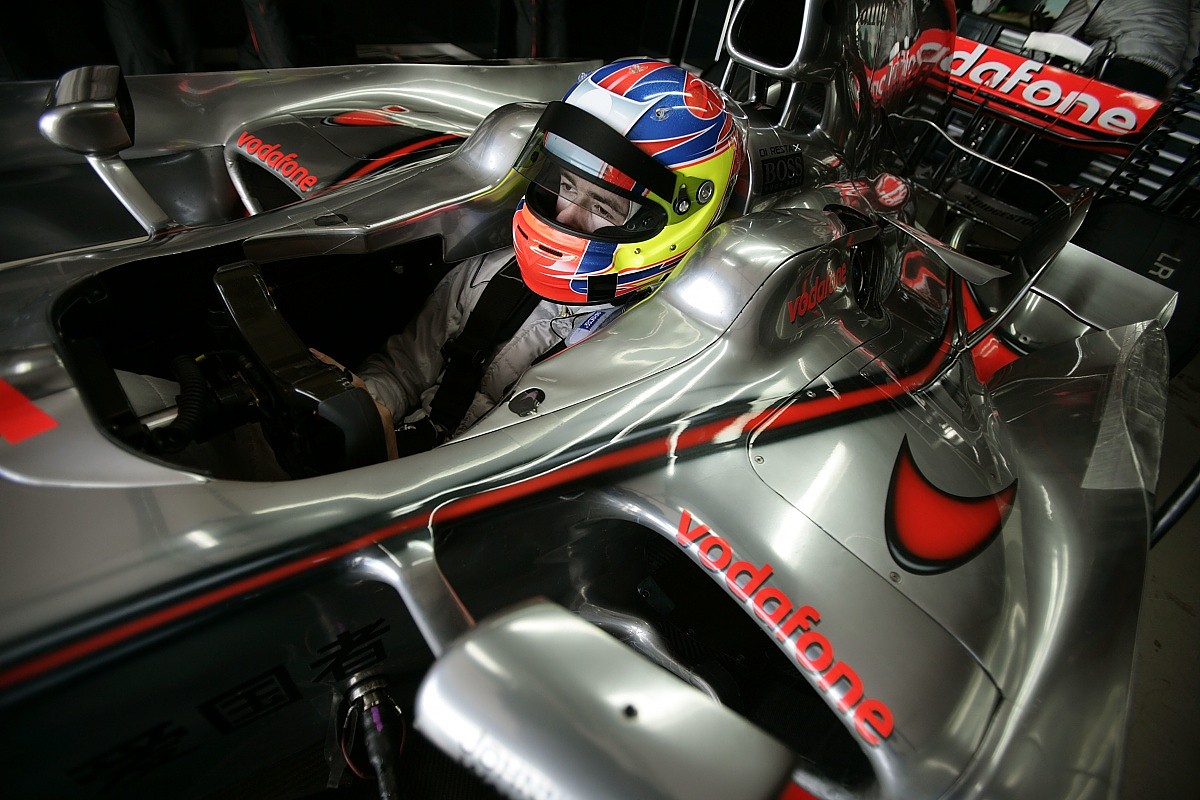 He says: "The biggest thing was that you got a guaranteed F1 test. And it wasn't just an F1 test, it was with McLaren. It got you into the BRDC, into McLaren, and talking to people at the top of British motorsport.
"When I came back with Mercedes to shake down the DTM Mercedes for the finalists it was all about seeing the young drivers, like George Russell. It just shows what the Award is all about and the amount of British talent."
What happened next
Was Euro F3 and DTM champion and made it to F1 before returning to the DTM.
2005 Oliver Jarvis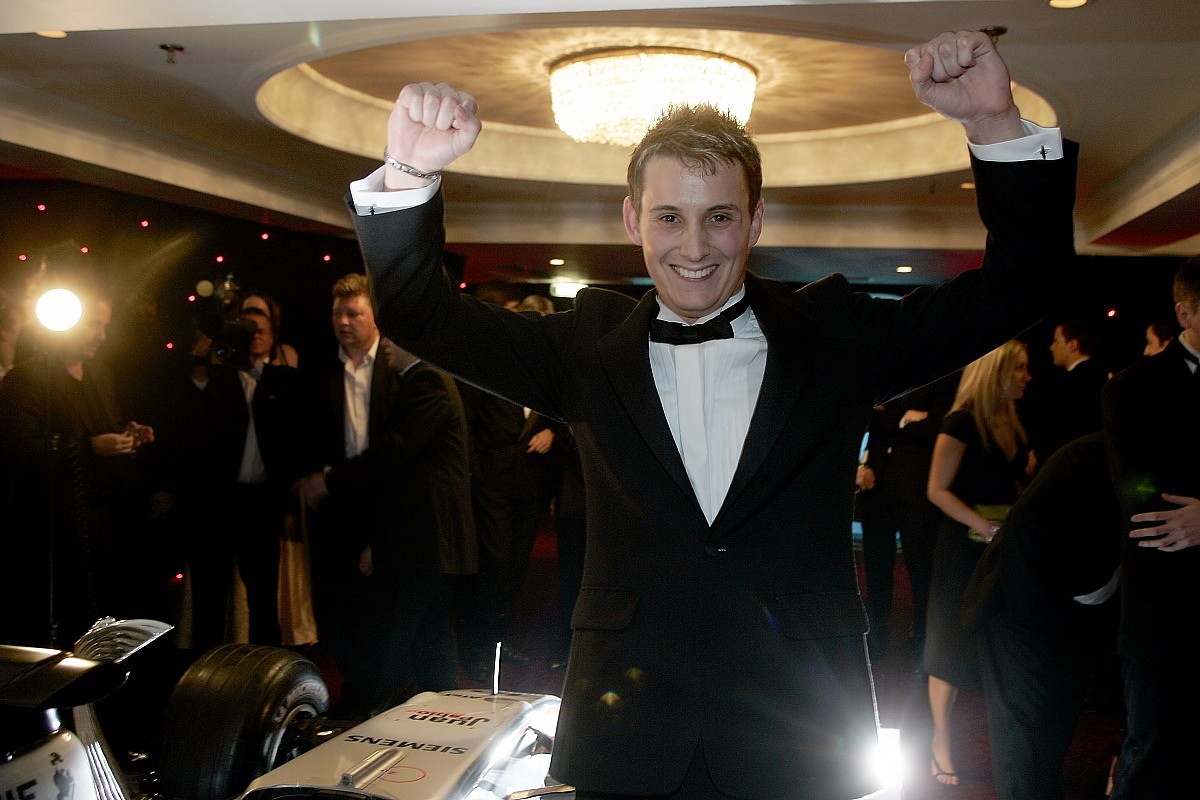 He says: "The tests were held at Snetterton and it was freezing. I remember that we didn't run tyre warmers on the Formula Renault 3.5 and leaving the pits for the first time the rear wheels were spinning all the way through until fourth gear.
"The moment I heard my name was so emotional as I was sat there with my family. I have no idea what I said once on stage but to be up there and presented the Award by Sir Stirling Moss and in front of all my peers was such a magical and career-defining moment.
"Without the Award I am not sure I would still be racing today. Winning it not only put me in demand for F3 but also without the prize money it wouldn't have been possible to finance it. Aside from that it also put my name on people's radar and this led to the opportunity to race in Japan as a paid driver in 2007 and, later on, to race for Audi in the DTM."
What happened next
Became a winner in A1GP and Super GT, then in the WEC with Audi. Now part of Joest Mazda IMSA squad.
2006 Oliver Turvey

He says: "Before the Award, I had always struggled for budget, so it gave me an opportunity to show my talent in the same cars.
"Despite studying at Cambridge University at the time, I prepared very hard for the test, as I knew it was an extremely big opportunity. The test was an amazing experience, driving three fantastic cars and visiting the McLaren Technology Centre for the first time.
"Driving the McLaren F1 car was phenomenal; the speed, downforce, braking was unlike any other car I had driven up to that point and a memory that will stay with me forever.
"That prize test with McLaren led to the team signing me as one of their test drivers, a role I am still doing today."
What happened next
Got as far as GP2 before making a successful switch to sportscars. Currently competes in Formula E with NIO.
2007 Stefan Wilson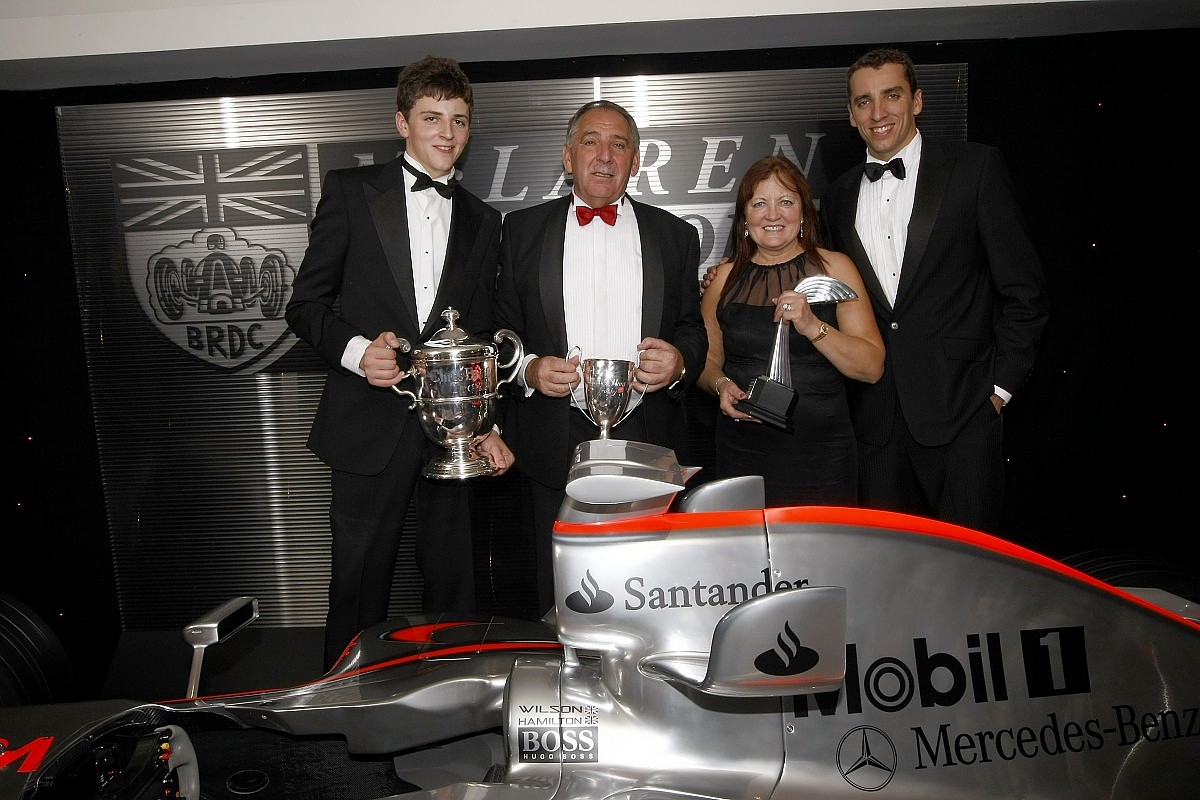 He says: "The whole assessment is ingrained in my memory. The weather was changing all the time and the way it worked out my DTM run was bone dry. To experience the car and the professionalism of the team was amazing.
"It was difficult to get me into the F1 car because of my 6ft3 frame. I think we spent two or three days at the McLaren Technology Centre. I was looking pretty glum, but one of the guys came over and said, 'Don't worry, we've never not been able to get a driver in... Actually, there was one guy. I think his name was Wilson'. It was my brother Justin so that didn't fill me with confidence!
"In the end they made a new steering column, so McLaren did an amazing job to get me in."
What happened next
Followed Justin to the United States and has so far made two Indianapolis 500 starts.
2008 Alexander Sims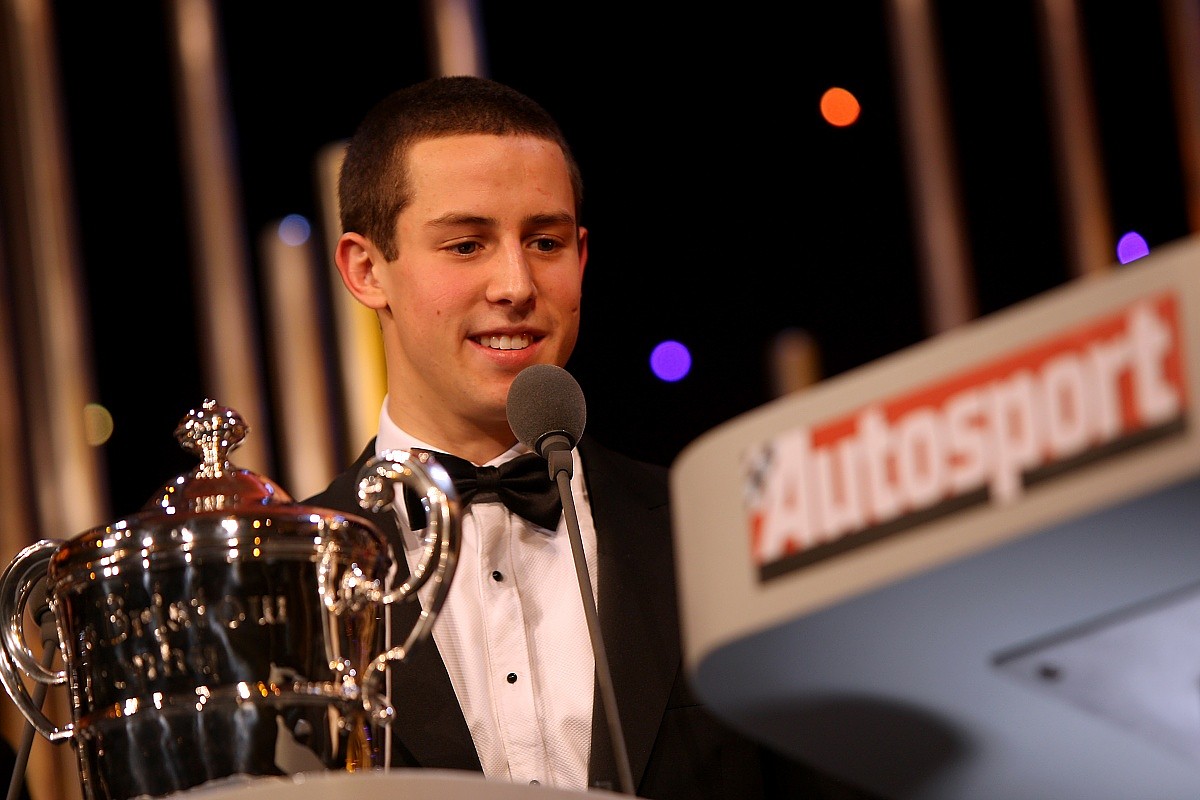 He says: "I vividly remember asking the DTM head engineer about the gear usage in the DTM car and he just replied with, 'You tell me after the session'. That was an incredible moment and I remember feeling a rush of responsibility to go out in a new car to me.
"As well as the DTM there was an Aston Martin GT4 and the Carlin-run F3 car. I really enjoyed both of them. I think I only drove the Aston in the wet and, with the ABS it had, I think it was very much a road-car system. I remember realising that pressing the pedal too hard meant the ABS could handle it so I quickly learnt to initiate the ABS but then release the brake slightly to allow the ABS to be less active and thus slow down quicker.
"Now that I have been a judge for the past two years, it has made me aware of two things that others might not appreciate.
"Firstly, it's shown me how open and honest the process is - the best and fastest driver wins.
"Secondly it has alerted me to how much the Award relies on the goodness of many different organisations to pool their resources together and make it happen. No one is doing it to make money, everyone gives so much time and resource that it makes me proud of what is achieved each year."
What happened next
Won races at F3 and GP3 level, switched to GTs - winning the 2016 Spa 24 Hours - and is currently in Formula E with BMW.
2009 Dean Smith
What happened next
Made it as far as GP3, where he was a podium finisher, before falling out of the sport.
2010 Lewis Williamson

He says: "After winning, a lot of doors opened and I had the reassurance that I was doing the right things and could be a professional racing driver. It also confirmed you have to be yourself - as long as you try hard and do your best people respect that.
"All the drivers are good and have performed at a high level, it comes down to how you handle the pressure. As you go up the ladder in motorsport the pressure increases so it's a good way of seeing who has got what it takes.
"For the F1 prize test I was out on the same day as the 2011 finalists were having their assessments. In other cars I had my braking points at Silverstone, but in the F1 car you're going 50mph faster and brake 50 metres later."
What happened next
Became a winner in GP3, but suffered misfortune in Formula Renault 3.5. Now races in GT3 with Strakka.
2011 Oliver Rowland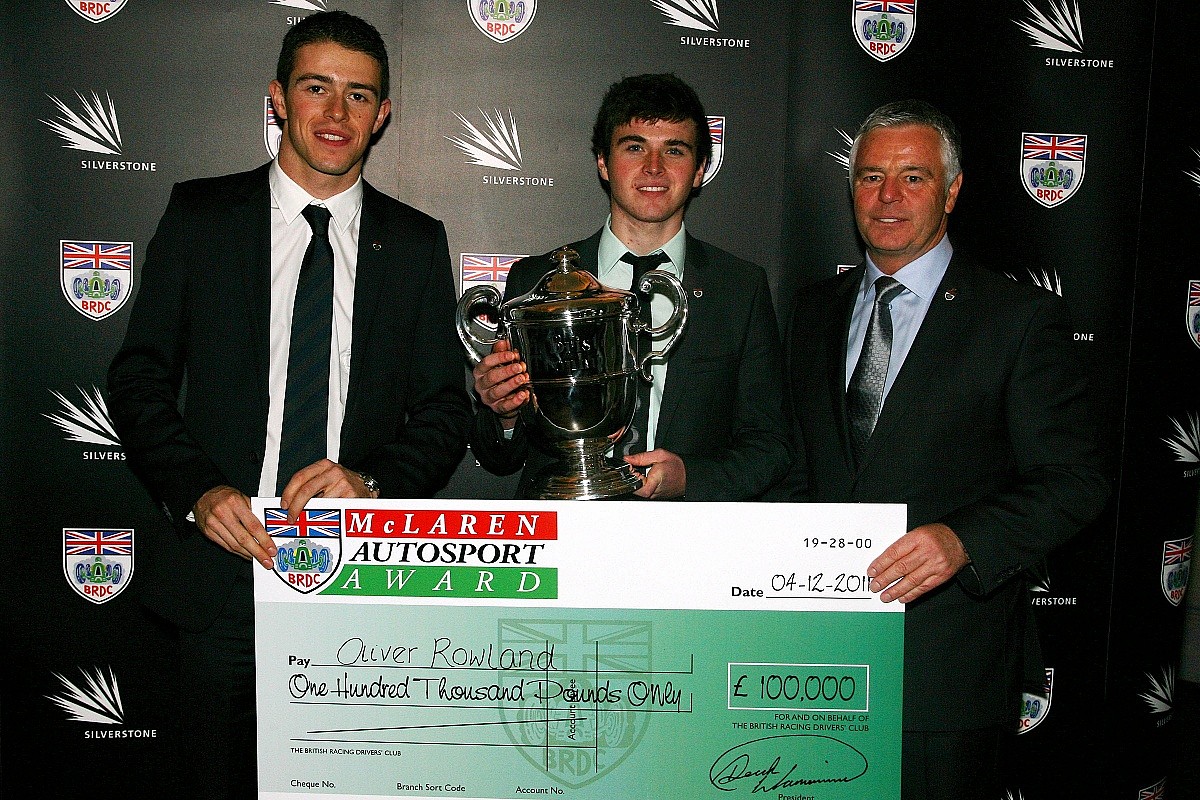 He says: "You've got the pressure of having to perform, not crash, and impress the judges. You've got to give it your all and not leave anything on the table. It was my first year in single-seaters so it was a little unexpected so I just went there to enjoy myself.
"I'd dreamed of driving an F1 car since I was young so the McLaren test was fantastic. They ask you to take care of the car, but it's a rare opportunity so I gave it everything I could.
"After winning the Award one of the biggest differences was the support of [chairman of the judges] Derek Warwick. He took me on as his own and taught me a huge amount. It was clear at the time I needed some discipline and he taught me this. He made me into a better person and really showed me the definition of true hard work and dedication. I will be forever grateful for his time and effort during those days."
What happened next
Won the 2015 Formula Renault 3.5 crown and became Williams F1's 2018 junior driver. Now in Formula E with Nissan.
2012 Jake Dennis
What happened next
Switched to endurance racing after winning in Euro F3 and was a victor in Blancpain Endurance in 2018 with R-Motorsport.
2013 Matt Parry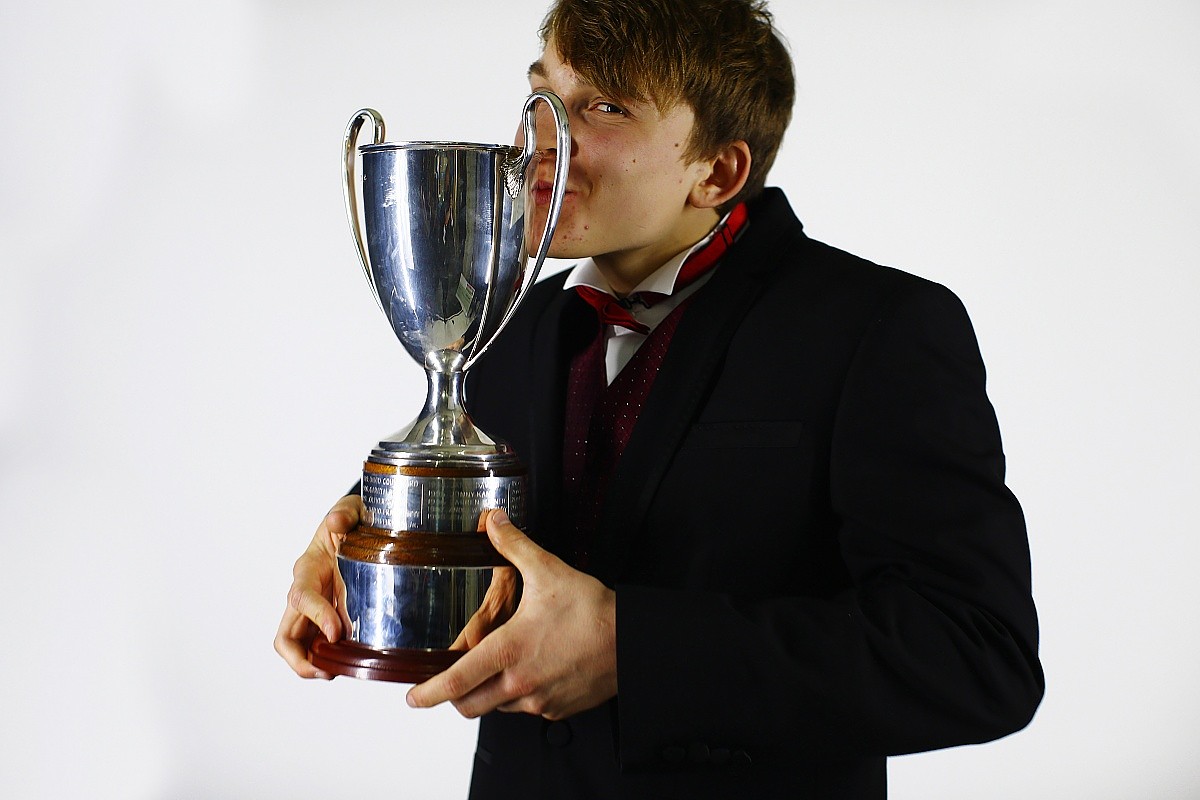 He says: "Winning the Award has opened doors but, when I look back, it's the process that helped me the most.
"It was the first time that I was treated as a professional driver. You weren't there as a driver bringing finances for the test or the tyres, fuel etc.
"I seemed to turn a corner with that experience, which has stayed with me throughout my subsequent driving career as a professional driver."
What happened next
Took a victory in GP3 before making the move to GT racing in Blancpain.
2014 George Russell

He says: "The Award was life-changing. I'm only starting to realise how incredible what everyone from McLaren, Autosport, the BRDC and Mercedes put on for us was. Getting that opportunity to drive three fantastic cars on one of the world's best circuits was just amazing and the experience we take from that is unparalleled.
"One highlight was jumping into the Mercedes DTM car. I went around Luffield on my opening lap and the car just stuck to the ground. I was lost for words exiting that corner with how much grip the thing had. It felt on another planet compared to everything I had driven before and I'll remember that feeling for a long time.
"Driving the McLaren F1 car was such a surreal feeling. It's been my life-long dream to be an F1 world champion, so I felt privileged to get my first taste of an F1 car at 17 years old. I remember coming out of the pitlane, taking off the limiter and the car just flew."
What happened next
Swept to GP3 and F2 titles as a rookie and is now set for his F1 debut with Williams.
2015 Will Palmer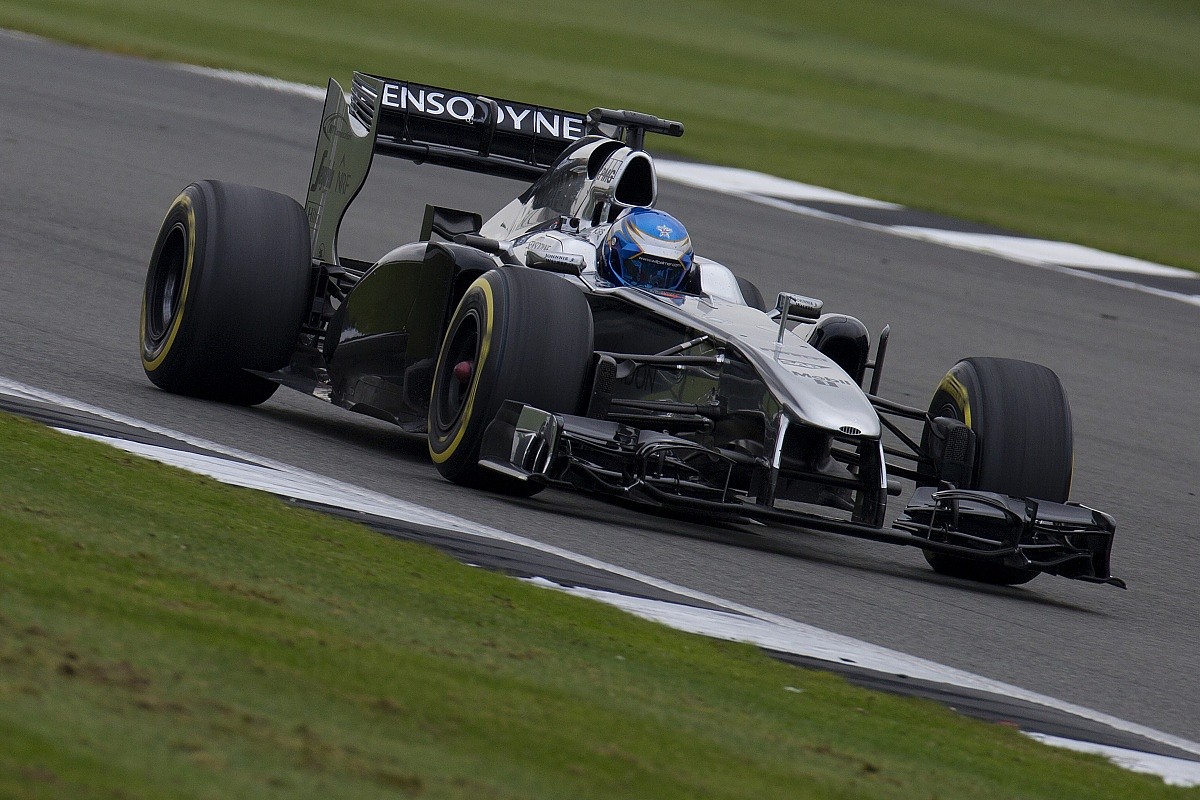 He says: "There were six weeks between the tests and announcement, and the dream of winning the Award was all I could think of. I thought I had a shot as I'd felt really strong in the F2 car, particularly in the final 'qualifying' runs, but with so much going into consideration it was impossible to know how much of a chance I really had.
"To be announced as the winner in front of such a prestigious crowd is a moment that I will remember forever, and remains the greatest racing highlight for me.
"A nice moment was Derek Warwick being the first to congratulate me as I got out of the car after winning at Monaco in Formula Renault, a year and a half after handing me the Award!"
What happened next
Was runner-up in the 2017 Formula Renault Eurocup, then graduated to GP3.
2016 Lando Norris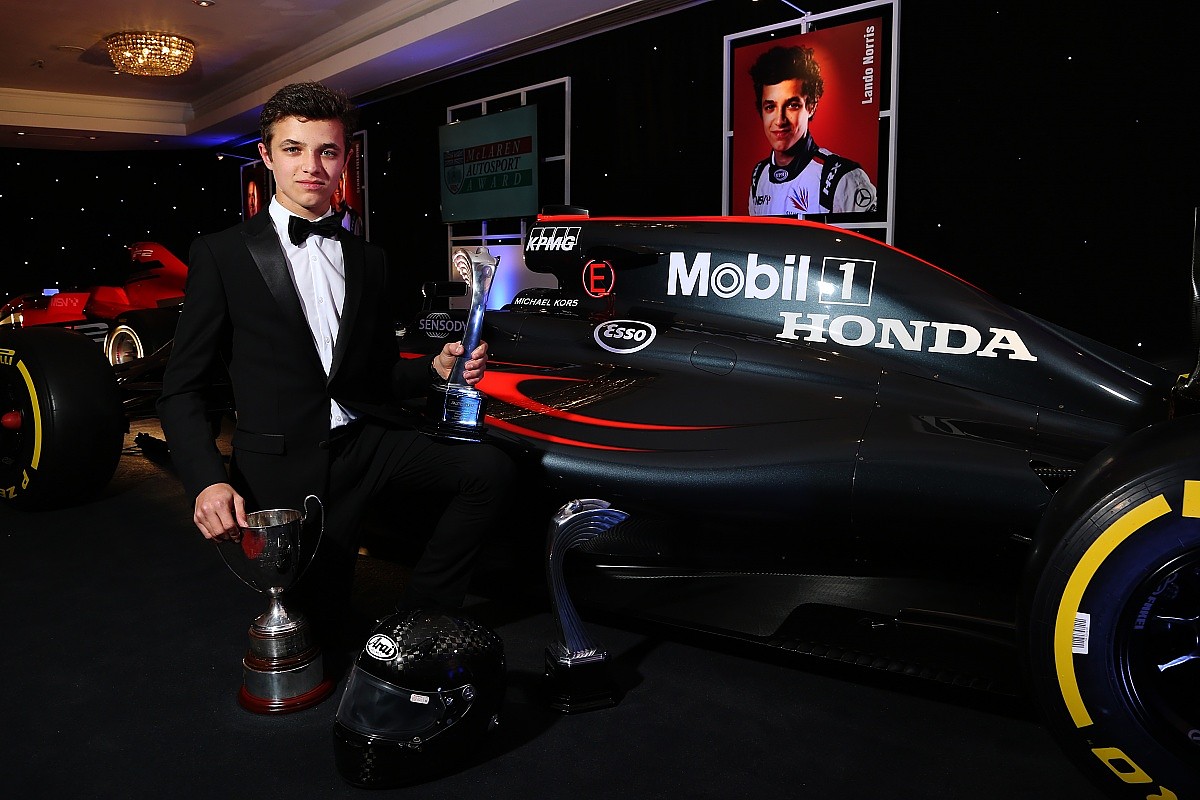 He says: "Winning the McLaren BRDC Autosport Award was one of the proudest moments in my career. I remember being nervous beforehand, but when my name was called out it was an awesome feeling.
"There's nothing better than getting behind the wheel of an F1 car and the Award gave me that first chance. From there I developed a strong relationship with McLaren, training, developing on the sim, which gave me an opportunity to join the junior programme.
"There is no doubt that without the help of the Award, I wouldn't be where I am now."
What happened next
Took Euro F3 crown as a rookie, was then runner-up in F2 and will race for McLaren in F1 in 2019.
2017 Dan Ticktum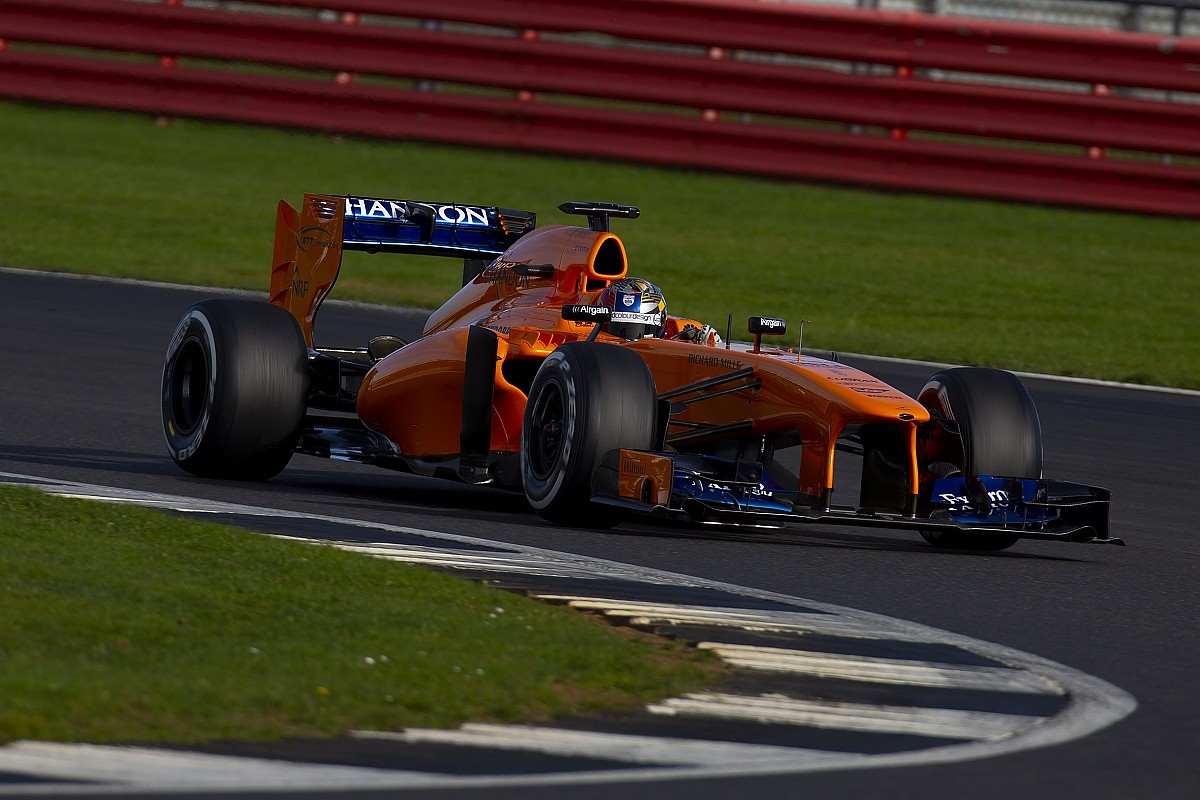 What happened next
The Red Bull junior took his second Macau GP win in 2018 and will compete in Super Formula this year.
2018 Tom Gamble
He says: "Ever since I was young I wanted to compete in the Award and it was always my end goal for 2018 to be in the final four, but to win it was incredible.
"The test at Silverstone was probably two of the best days of my life. To be able to drive three phenomenal cars at one of the best tracks in the world, Silverstone GP, which we had exclusive use of, was amazing!"