This article first appeared in F1 Racing magazine
- the world's best-selling F1 magazine
.
Subscribe to F1 Racing today
When Kimi Raikkonen was a child, his parents became increasingly concerned about him.
At the age of three he was mute - still yet to utter a single word. When they took him to see a doctor, nothing was found to be wrong, and, indeed, his other responses were reassuringly quick: his legs worked far faster than his tongue and soon this flaxen-haired boy had broken loose.
His lack of speech and peculiar tone - the result of accidentally falling off his bike aged five and damaging a vocal chord through impact with the handlebar - is the first of many revelations in an extraordinary new biography of the Iceman.
It perhaps explains why, as an adult, Raikkonen has often seemed so uncomfortable when speaking publicly, using words sparingly when he does so.
But like so many facets of Raikkonen's enigmatic personality, all is not necessarily as it seems. In this new biography, which has been written by the Finnish novelist and screenwriter Kari Hotakainen, Raikkonen bares his soul in a way seldom glimpsed by a world desperate to know what makes him tick.
While he is not a passionate motor racing fan himself, Hotakainen has spoken to a host of individuals who have known Kimi since he was small, and his book sheds bright light on the true nature of a famously guarded character. Hotakainen won the trust of both the Raikkonen family and Ferrari to interview Kimi at length, both in his home and at races, gaining a fascinating insight into the 2007 world champion.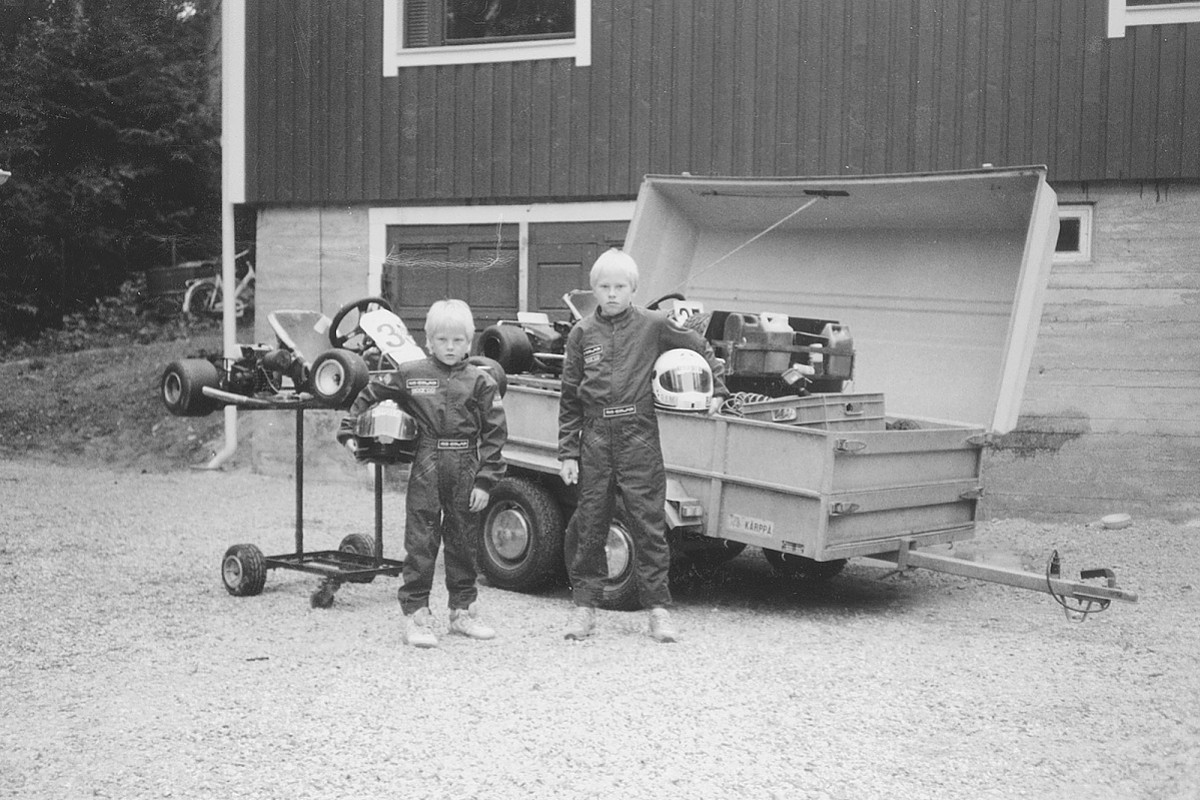 The Finnish version of the book, The Unknown Kimi Raikkonen, was launched in the summer, while the English translation is now on sale in the UK. It offers a detailed narrative of how Kimi came to prominence, wowed onlookers with his dazzling speed and yet never lost touch with his humble, working-class roots despite spending 17 years (and counting) in the lavish world of Formula 1.
Packed with honest observations and amusing anecdotes that delve deep into Kimi's psyche, it reflects on his new-found role as a family man, the untimely death of his father and his partiality to the occasional drinking session.
"It's worth noting," writes Hotakainen, "that Kimi is still keen on supermarket beer in good company".
Over the course of many interviews, Hotakainen discovered that there is much more to the monosyllabic Iceman than meets the eye. So here F1 Racing presents three selected extracts from The Unknown Kimi Raikkonen.
This is Kimi... but certainly not as you've seen him before...
What Kimi really thinks of Ron Dennis
McLaren was a tough school. It was overseen by a strict headmaster, team boss Ron Dennis. The pit garage was filled with easy-going, down-to-earth blokes: race engineer Mark Slade and mechanics Marc 'Elvis' Priestley, 'Gearbox-Philly', Marcus Prosser and many other characters with their feet on the asphalt. And, of course, there was Mark Arnall, the physiotherapist who has stayed with Kimi to this day.
Arnall also functioned as Ron Dennis's grapevine. Every time Kimi did something inappropriate, Ron phoned Mark to ask what had actually happened.
In joining the McLaren team, Kimi entered an unpredictable world where the quickest of the day could become the slowest in the blinking of an eye when the tyres or the car fell apart. It tested the driver's character, which proved strong. A team spirit was cultivated outside the paddock, too, and there were times when the spirit smelt of liquor.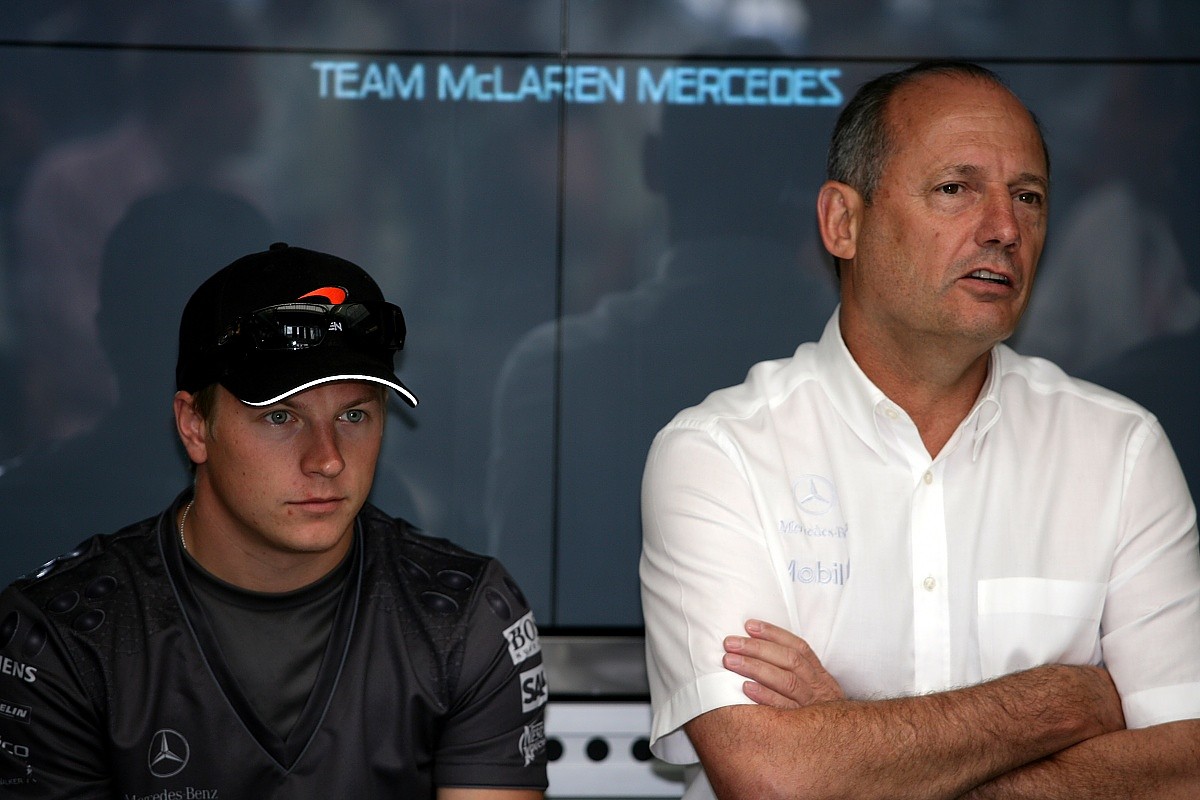 Kimi sits on the grey divan and recalls his time with McLaren and Ron Dennis with equanimity, though it wasn't always calm in those days. Distance evens things out.
"Ron Dennis is a control freak. I suppose he's that in everything he does. He doesn't watch you on purpose, it's just him. Everything has to be straight, papers and things.
"These days I like things to be in order at home, so it doesn't look like a bombsite. I'm sure that dates back to Ron. And he didn't stress me out that much; maybe he was more stressed by what I did, for example by a newspaper report of my partying. I didn't really give a flying fuck but I expect it was harder for him."
Fire and water, two opposites with a common passion: the will to win. But they had totally different ideas of leisure pursuits and public relations. It was enough that one was a 23-year-old rascal from a working-class family and the other a 55-year-old team boss with heavy responsibilities. Ron had polished manners and a sense of style; Kimi was a country boy dependent on his instincts.
McLaren's sponsors included two luxury brands: Swiss watchmaker TAG Heuer and German fashion house Hugo Boss. The latter naturally wanted to clothe the drivers.
"How you dressed was really important during the McLaren period. The Boss suits were really awful, black and shiny. Terrible to wear. But Ron thought that everything had to be just so."
Iceman. Ron Dennis gave this name to Kimi. It amounts to no more than half of what Kimi is, but defines his professional identity accurately: he comes from a cold climate, drives fast and talks little; he doesn't explain anything, does his job to the best of his ability, and then moves on to the next race. A little later, the role will entail wearing dark glasses everywhere except in the shower.

Image: Teemu Nevalainen
Raikkonen's is a classless society
It's the second day of testing. Today it's Sebastian's turn to drive, and Kimi comes to the boat to eat and spend time.
We order Thai food, Vichy water fizzes, words fly around, freedom of speech reigns, nothing has been put on paper yet. Kimi talks, exaggerates, invents comparisons, waves his hands and spits out a traditional swear word here and there. He lets his hair down, colours his stories, breaks off and finds a rhythm. This is how a storyteller works.
That's not the Kimi who grunts a couple of syllables to reporters and leaves in a huff. His public image is rough and fuzzy and often snapped through a bush. But it's also true. Things are what they seem. He has done some wild partying. He has thrown money around. All the same, a public image is also always blurred, overexposed and limited.
And it's no wonder: Kimi has given people plenty to talk about but hasn't talked himself. That's why the difference between the public and the private is big in his case, or to put it more precisely: it's a ravine.
The winter tests are true to their name; sleet sweeps across the landscape, and it's cold for Spain but only cool in Finnish terms. The team announces that we won't know until two o'clock if we drive today or not. We start killing time, which is made a lot easier because Ferrari's facilities are filled with people who may have something to say about Kimi.
The espresso machine gurgles, strong coffee drips into small cups. A man walks past, a man so ordinary-looking that he must be extraordinary. The most important person in an organisation is usually the one who doesn't make a lot of noise but who walks quietly in the background. He is surrounded by an aura that says he's above everything around him.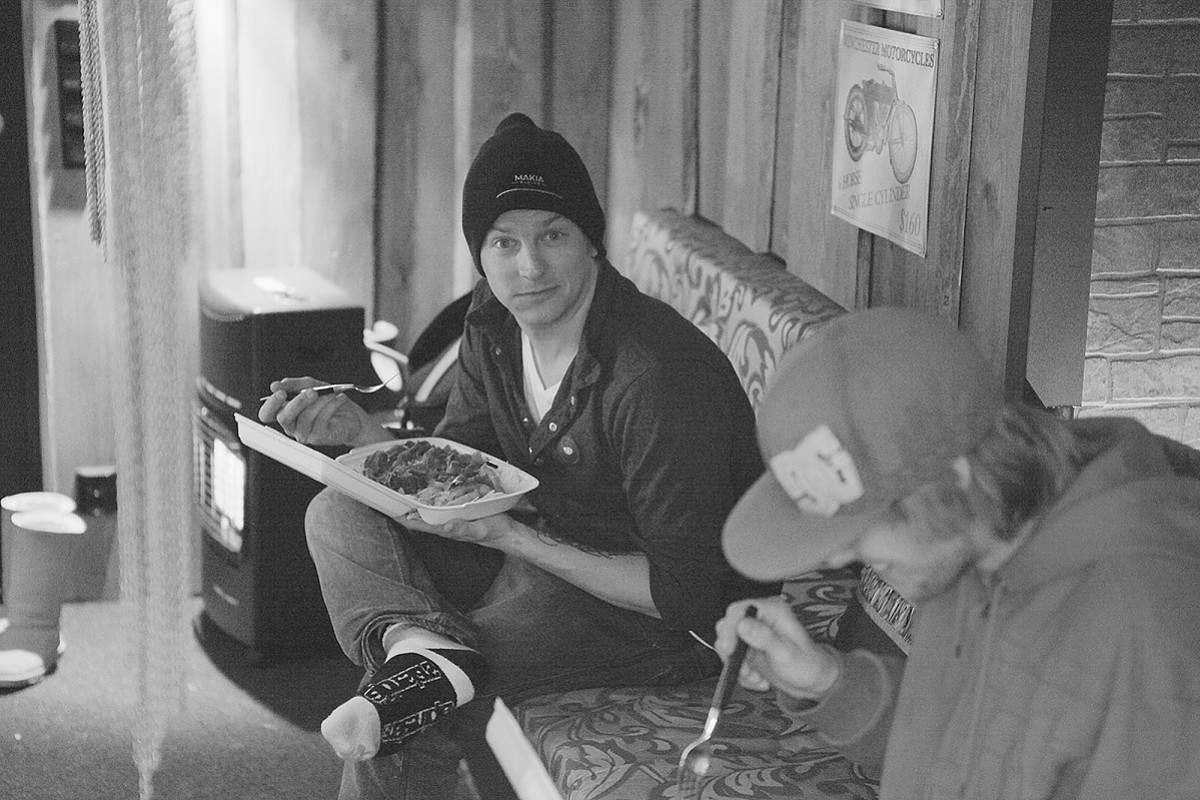 Image: Teemu Nevalainen
I learn that the man is Louis C Camilleri, chairman of the board of Philip Morris International. The tobacco firm he represents is Ferrari's main funder. He says that he met Kimi for the first time in 2006, in Paris, when the driver's managers Dave and Steve Robertson were negotiating the Ferrari contract at Jean Todt's home. Todt was Ferrari's team boss at the time.
"Kimi seemed like a smart chap. I like people who listen. We're born with two ears, two eyes but just one mouth. This fellow uses them in the right ratio."
I remember Jean Todt talking to me about the same thing using different words. Kimi is reserved and shy but direct. Camilleri says that he has become friends with the driver over the years. They've been to an ice hockey match in his home city of New York, and Kimi has also visited his vineyard.
"He doesn't differentiate between people. He treats everyone the same, whether it's a director or a cleaner. He's emotionally intelligent. There's a lot of superciliousness in Formula 1, but he has none."
Finally, Camilleri describes an interesting detail about Kimi's wedding: "All of a sudden, Kimi stood up and gave a speech which he hadn't written down. It really sticks in my memory - it touched me. It's one of the most beautiful speeches I've ever heard. He spoke for something like ten minutes."
Camilleri has to go to another meeting. I thank him for the chat. Kimi, hidden behind dark glasses, walks past. He disappears into his small room to take a nap. Maybe there will be no testing today, no driving.

Putting up with the intrusion to follow his passion
Baar in Switzerland at the end of April 2018. The layer of flesh over Kimi's bones is thin and glistens with drops of sweat. The body has no opinions, or at least no one asks if it does.
Physiotherapist Mark Arnall sifts through the elastic bands hanging on his arm. He's looking for one that has a maximum impact when stretched. It's eleven o'clock; the training session will last another hour. Kimi's weight is currently at the optimum level and he doesn't want any more muscles; they are too heavy.
The two men are currently working on the upper body and hands. Mark presses Kimi's chest while the driver executes a movement with the rubber band, repeating it 15 times. Another movement follows and is repeated 12 times.
Next, Kimi holds a five-kilo weight in each hand. He moves his hands sideways to the front and performs eight repetitions. After a break, he lies on his back on the floor and stretches the band, raising his hips at the same time. The exercise is repeated 12 times.
Kimi is on his way to Azerbaijan and doesn't spare the flesh. The Baku race is due in a week's time. How long will this torture carry on? No one knows but, at this point in time, mortifying the flesh and making car tyres squeal still seems good to Kimi.
Ending a sports career isn't easy. The quitter is often at the halfway stage of his or her life, or even younger. A lot has happened, at least half as much is yet to come. The end is the beginning of something new. It's the start of a new life.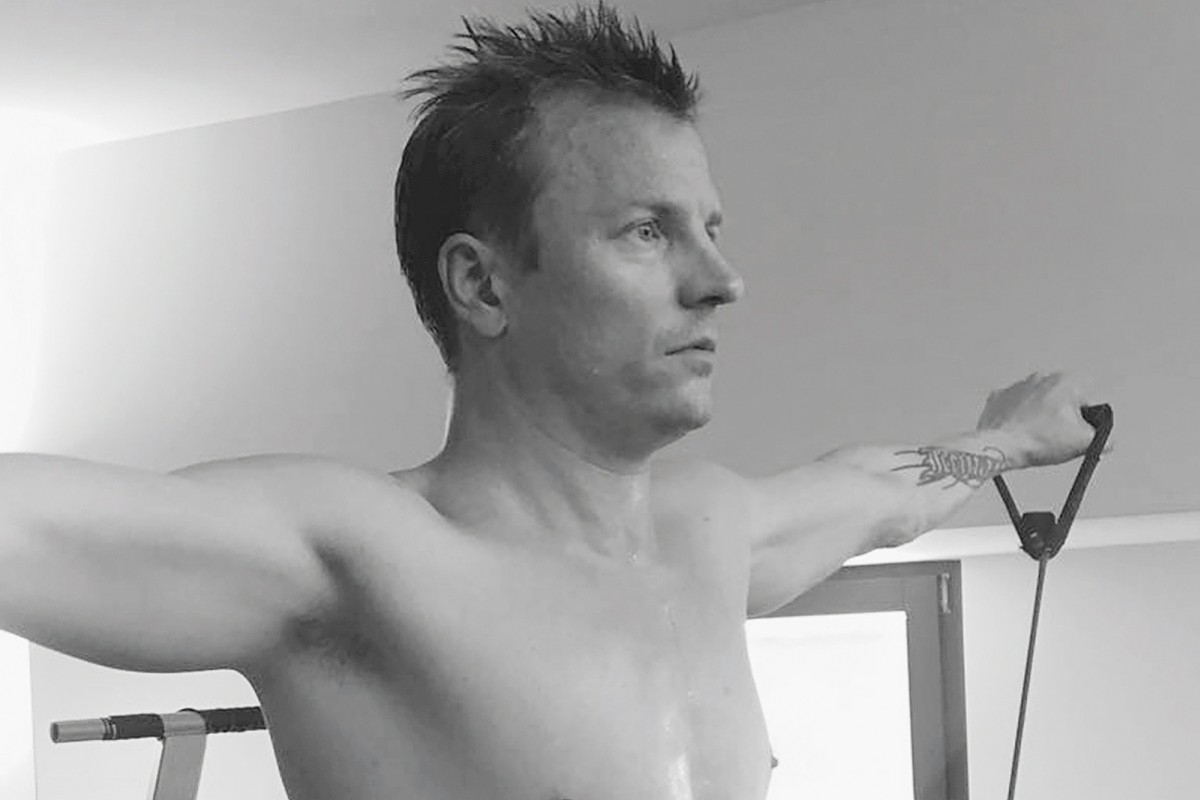 Some have processed their experiences into words and sentences, which are used at life management seminars. We won't see Kimi Raikkonen at management training events talking about resources and body language. It's quite certain we won't see him commentating on F1 races at the circuits. He has led a tightly-scheduled life, rushing from one place to the next. When he quits F1, he'll stay put for a bit.
He was born with grease on his hands. He has the soul of a mechanic and the physique of a motorist, so alternative motor sports would be the most natural progression. But nothing is set in stone - except he won't miss anything about the job.
"It won't be hard for me to quit this job. I'll be relieved when the travelling and shit-mongering come to an end. Driving is great - I can't say the same about anything else that goes with the job."
Kimi's voice is determined and defiant but he doesn't raise it. Right now, everyday life is much more eventful than a racetrack. Robin, aged three, and Rianna, aged one, develop at a faster pace than F1. Robin says a new word for the first time only once and it would be great to be there to catch it.
When Rianna takes her first steps, her dad may well be at the interview that follows Friday's free practice, scratching his neck and hiding his irritation. Kimi hasn't yet decided what he'll do after the end of his career. He only knows what he definitely won't do.
The hardback English translation of The Unknown Kimi Raikkonen by Kari Hotakainen was released on 18 October 2018, published by Simon & Schuster UK, and priced at £20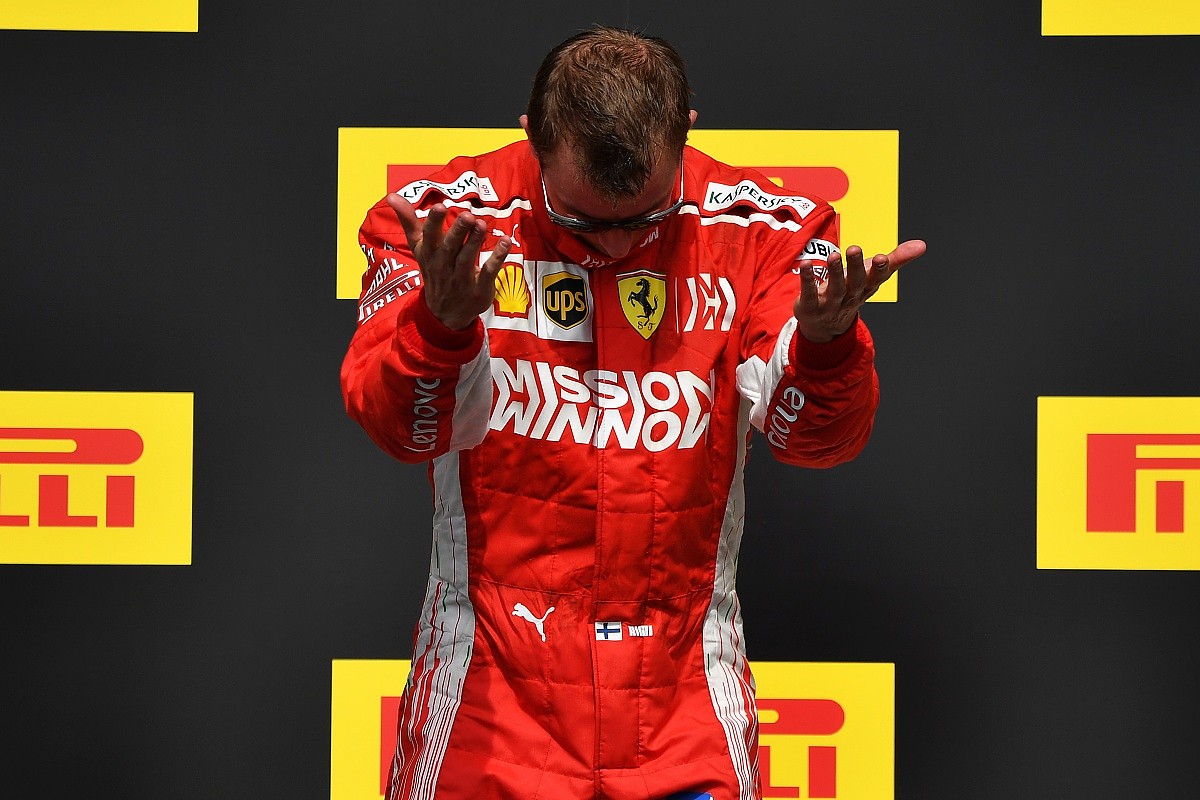 ---
This article first appeared in F1 Racing magazine.
Subscribe to F1 Racing today