The big question I had after the Azerbaijan Grand Prix was: has Sebastian Vettel learned nothing from what happened in 2017?
Once again, entirely through his own mistake, he has lost the lead in the drivers' world championship.
During the four-lap sprint to the chequered flag in Baku, Vettel's main objective was to keep Lewis Hamilton behind him. Instead we saw him suffer a huge lock-up and go wide trying to take the lead from Valtteri Bottas.
He said he had to try it, and I supposed he has to think that way so he can sleep at night, but it was a novice mistake.
The race situation was simple, since Bottas, Vettel, Hamilton and Kimi Raikkonen had all pitted under the safety car for ultrasofts, and in that intense situation Vettel suffered from a return of the red mist. It was a sudden onset of the crimson fog that, albeit in different circumstances, led to him hitting Hamilton under the safety car in Azerbaijan last year. It wasn't the only time that mist struck in 2017, either.
This is what makes Vettel react too impulsively. He had a run on Bottas, saw a chance and had to grab at it. This meant in a race where he should have at least finished second, he ended up fourth. And you have to say that, even though he was in the lead before the safety car allowed Bottas to jump him, he was also far from perfect in qualifying.
As Ayrton Senna used to say, the most important thing in achieving the ultimate lap time is to recognise the corners where you have got it right and the corners where you can still do better. Then, on your next run, don't just try to find time everywhere and instead focus on the corners where there is still time to be had. Do that, and repeat what you did in the corners where you did well, and you will improve.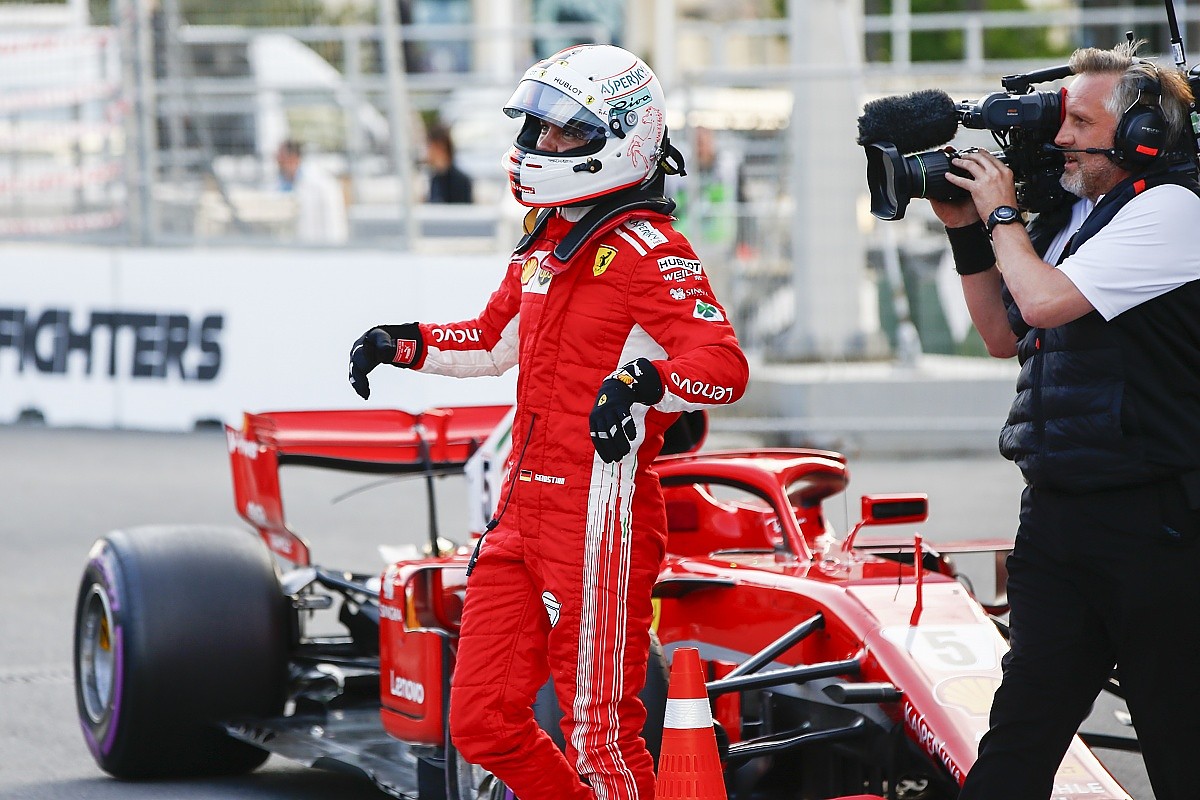 In the end, Vettel was on pole position. But he didn't stick to the philosophy of one of the greatest one-lap drivers of all time. On his second run he made mistakes in areas on his first run where, by his own admission, he had already got the best from his car.
Luckily for Vettel, no one else improved enough to deny him a third consecutive pole position; Raikkonen, the driver who should have done so, was all set to be on pole until his moment late in the lap. We know how good Vettel can be, but think how good he could be with the right head on his shoulders.
He said he had to try it, and I supposed he has to think that so he can sleep at night, but it was a novice mistake
Vettel's off was one of the things that made the Azerbaijan GP a spicy event, which inevitably leads to some people saying that Formula 1's problems aren't as significant as has been claimed. But the big problem is why it was exciting.
In the short-term, if it takes the safety car and a bit of argy-bargy to make a race dramatic, then so be it. But I don't think it's a fix in the long-term.
One thing that was meant to liven up the races this year was the tyres. But it's clear from the race in Baku that Pirelli is still playing it far too safe with its tyre allocations.
The softs were more or less able to do a full race distance, and this is not what is needed when the regulations require each driver to use two different compounds in a race.
Pirelli should be supplying tyres that after around half distance are hanging off the rims. All we hear is the drivers moaning about warm up or lack of grip, but there is no visual degradation or blistering.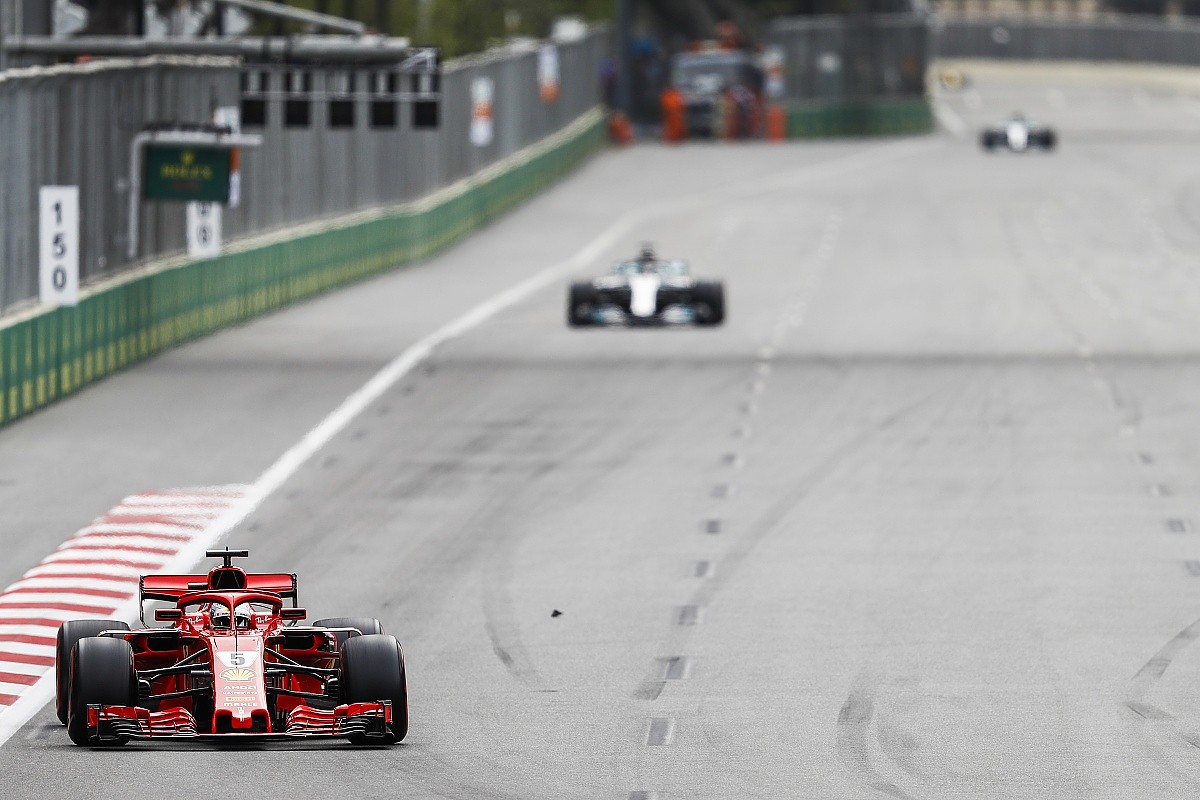 So partly as a result of this, if you eliminate the incidents and accidents this was, in reality, just another race. Just think about the big talking points of the race, which were all about mistakes. Poleman Vettel headed off into the distance and, after the first safety car, he opened up a three-second gap in two laps.
Hamilton was struggling with front tyre warm-up and you could see he was being more cautious and couldn't commit to the corner as aggressively as he normally does.
The two Red Bulls were also struggling with getting their ERS battery pack charged up. But that wasn't the biggest problem they faced. It was a titanic battle between the two of them, and during their earlier wheel-to-wheel fighting I thought Max Verstappen was being a little bit heavy-handed.
They seemed to get away with it, and when Daniel Ricciardo finally got past I thought it was done and dusted. But Ricciardo pitted on lap 37 and fitted the ultrasofts, which was the perfect strategy, and with a 14-lap sprint to the finish a podium was potentially on. It was logical Verstappen did the same a lap later.
Both stops were good, but Verstappen had a quick in-lap and came out in front. Ricciardo's tyres were up to temperature, so he had a good shot at overtaking and this time it ended in tears.
I agree with both the team and the FIA stewards, it was probably a 50/50 incident. But Verstappen could have left a little more room on his left-hand side. I'm not completely sure there was the required car's width, and if he had done that Ricciardo wouldn't have had to try to switch back to the right-hand side.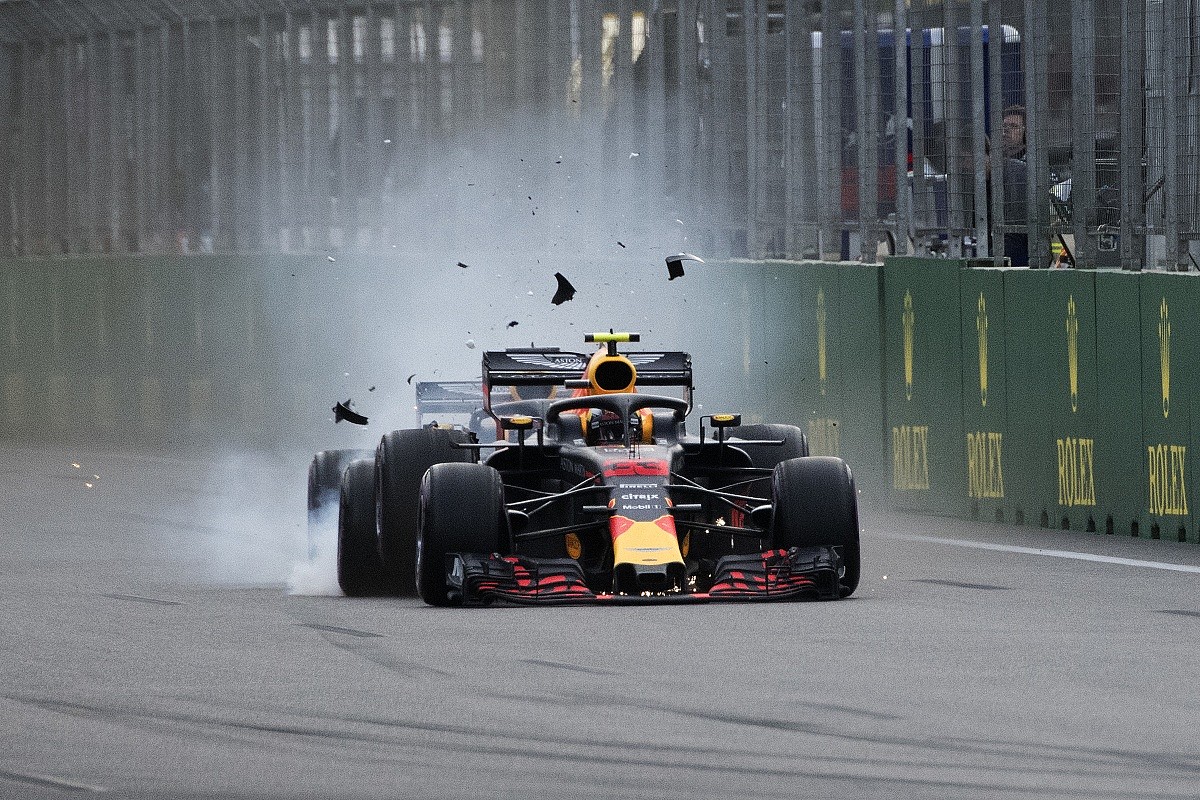 Combine that with what I think was Verstappen being a bit heavy handed earlier on and I would say it was 55/45, with Verstappen having the slightly larger share.
When you get as close behind another car as Ricciardo was to Verstappen, then you just lose all the front downforce, and with it all the front grip. So the inevitable lock-up happened and Ricciardo rear-ended Verstappen, eliminating both of them on the spot. Ricciardo doesn't normally make mistakes like this, but I think he knew he was going to have to take his chance there and then or that was going to be it.
One safety concern that needs to be investigated after that accident was the way Ricciardo's car lifted the rear of Verstappen's off the ground. It was lucky they were both doing more or less the same speed.
Can you imagine what would have happened if, in qualifying, instead of a near-miss Pierre Gasly had rear-ended Brendon Hartley with a speed differential of probably 200km/h (125mph)? The outcome doesn't bear thinking about.
Last year it was Esteban Ocon and Sergio Perez who wiped each other out. This year, Ricciardo and Verstappen. We classify them as team-'mates' but when this sort of thing happens the 'mates' bit disappears very quickly.
You could very confidently say that they won't be going out for a beer any time soon and that respect between these two is now at an all-time low. This means that over the next few races Red Bull is going to have to settle them down and control their enthusiasm from the pitwall.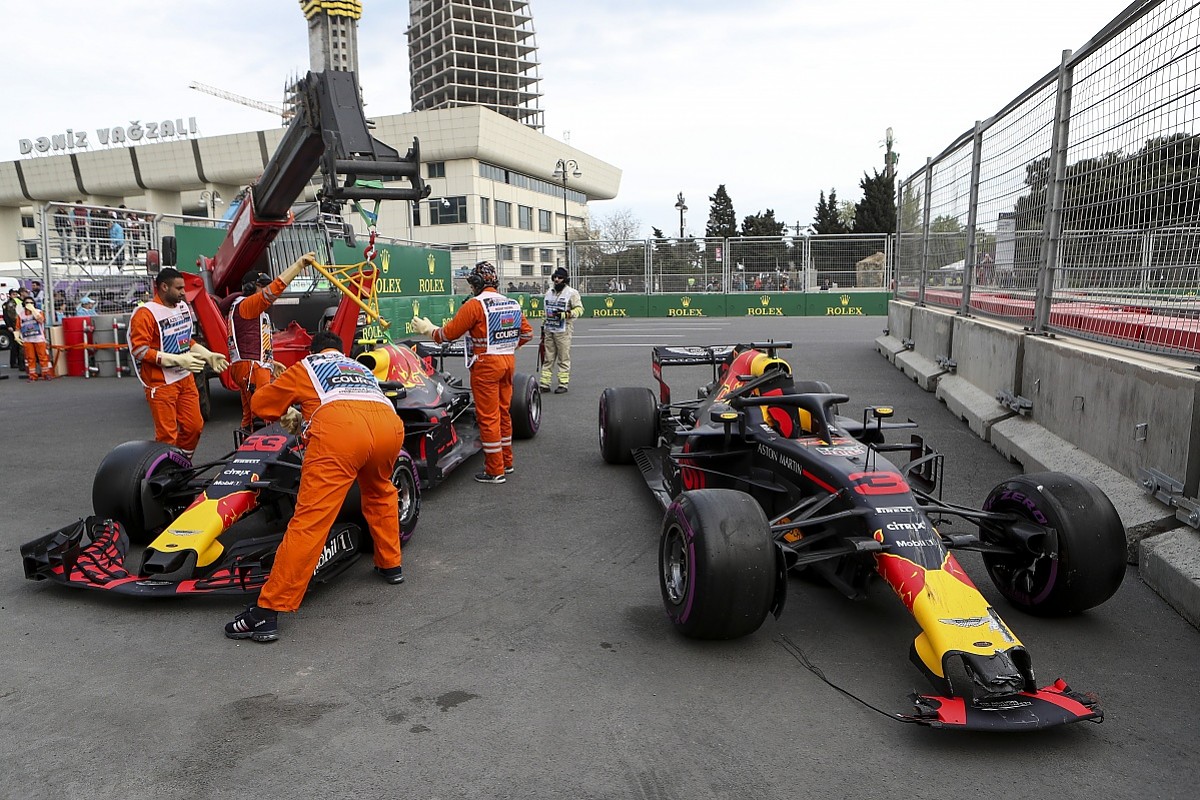 So that's going to make for some interesting radio messages because of the level of the car. Their performance level means they are going to be side-by-side on more than one occasion.
Verstappen has signed with Red Bull for the next two-and-a-bit years but Riccardo is out of contract at the end of this season. If he doesn't sort something out soon, he could be playing second fiddle to Verstappen very quickly.
Team principal Christian Horner says he has told them that they must come to the factory and apologise to all the staff. I think the drivers should be slipping £100 into an envelope for every staff member to take someone out for a nice meal. Words are cheap, hit them in their pockets - that's where it hurts most.
Leclerc showed his true talent. Ferrari has a star of the future on its books
The final safety car period had to be extended because Romain Grosjean stuck his car into the wall while trying to warm his tyres. It can happen so easily, and I'm surprised it doesn't happen more often when you're weaving around and applying throttle to put energy through the tyres. This extra time behind the safety car also spoiled what was potentially going to be an eight-lap, four-car battle to the flag.
Bottas drove very sensibly and should have won but a cut tyre from debris on the penultimate lap put paid to that. In the end, Hamilton won - or, we probably should say, the others lost and he made it to the chequered flag first.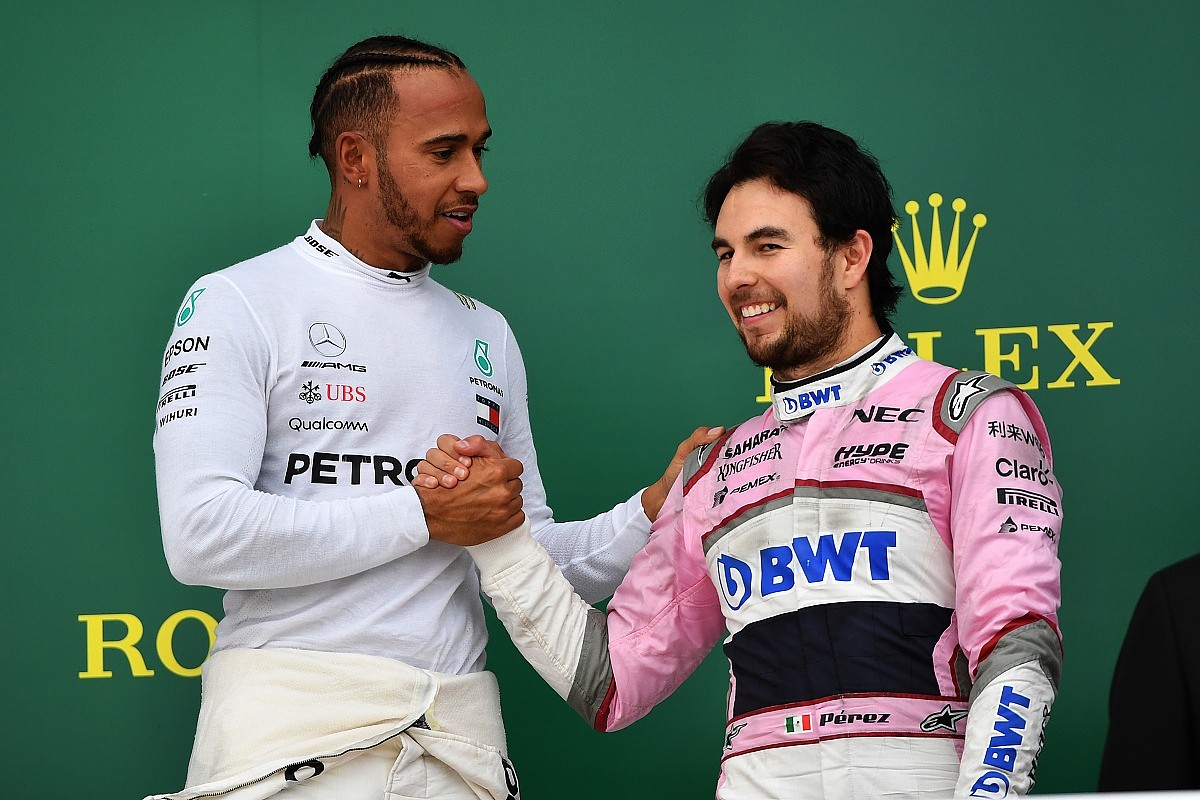 It was good to see Sergio Perez and Force India get on the podium after a difficult start to the season. He lucked in at the expense of all the others, but that's the way it is sometimes and in Baku the Force India was best of the rest behind the top six. Well done to the team for identifying the car's problems and fixing them.
One driver who also needs a pat on the back is Charles Leclerc. He put in a great effort in qualifying, then getting through all of the carnage and running seventh in the early stages of the race was brilliant. Maintaining that and finishing sixth showed his true talent. Ferrari has a star of the future on its books.
Over the weekend many people expressed a view on the extra 5kg of fuel that has been added to every drvier's race allocation for 2019.
As I said in my Ask Gary article last week, it is going to make no difference to the racing. I'm glad that Force India's Otmar Szafnauer agrees with me.
When everything has settled down and the racing got under way on lap 10 Lewis Hamilton did a 1m47.814s, which was the race's fastest lap at that point. That's seven seconds away from his time in qualifying. The fuel load will account for 3-3.5s and the tyres another second, but there is still a big chunk of time missing.
This is because of the need to look after these long life engines and gearboxes. While that requirement is still in place, the teams will turn the engine performance down and by doing that they will be able to run less than maximum fuel loads and take the benefit of the lighter cars' improvement in laptime and reduced tyre degradation.
As usual, what sounds like an easy and one-dimensional fix will not work out like that. Which brings us back to where we started - with F1 needing to do something about its problems in the long term.