Dan Gurney scored just four world championship Formula 1 victories and never quite won the Indianapolis 500, but his ability was far greater than that - as was his impact on the sport.
The man behind the successful Eagles, Gurney flap and CART Indycar breakaway, Gurney was also one of the best drivers of his generation.
As well as his F1 successes, he won in categories as diverse as NASCAR, Indycar, Trans-Am and sportscars. Selecting his top 10 drives was not the work of a moment...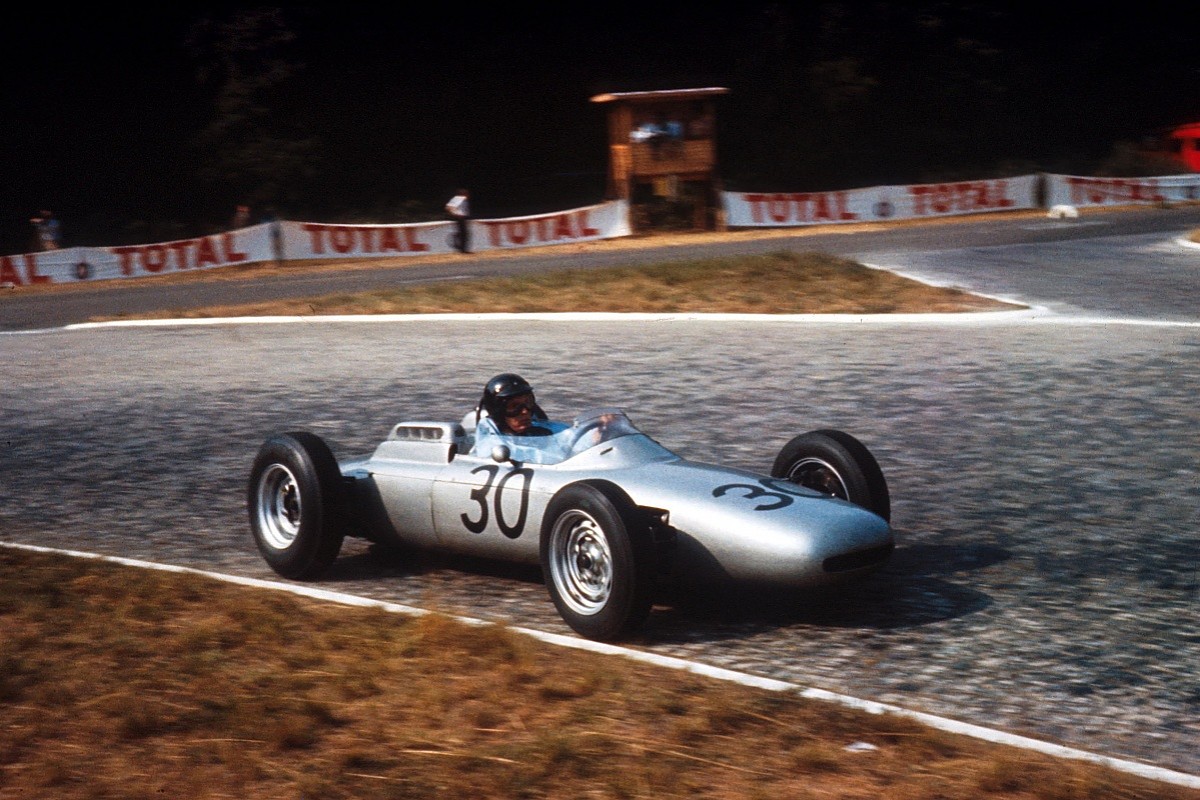 10. 1962 French Grand Prix
Car: Porsche 804
Result: 1st
Although this was perhaps not his finest performance, Gurney held the race in high regard. It was his 22nd world championship grand prix and he took his first points-paying success at the challenging Rouen circuit.
Gurney qualified sixth, 1.7 seconds behind polesitter Jim Clark's Lotus. The Porsche held position as Graham Hill's BRM battled the Lola of John Surtees for the early lead.
Gurney moved up to fourth thanks to the problems of others, but he could not match the pace of the leading duo, or Clark in third.
Fourth became third when Surtees hit fuel-feed issues, while Clark took the lead when Hill spun. Front suspension problems then forced Clark out and, when Hill's throttle linkage came adrift, Gurney was left in the lead.
He duly gave Porsche its first - and so far, only - world championship F1 victory as a constructor, a lap clear.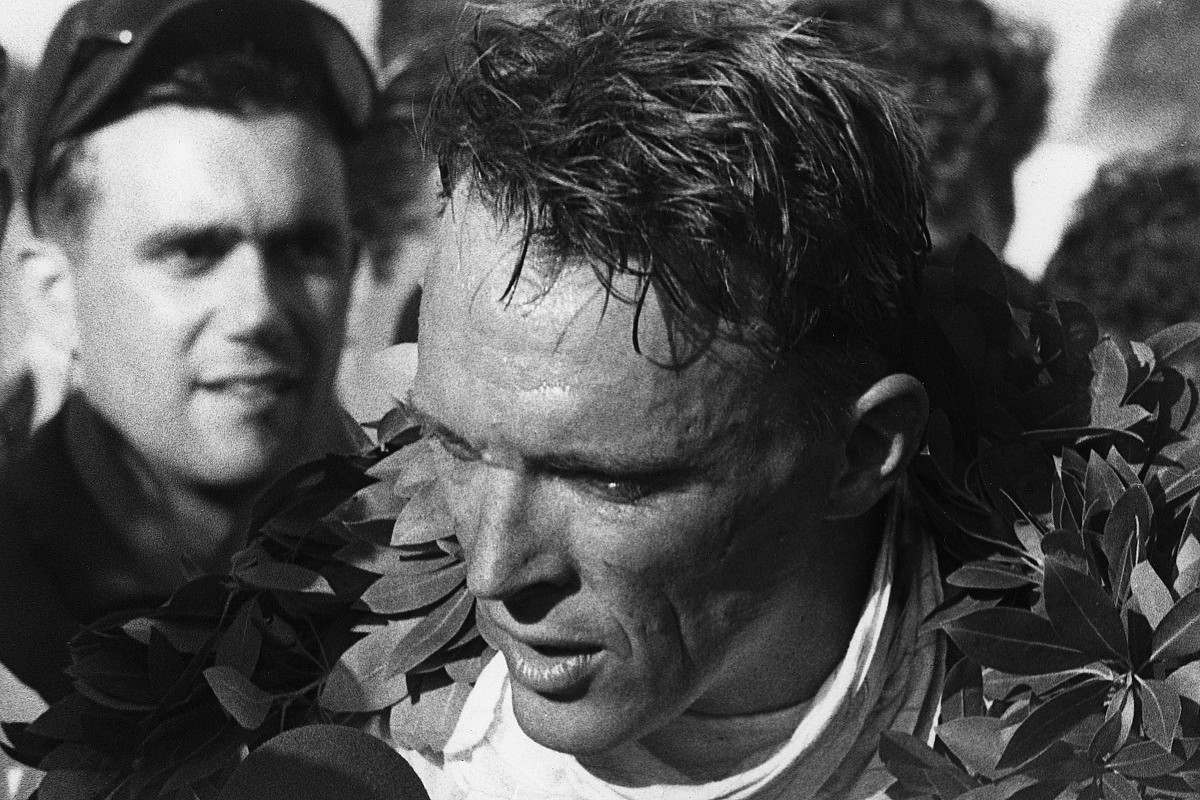 9. 1966 Bridgehampton 200, Can-Am
Car: Lola-Ford T70
Result: 1st
The early years of Can-Am sportscar racing were dominated by Chevrolet power, but Gurney's first success - of three - was taken with a revolutionary Ford unit.
As was to become one of his hallmarks, Gurney was key in the development of his machine, in this case the Gurney-Weslake Ford V8.
Gurney was beaten to pole by Jim Hall's Chaparral, but the troublesome bewinged machine was withdrawn. Gurney's Lola immediately grabbed the lead, leaving Phil Hill's Chaparral to pass round-one winner (and soon-to-be-inaugural Can-Am champion) Surtees for second.
Hill closed on the leader and harassed him, but Gurney remained firm and soon edged away again. The final challenger was Chris Amon, who charged to within a second of Gurney at the line in his McLaren-Chevy.
Not only had the victory demonstrated Gurney's calmness under pressure, it also proved the worth of his alloy Gurney-Weslake cylinder heads, which went on to score many other successes, including two Le Mans wins in Ford GT40s.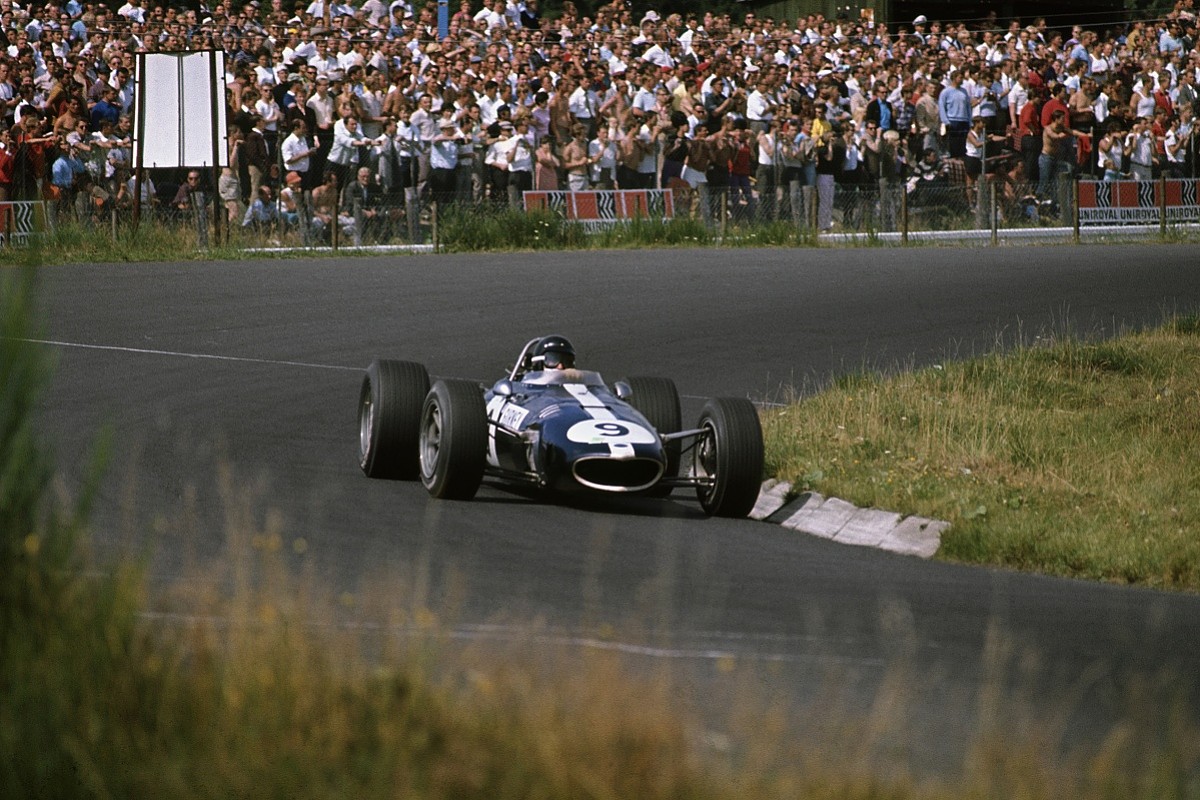 8. 1967 German Grand Prix
Car: Eagle-Weslake T1G
Result: Retired
Gurney had come close to winning the German GP at the fearsome Nurburgring before - most notably in 1962 after taking pole for Porsche - but his '67 effort was probably the most heartbreaking.
The #9 Eagle qualified 'only' fourth, but immediately engaged Jim Clark's Lotus (which had taken pole by 9.4s) and the Brabham of Denny Hulme for the lead.
Despite the practice pace of the Lotus 49, "Clark was having his work cut out to hold off Hulme and Gurney," reckoned Gregor Grant in Autosport's race report.
On lap four of 15, Clark slowed and toured in with collapsed front suspension and a puncture. Gurney immediately pounced on Hulme and started stretching away.
After eight laps he was 30s ahead of the soon-to-be world champion and Hulme had no answer. "The Eagle held its advantage and seemed to have plenty in hand," reported Grant.
But with only three laps to go and while holding a 45s lead, Gurney ground to a halt with halfshaft failure.
The "dreadfully unlucky" Gurney therefore lost another well-deserved victory.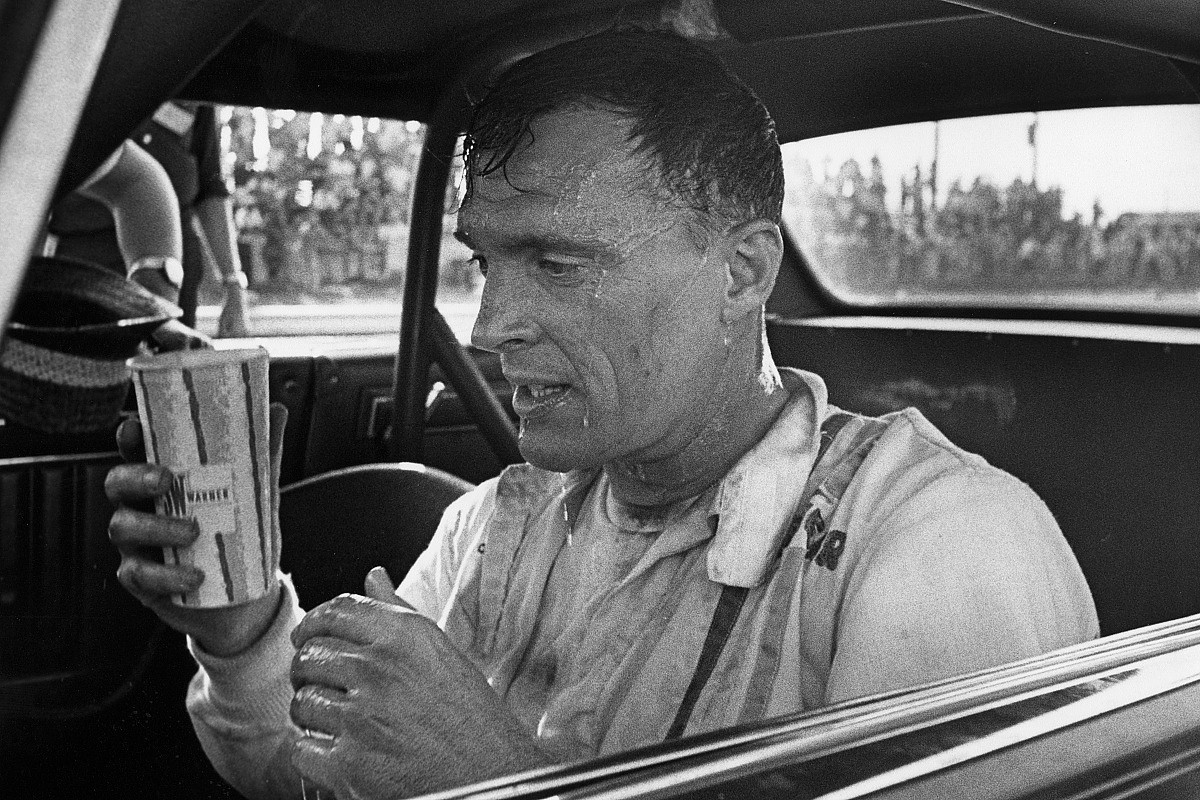 7. 1967 Green Valley 4 Hours, Trans-Am
Car: Mercury Cougar
Result: 1st
Trans-Am was a big deal for the American manufacturers in the 1960s and Gurney was drafted into the Bud Moore Engineering-run works Mercury team alongside Parnelli Jones for 1967.
The season did not start well as reliability problems afflicted the Mercurys, but things came together at Green Valley for round three.
Although Shelby Ford Mustangs initially set the pace, Dick Thompson on pole and Jerry Titus leading early on, the race boiled down to a duel between Gurney and Jones.
Jones was a hard racer and would become one of the stars of the series. Despite being three laps clear of the rest, the duo battled to the end and crossed the line together.
They were credited with the same time after the photo finish, but the win was awarded to a drained Gurney.
When Autosport asked Gurney to pick his best races in 2017, this was on his list, underlining the effort that went into an event that lasted nearly four hours. He claimed it took him weeks to recover.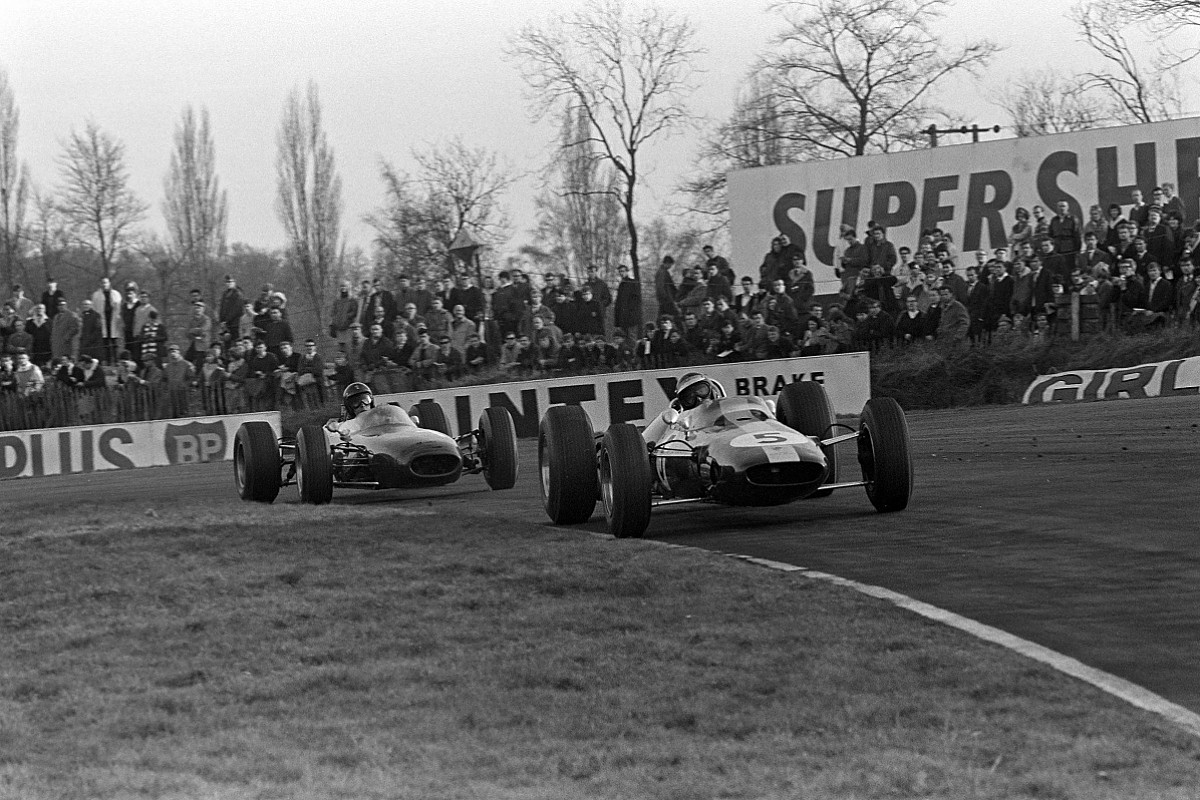 6. 1965 Race of Champions
Car: Brabham-Climax BT11
Result: Retired
As the benchmark of his era, Clark did not make many mistakes, but Gurney forced him into one at Brands Hatch in March 1965.
The inaugural non-points-scoring Race of Champions was decided across two 40-lap heats. Clark's Lotus qualified on pole and duly disappeared down the road in the first part.
Gurney's Brabham suffered problems during practice and started on row five, though his time in what would later be known as morning warm-up was quicker than pole. After a slow start, he was 14th at the end of lap one, but quickly shot through the field.
During his charge, Gurney got ahead of team-mate Jack Brabham - despite the Australian's two world titles, it was the American who was seen as the team's fastest driver - and the BRMs of Graham Hill and Jackie Stewart.
Gurney then closed on the Lotus of Mike Spence, matching Clark's new lap record, and made it into second just after half distance. At the flag he was 20.8s behind the winner.
Another good start gave Clark a narrow lead in heat two, but this time he could not get away. Gurney applied the pressure, pushing Clark to another lap record.
"The pair were going at it hammer-and-tongs," wrote Autosport's Gregor Grant. "Their struggle had the crowd yelling with excitement."
Out of Druids Gurney got alongside the Lotus and then Clark made a mistake at Bottom Bend, now known as Graham Hill Bend.
Grant reckoned Clark was "about to be passed by Gurney and almost immediately lost his Lotus after getting his wheels into a rut on the grass".
The Lotus spun, hit the bank and lost a wheel, handing Gurney a healthy advantage. But just as reliability had been a Brabham bugbear in 1964, so Gurney's bad luck struck again. He soon pitted with a misfire and retired with bearing problems.
Brabham later dropped out of the lead following a broken oil pipe and Spence took victory, but the real story was a rare error from Clark - and the pace of Gurney that had made it happen.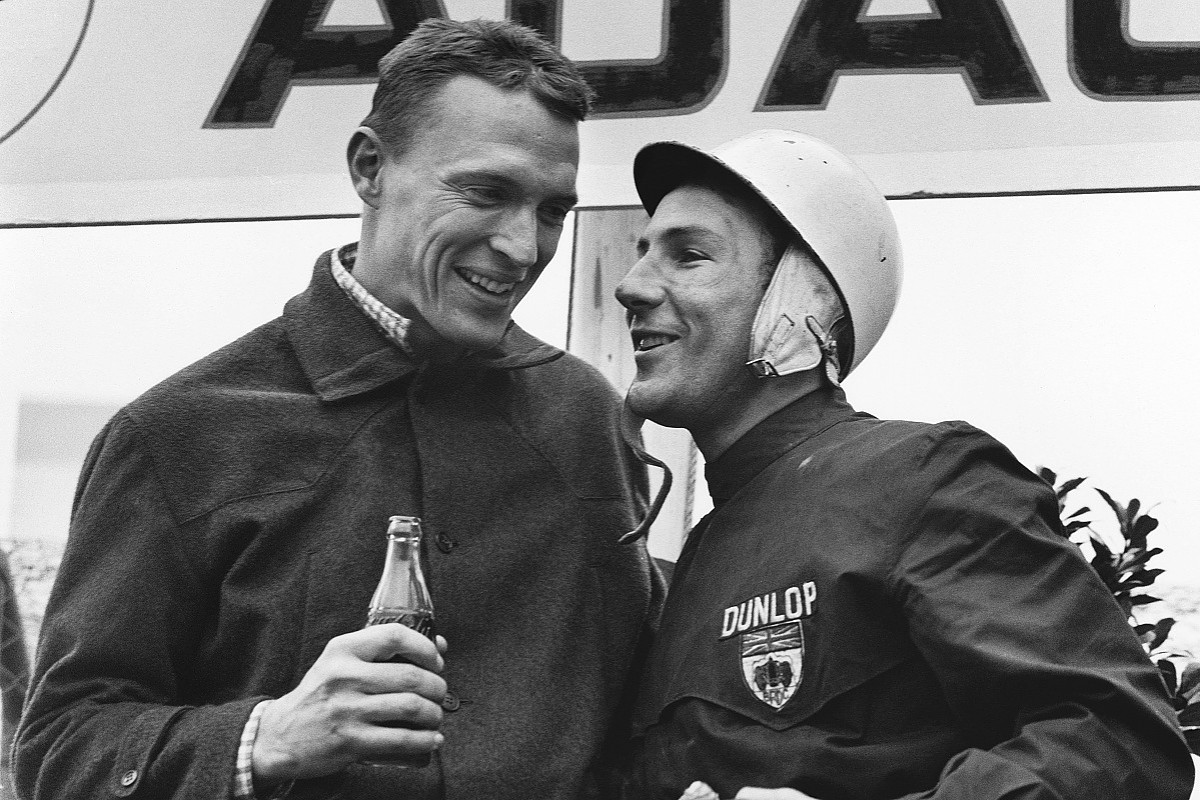 5. 1960 Nurburgring 1000Km
Car: Maserati Tipo 61 'Birdcage'
Result: 1st
As part of the Ferrari squad, Gurney had been on the receiving end of a Stirling Moss Nurburgring masterclass in 1959, but they teamed up in a privateer Maserati the following year.
Two Camoradi Racing Tipo 61s faced four works Ferraris around the 14-mile circuit. Moss was the world's leading sportscar driver and was gunning for his fourth Nurburgring 1000Km victory, but this time he would be aided rather than handicapped by his co-driver.
Clark in the Border Reivers Aston Martin jumped into the lead at the start before Moss reasserted himself at the front of the field.
With fog and drizzle reducing visibility, Moss pulled away and, just before one-third distance, handed over to Gurney, who resumed with a lead of a minute.
Then an oil pipe broke and Gurney brought the Maserati back in. Unlike the previous two years, Moss did not jump in to begin a recovery. Problem fixed, Gurney went back out, now down in fourth and 4m35s behind the leading Ferrari of Phil Hill/Wolfgang von Trips.
A fine charge brought Gurney up to second just after half distance, but still he wasn't done.
"The race continued, with Gurney driving absolutely brilliantly under quite dreadful conditions, slicing more and more off the Ferrari's lead," wrote Martyn Watkins in Autosport.
On lap 28 of 44, Gurney took the Maserati back to the front. He then handed over to Moss, who resumed behind the Jo Bonnier/Olivier Gendebien Porsche and the Hill/von Trips Ferrari.
When the Ferrari's engine failed and Porsche made its final stop, Moss swept by into an inevitable lead. The Maserati's final winning margin was nearly three minutes.
In Stirling Moss: My cars, my career, written with Doug Nye, Moss gave Gurney much credit: "It was a dazzling recovery drive through the mist and drizzle.
"I could not have done so well without such a superb co-driver, because Dan was quite brilliant that day. He was the best co-driver, along with [Juan Manuel] Fangio, I think I ever had."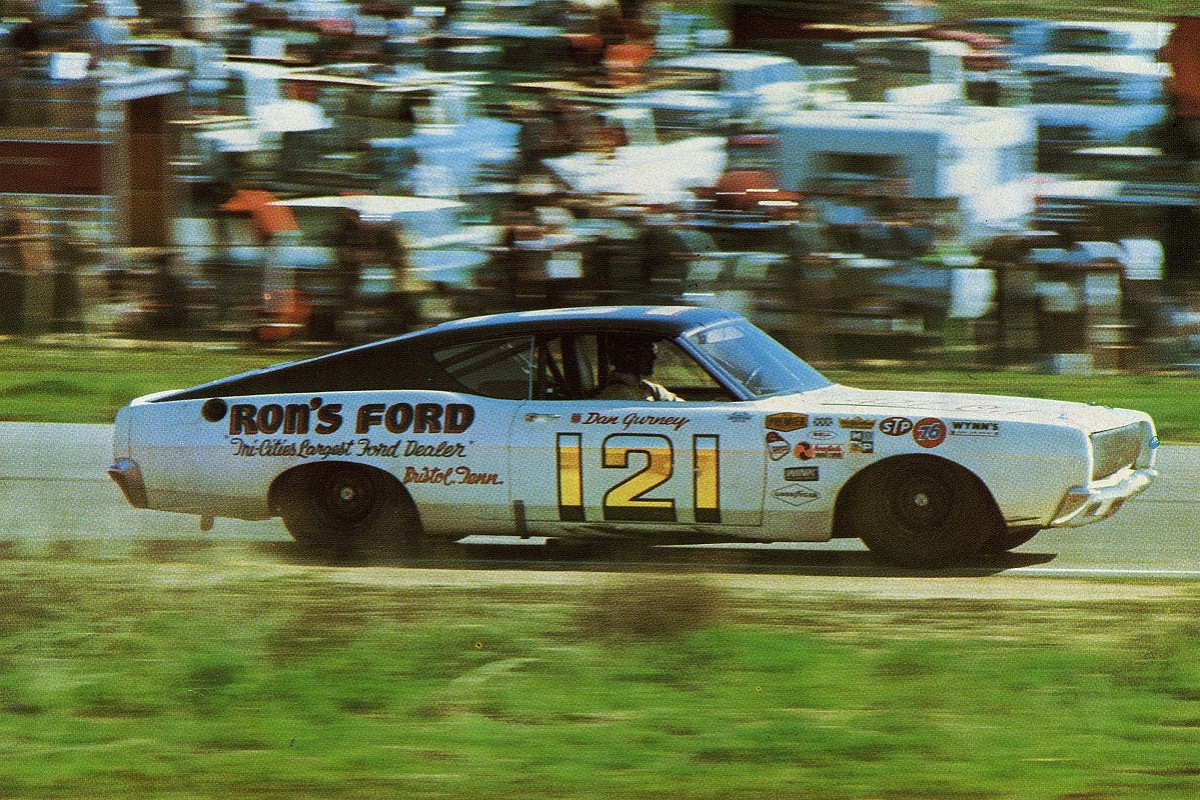 4. 1968 Riverside 500, NASCAR
Car: Ford Torino
Result: 1st
Gurney was the king of NASCAR's Riverside round, taking five wins in six years during the 1960s. His final win, in blisteringly hot conditions that meant only 13 of the 44 starters finished, was arguably his best.
The entry featured most of the big names in American racing of the era. Parnelli Jones, Mario Andretti, 1966 NASCAR champion David Pearson, AJ Foyt and reigning champion Richard Petty were all ranged against the local hero.
Pearson outdragged Gurney to take the lead at the start, with Jones also overtaking the poleman. Jones then moved ahead, while Foyt's engine blew.
Andretti jumped Gurney in traffic, but thereafter the Californian began a charge. He overtook Andretti and Pearson prior to the first round of stops.
Despite a slow stop, Jones continued to lead Gurney until a yellow-flag period brought more stops and Gurney's Wood Brothers team got him out ahead. The pace in the baking conditions continued to take its toll, Andretti retiring with engine problems.
Jones and Gurney continued to battle for the lead, with Petty's Plymouth - the leading non-Ford - not far behind.
Gurney established himself in front and started to edge away, only for Pearson and Jones to reel him in again and engage in another fight.
"With 250 miles to go Gurney challenged Jones for the lead and the two fought as only two professionals can, as though the race had but a lap or two to go," said Gordon Martin in Autosport's report.
Then Jones picked up a puncture and Gurney was able to make his next stop without losing the lead to Pearson.
While Jones recovered to second, Gurney hit his first real problem - some metal cut his left-rear tyre and he had to pit.
"His blistering hot wheel was almost impossible to change and the emergency pitstop dragged out to 1m25s," wrote Martin. "He returned to the race in third, 54s behind Jones."
Gurney now began one of his Riverside charges, aided by Jones suffering from a loss of power. After their final fuel stops, Gurney emerged right behind Jones and soon retook the lead.
A late stop dropped Jones behind Pearson, but made no difference to the winner. Gurney took the flag 36s ahead after five hours of hard-fought racing against America's best drivers in blistering conditions, picking up $21,250.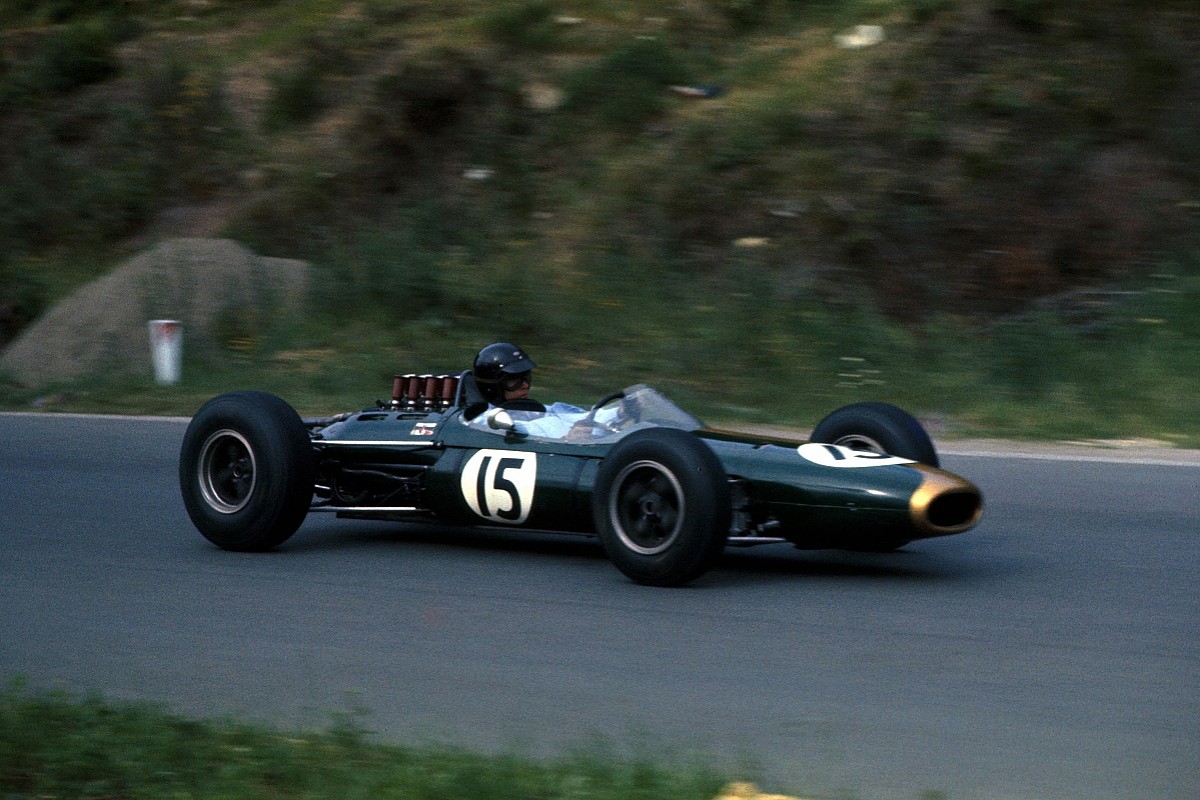 3. 1964 Belgian Grand Prix
Car: Brabham-Climax BT7
Result: 6th
Gurney scored Brabham's first world championship F1 win in the 1964 French GP, but he did so only after Clark's faster Lotus retired.
Just two weeks earlier, however, Gurney had dominated the Belgian GP in a manner that should have brought victory on the old Spa circuit that Autosport's Gregor Grant believed placed "the highest possible emphasis on skilful driving".
Gurney qualified on pole by an impressive 1.8s. Apart from the start, when Peter Arundell led, and lap three, when John Surtees's Ferrari briefly got ahead, Gurney controlled proceedings.
Surtees retired early, leaving Gurney to pull away from Clark and the BRM of Graham Hill. He was 21.4s ahead after 10 laps.
While Clark and Hill battled, Gurney set a string of lap records as he built up a seemingly unassailable lead - with double world champion team-mate Brabham only sixth at half-distance.
Hill eventually got the better of Clark (who then lost third to Bruce McLaren with a stop for water), but he was 38s behind the flying Gurney in the closing stages.
Then Gurney dived into the pits for fuel with two laps to go, only to find the Brabham team didn't have any for him. His 40s lead became a 30s deficit to new leader Hill heading into a dramatic final lap.
Hill's fuel pump failed, Gurney - now pressing on despite no extra fuel - ran dry, and McLaren also ran out. Clark's Lotus swept by the stranded Cooper to take a surprise victory.
But it was Gurney who Autosport described as "man of the day" and reckoned he was "long overdue for another GP win".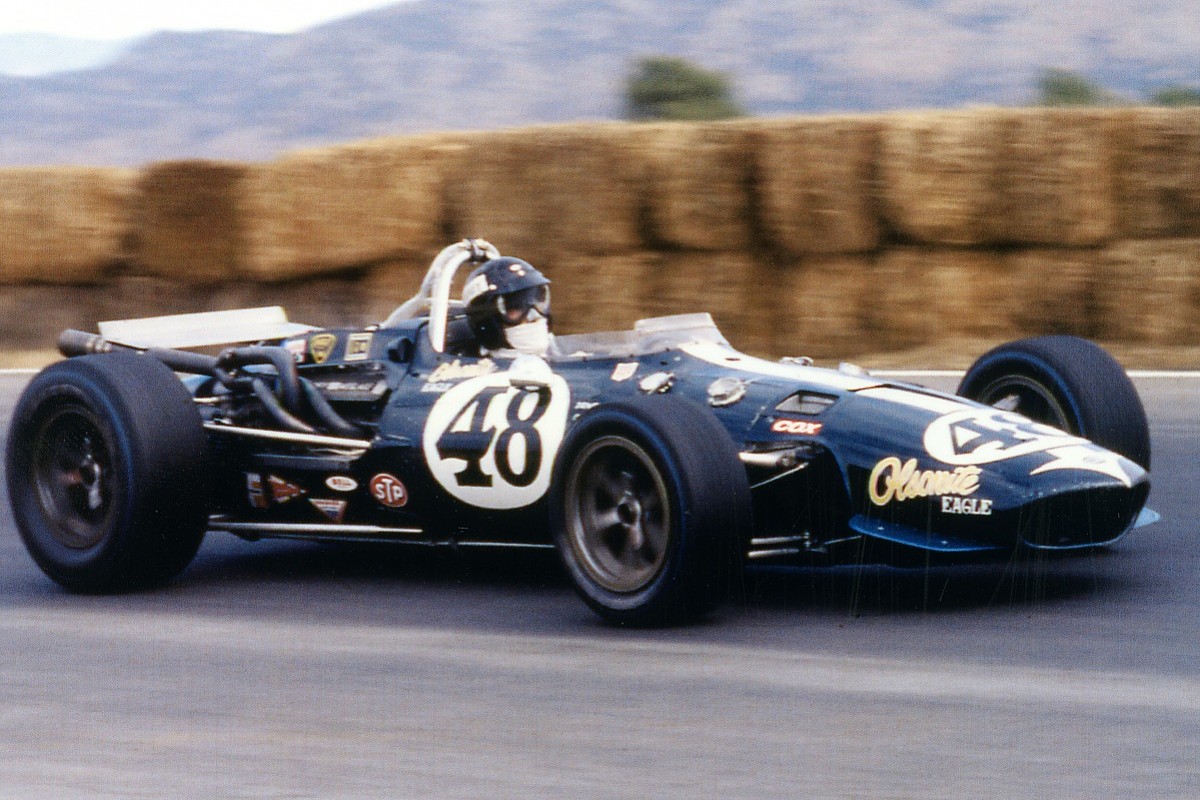 2. 1967 Rex Mays 300, Riverside, Indycar
Eagle-Ford 67
Result: 1st
Gurney won seven Indycar races during his career and it is the 1967 success at his beloved Riverside that is widely regarded as his best.
Andretti (Brawner), Foyt (Coyote) and outsider Gordon Johncock (Gerhardt) went into the finale fighting for the USAC title, while past F1 champions Clark (Vollstedt) and Surtees (remarkably in a Lola with an off-set for oval racing) added to the quality field.
Gurney was one of several drivers to run a five-litre pushrod engine in place of the usual 4.2-litre four-cam Indy engine. He took pole and slotted into the lead ahead of Clark at the start, with the battling duo soon pulling clear.
"Gurney's battle with Clark was reminiscent of the Race of Champions in 1965, except this time it was Gurney who was in front and under pressure," said Autosport's report.
Eventually, Gurney made a small mistake and ran wide, allowing Clark ahead. But then a valve broke on the Vollstedt's Ford engine and Gurney retook the lead.
The Eagle pulled ever further clear, Gurney leading Roger McCluskey by half a minute after 50 laps. Then a backmarker spun in front of Andretti and Foyt, forcing Foyt to crash. McCluskey pitted to hand his car over to Foyt, leaving Gurney leading Andretti and Bobby Unser.
On lap 72 of 116, Gurney pitted for fuel, but a problem with a tyre that unexpectedly needed changing dropped him to third, behind Andretti and Unser.
"Gurney now produced a superb display of just how fast he can drive round Riverside," said Autosport. "He was catching Andretti at the rate of 1.5s a lap."
Andretti nevertheless seemed out of reach until the final six laps, when he began to run out of fuel. As Andretti pitted, Gurney attacked Unser for what was now the lead. He grabbed it on the final tour to score a famous victory.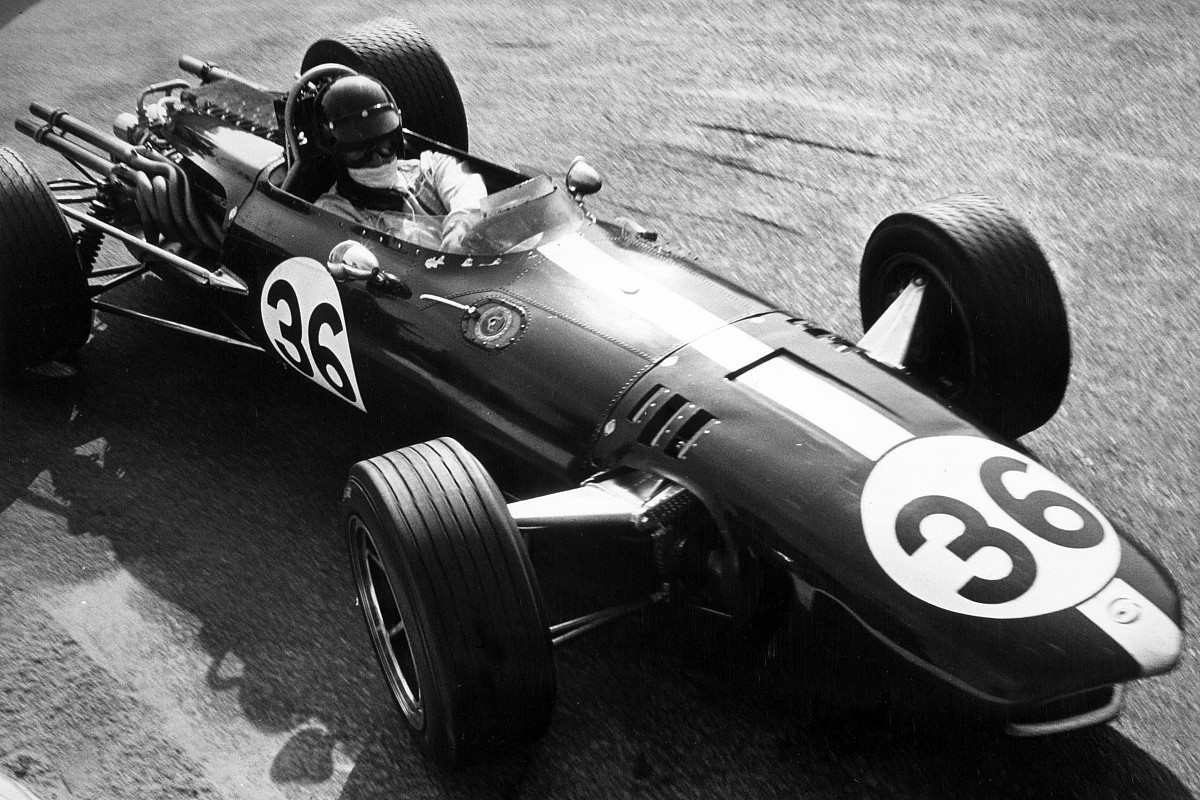 1. 1967 Belgian Grand Prix
Eagle-Weslake T1G
Result: 1st
A predictable entry for number one, perhaps, but Gurney's Eagle success on a true driver's track is iconic, and was the climax of his F1 adventure.
Clark's Lotus 49 dominated practice, taking pole by 3.1s, but Gurney was able to split the 49s and was a remarkable 3.1s faster than the next-best non-Lotus - Jochen Rindt's Cooper.
Despite Graham Hill's Lotus immediately hitting clutch issues, Gurney lost ground at the start thanks to hesitation and too much wheelspin. He completed lap one in fifth.
The Eagle soon started to come through the field and moved into second when the lead Lotus's electrode blew out of a spark plug and forced Clark to pit shortly before half distance.
Gurney had been challenging Stewart's BRM, but a brief stop to complain of fluctuating fuel pressure gave the Eagle driver a 16s gap to reduce.
At first the margin only fluctuated, but then Stewart started suffering gearbox maladies and Gurney increased his pace. Indeed, on lap 19 of 28 he set a new lap record - remarkably over a second faster than the recovering Clark managed - and he passed Stewart for the lead at the start of 21.
"Fingers were crossed for Gurney, whose lone effort had captured the imagination of the vast crowd," said Gregor Grant in Autosport's report.
Stewart was powerless to respond and Gurney took the flag over a minute clear to record Eagle's first - and only - world championship grand prix victory at a then record speed of 146mph.
Gurney might have needed a little more luck for this victory than some of the others on this list, but winning in his own car around one of the greatest circuits in the world made this a famous moment.
And one the man himself treasured: "Our F1 effort was a small, close-knit group. Belgium was a much bigger deal than Brands [where he won the 1967 Race of Champions in an Eagle]. It was notoriously fast and difficult."
Honourable mentions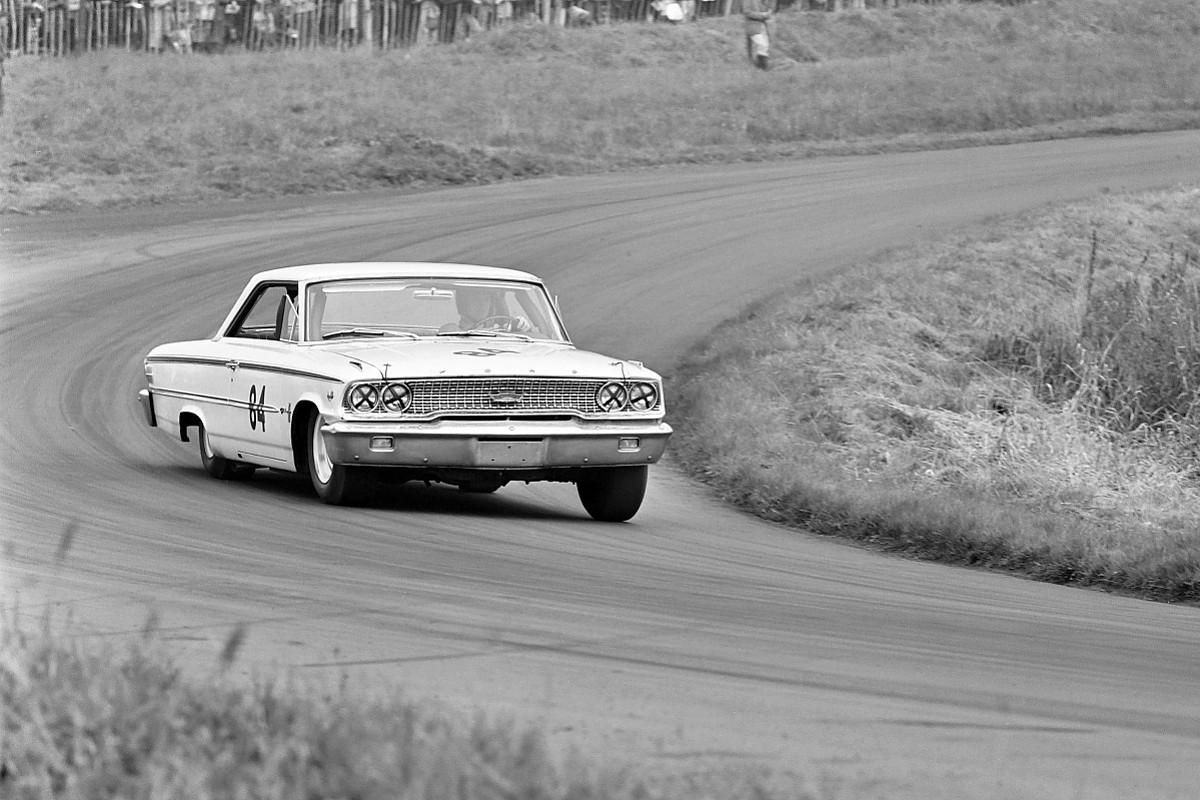 1963 Oulton Park, British Saloon Car Championship
Car: Ford Galaxie
Result: 1st
Gurney took his Alan Brown Ford Galaxie to pole by an impressive 1.8s from reigning F1 world champion Graham Hill's similar Willment-run V8 machine and smoked the tyres as he led from the start.
"Gurney was completely master of the race, using the immense acceleration of his drum-braked monster to the limit, with a conspicuous absence of wheel-winding and tearaway cornering - in fact, the perfect example of a polished performer," said Autosport's report.
Gurney took the flag 31s clear of Hill to take his only British Saloon Car (now British Touring Car) victory.
1962 Solitude GP
Car: Porsche 804
Result: 1st
There were only 14 cars for this non-championship race, but the Solitude circuit was a worthy challenge - pole was only just under four minutes - and Clark was there. It was also one of the events Gurney himself rated highly.
Gurney grabbed the lead at the start and edged away. Even a rain shower didn't help rainmaster Clark, who spun out, leaving Gurney to lead a Porsche one-two, nearly two minutes clear of Jo Bonnier.
1967 Le Mans 24 Hours
Ford MkIV
Result: 1st
Having been beaten by Ferrari at Daytona, Ford's attack on 1967 Le Mans was immense. Four MkIVs and three MkIIBs were ranged against just three smaller-engined Ferrari 330 P4s. And yet, without Gurney and Le Mans rookie AJ Foyt, Ford could have lost.
Accidents and incidents wreaked havoc on the Detroit attack, but Gurney and Foyt serenely kept their MkIV out of reach of the reliable Ferraris to win by four laps. "We just never ran it that hard," said Gurney in a 2017 Autosport interview.