His record of six grand prix wins and one Formula 1 world championship do not do justice to John Surtees' abilities.
A motorcycle legend even before he switched to cars, Surtees could have scored much more success with a bit more luck - and better decision-making outside of the cockpit.
There were many days when Surtees demonstrated his talent, so here are our picks for his 10 greatest drives at the pinnacle of four-wheeled sport.
10. 1970 Oulton Park International Gold Cup

Car: Surtees TS7
Started: 1st
Result: 1st
With his best driving days behind him, Surtees decided to become a constructor in 1970 and the TS7, designed by Big John himself, Peter Connew and Shahab Ahmed, made its debut at the British GP in July.
Engine failure forced retirement and results hadn't improved much by the non-championship Oulton Park Gold Cup at the end of August.
The entry was not on a par with a points-paying event, with stock-block Formula 5000 machines providing the bulk of the grid, but there were Lotus 72s for F1 points leader Jochen Rindt and double title-winner Graham Hill, and reigning world champion Jackie Stewart appeared in the new Tyrrell 001.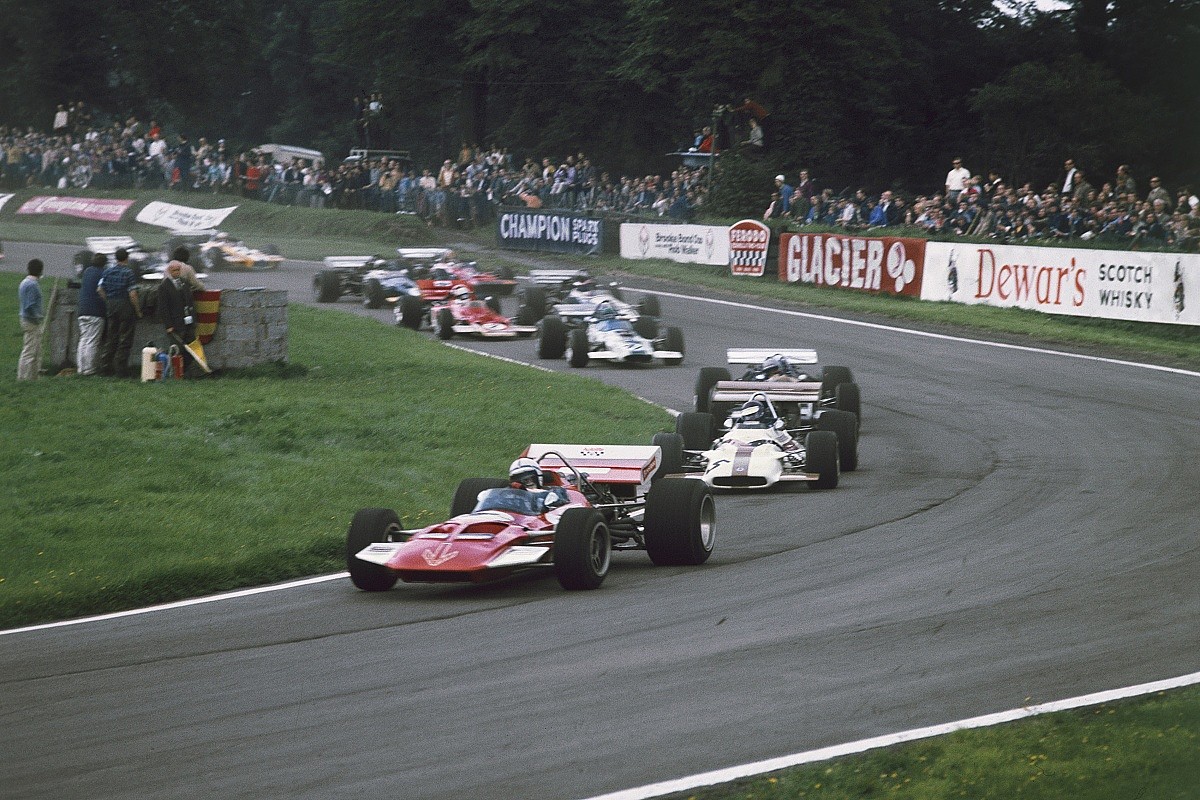 Rindt was well on his way to becoming world champion, though the Gold Cup would prove to be his last F1 race before his fatal accident during practice for the Italian GP.
Changeable weather made qualifying unpredictable and Surtees managed to find a nearly-dry moment to put the TS7 on pole, three seconds clear of Jackie Oliver's BRM in second, with Stewart fifth (switching to Ken Tyrrell's March 701 before changing back to the 001) and Rindt 10th.
The aggregate times of two heats decided the results and Surtees led the first encounter from the start.
Stewart, who started from the back, and Hill both suffered problems and, although Rindt soon charged into third, he could not catch the duo ahead, Surtees beating Oliver by 6.6s.
Oliver led heat two initially, but Rindt was soon into his stride and took the advantage. Surtees got the better of Oliver in a fine duel, then set off to make sure he finished within 12.8s of the flying Lotus to secure aggregate victory.
Despite setting fastest lap of the heat, Rindt could not build the gap he required and Surtees secured his first F1 victory in three years, and in a car bearing his own name.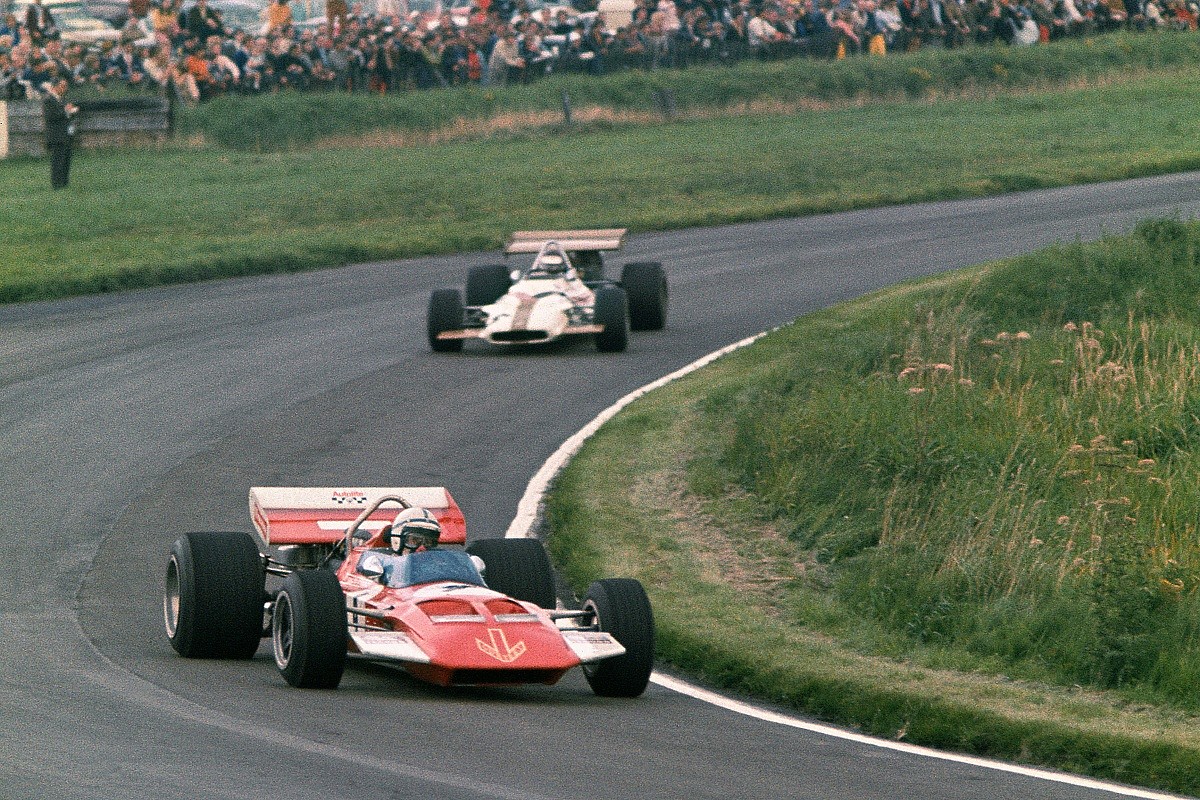 The best world championship result Surtees managed in his own cars was fifth and the constructor would never quite win a grand prix, but Surtees scored one more success by taking the 1971 Oulton Gold Cup in a TS9.
9. 1960 Portuguese GP, Porto
Car: Lotus 18
Started: 1st
Result: DNF
While still the benchmark in grand prix motorcycle racing - he would retain both his 350cc and 500cc world titles in 1960 - Surtees, then 26, made his step into cars.
His first race on four wheels came in Formula Junior at Goodwood, where he finished second to rising star Jim Clark. Just two months later he made his Formula 1 world championship debut at Monaco, finished second next time out in the British Grand Prix, and in his third event put his Team Lotus 18 on pole for the Portuguese GP.
Surtees lost out in the early skirmishes as Dan Gurney (BRM) grabbed the lead. But he soon overcame Stirling Moss - returning from injuries sustained at Spa - to run second.
The Lotus then closed on Gurney and was poised to challenge for the lead when the BRM hit engine trouble.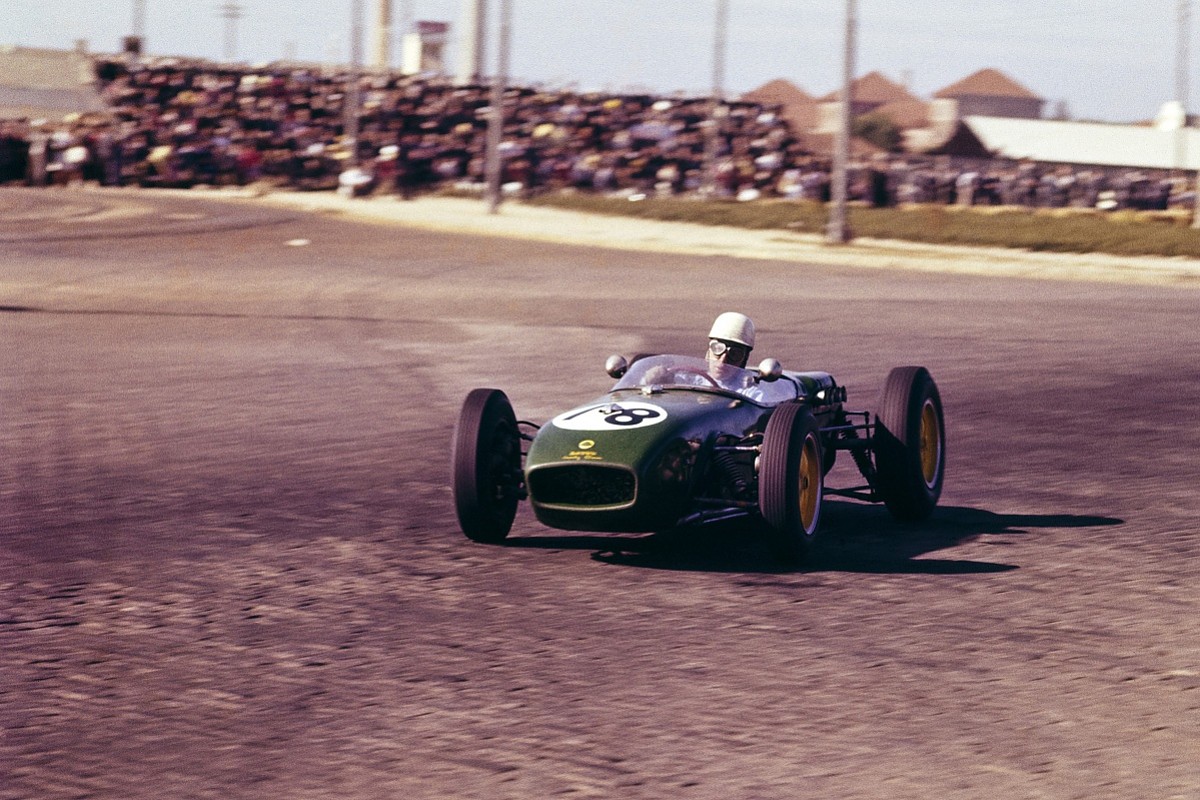 Moss now moved forward and started applying pressure to Surtees, only to have to pit for a plug change on his Lotus 18. That left Surtees comfortably clear of reigning world champion Jack Brabham.
But Surtees had been battling with a fuel leak and, eventually, his petrol-soaked feet slipped off the pedals. The resulting incident burst the Lotus's radiator and forced Surtees out of the race, but he'd not looked out of place at the front of the field.
8. 1966 Mexican GP, Mexico City

Car: Cooper T81
Started: 1st
Result: 1st
Surtees' title defence did not go well in 1965 as Clark and Lotus once again took command. And although Ferrari's 312 was arguably the fastest car under the new three-litre regulations for '66, internal politics meant Surtees left the team shortly after winning the Belgian GP.
He joined Cooper, with its ungainly but surprisingly effective Maserati-engined T81. Surtees starred several times in the car and trounced his rising star team-mate Jochen Rindt in qualifying.
Perhaps his most impressive outing came in the Mexico City finale.
Despite a water leak and fuel pressure problems limiting his track time in practice, Surtees took Cooper's first pole for five years, ahead of Clark.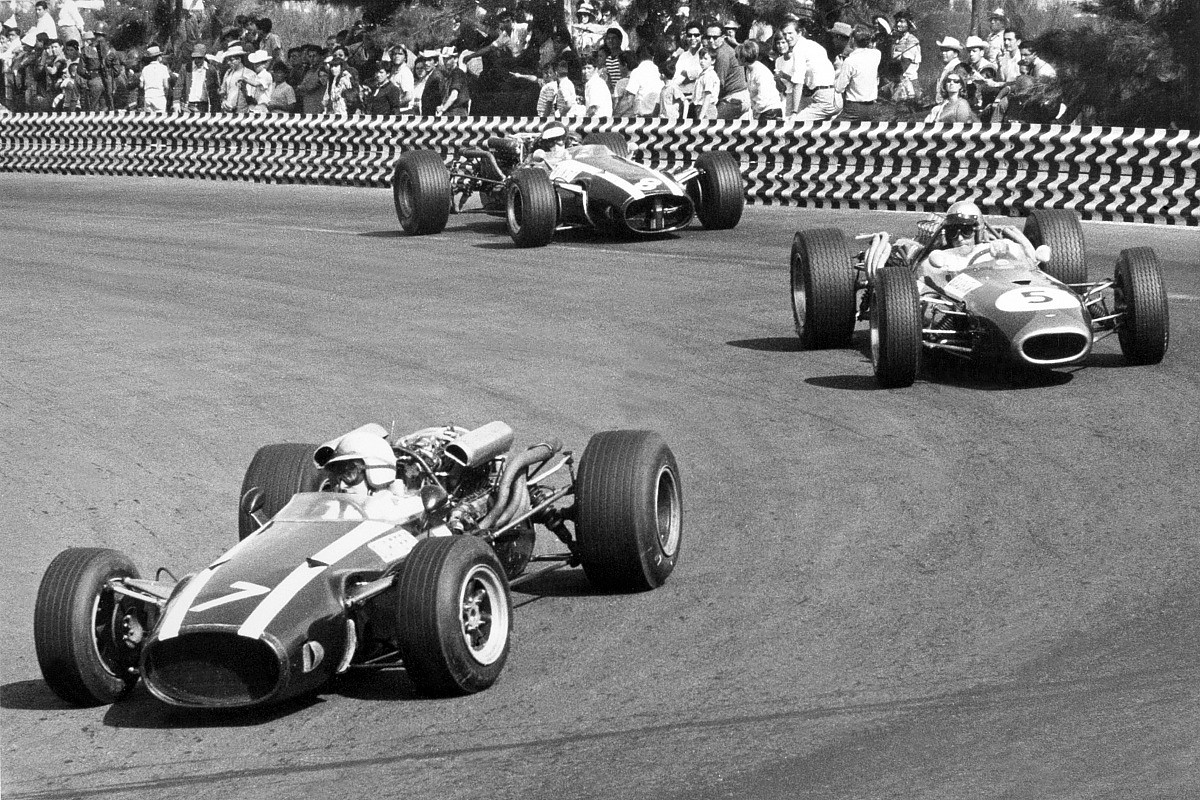 He made a slow start, falling as low as fifth, before working his way forward.
"Surtees really had his Cooper-Maserati motoring and was second by the fifth lap, right up Brabham's exhausts," wrote Michael Kettlewell in Autosport's report.
"On the following tour Big John was in the leading, driving magnificently."
Brabham, already crowned world champion for the third time, kept Surtees under pressure, but he never regained the lead.
Surtees took the flag nearly eight seconds clear to secure runner-up spot in the standings - every finish he had managed during his '66 F1 campaign had resulted in a podium.
7. 1968 French GP, Rouen
Car: Honda RA301
Started: 7th
Result: 2nd
This is arguably one of Surtees' least famous great drives, partly because it was overshadowed by the winner and partly due to the tragic circumstances surrounding his team-mate.
Surtees had yet to finish a world championship race in Honda's water-cooled, aluminium RA301 when the teams arrived in Rouen.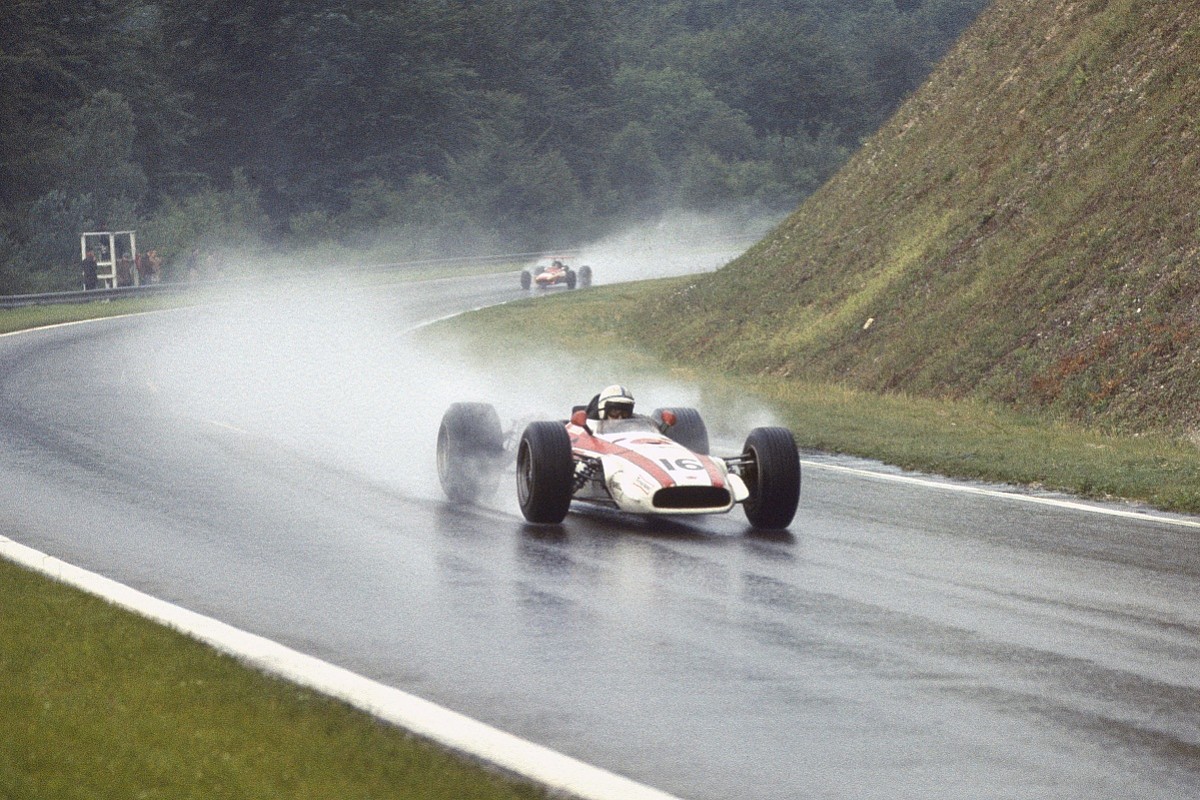 The Japanese firm had also produced an experimental magnesium RA302, which was air cooled. Surtees had declared it not ready, so was not impressed when Honda elected to run it for Jo Schlesser.
Neither car was competitive in qualifying - Surtees lining up seventh and Schlesser 16th - but rain on race day allowed Big John to show his old class.
Jacky Ickx's Ferrari grabbed the lead from Jackie Stewart's Matra on the opening lap, which Surtees completed in an impressive fourth.
Two tours later and he was up to second behind the flying Ickx as a struggling Stewart slipped back, but on lap three Schlesser crashed.
The Frenchman lost control and spun into a bank, the Honda immediately bursting into flames. Schlesser was trapped and had no chance of survival as the magnesium chassis continued to burn while the other cars picked their way through.
That brought the top three together - Ickx, Surtees and Pedro Rodriguez (up from 10th in his BRM) - the experienced old hand taking on two of the best wet-weather drivers of the next generation.
Ickx edged away again, only for Rodriguez and Surtees to draw him back in again, both briefly getting ahead of the Ferrari on lap 19 of 60. But Ickx quickly responded as Surtees struggled with his goggles, damaged by a stone.
Ickx made the race his own in the middle third of the race, building a big lead. Surtees stayed with Rodriguez until deciding he needed to stop to change his goggles. He retained third, but dropped three-quarters of a minute behind the BRM.
Surtees now started taking great chunks out of Rodriguez's advantage, and moved into second when the BRM developed gear selection issues. Come the finish, Surtees was the only man on the same lap as Ickx, who scored his first world championship F1 victory.
"Surtees drove with all the guts and determination that are his hallmark and a fine drive was rewarded by second place," wrote Patrick McNally in Autosport.
But Honda's best result of the year had come on its darkest day. It withdrew at the end of the season, leaving Surtees to join BRM for a largely fruitless 1969.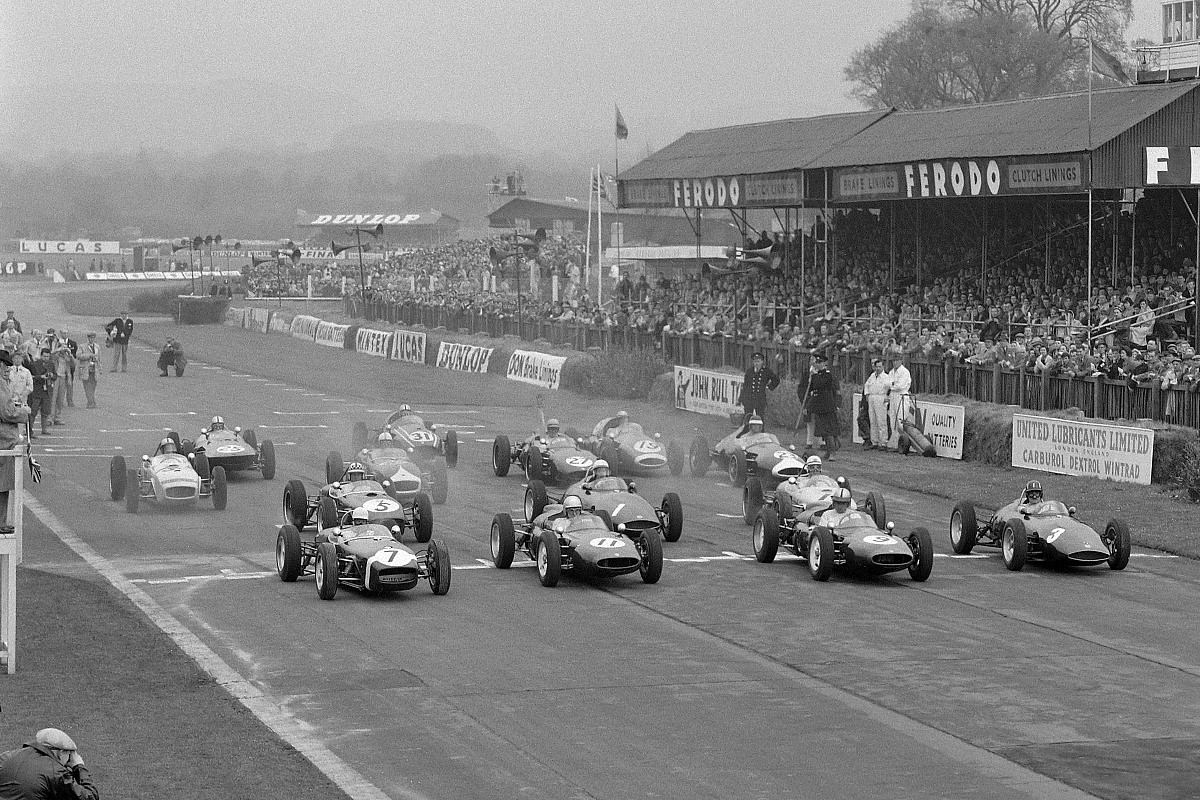 6. 1961 Glover Trophy, Goodwood
Car: Cooper T53
Started: 2nd
Result: 1st
After turning his back on Lotus after some intra-team controversy, Surtees moved to the Yeoman Credit Racing Team. The Cooper T53 was rarely a frontrunner in 1961, but it did provide Surtees with his first F1 win, the non-championship Glover Trophy at Goodwood in April.
The clashing Pau GP - won by Clark's Lotus - contributed to a small field, but there was still plenty of quality. Moss qualified on pole and he was joined on the grid by the Yeoman Credit Coopers of Surtees and the experienced Roy Salvadori (on identical times) and Graham Hill's BRM.
Surtees snatched the lead from the start, with Moss's Lotus 18 in pursuit. The lead duo edged away, with Moss unable to get within striking distance.
"Moss could do nothing about Surtees, who was in tremendous form in a superbly prepared machine," said Gregor Grant in Autosport's report.
Surtees set a new lap record and, when Moss started suffering from a misfire, he looked even more comfortable. The Cooper eventually crossed the line 26.6 seconds clear of runner-up Hill.
Moss was still at the height of his powers - his famous underdog victories against Ferrari at Monaco and the Nurburgring were still yet to come - so for Surtees to defeat him in what was an inferior car marked him out as a potential world champion.
5. 1964 Solitude GP

Car: Ferrari 158
Started: 2nd
Result: 2nd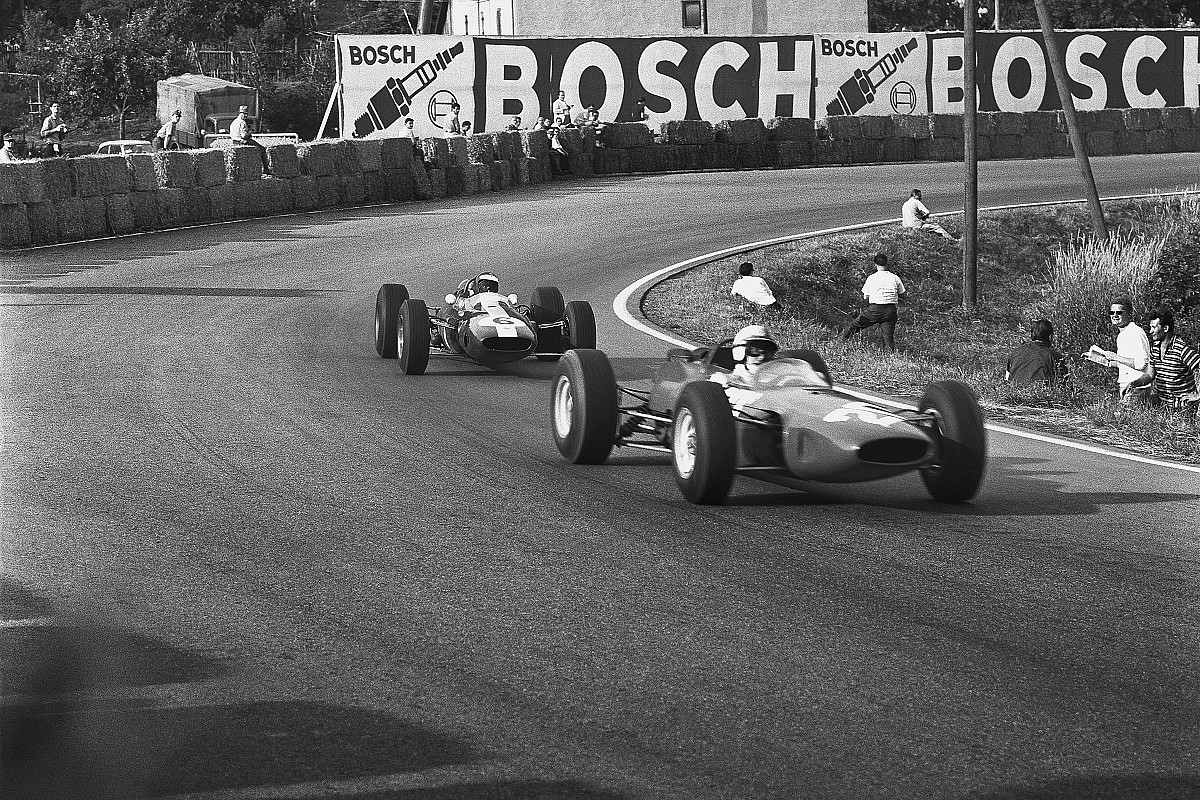 Another Clark-Surtees duel in Germany came the following season, Clark now a world champion and Surtees armed with Ferrari's new V8.
Although a non-championship event, the quality was still high and Clark pipped Surtees to pole by just 0.2s, with each seven-mile lap taking almost four minutes.
Appalling weather greeted the drivers on race day, in theory playing into the hands of Clark, one of the greatest rainmasters in motorsport history. But Surtees grabbed the lead on the first lap - which claimed seven starters thanks to the slippery surface - and started pulling away.
Only when the track started to dry did Clark close back in. Eventually he passed the Ferrari and edged away, winning by 10.4s, but Surtees had made his point in the wet.
Everyone else had been lapped.
4. 1964 Italian GP, Monza

Car: Ferrari 158
Started: 1st
Result: 1st
Aside from another superb victory in the German GP, Surtees had not enjoyed much luck during the early stages of the 1964 F1 world championship. He arrived at Monza, round eight of 10, with just 19 points, compared to the 32 of leader Hill and 30 of Clark.
This time Surtees had to battle friend and Brabham driver Gurney to score success on Ferrari's home ground.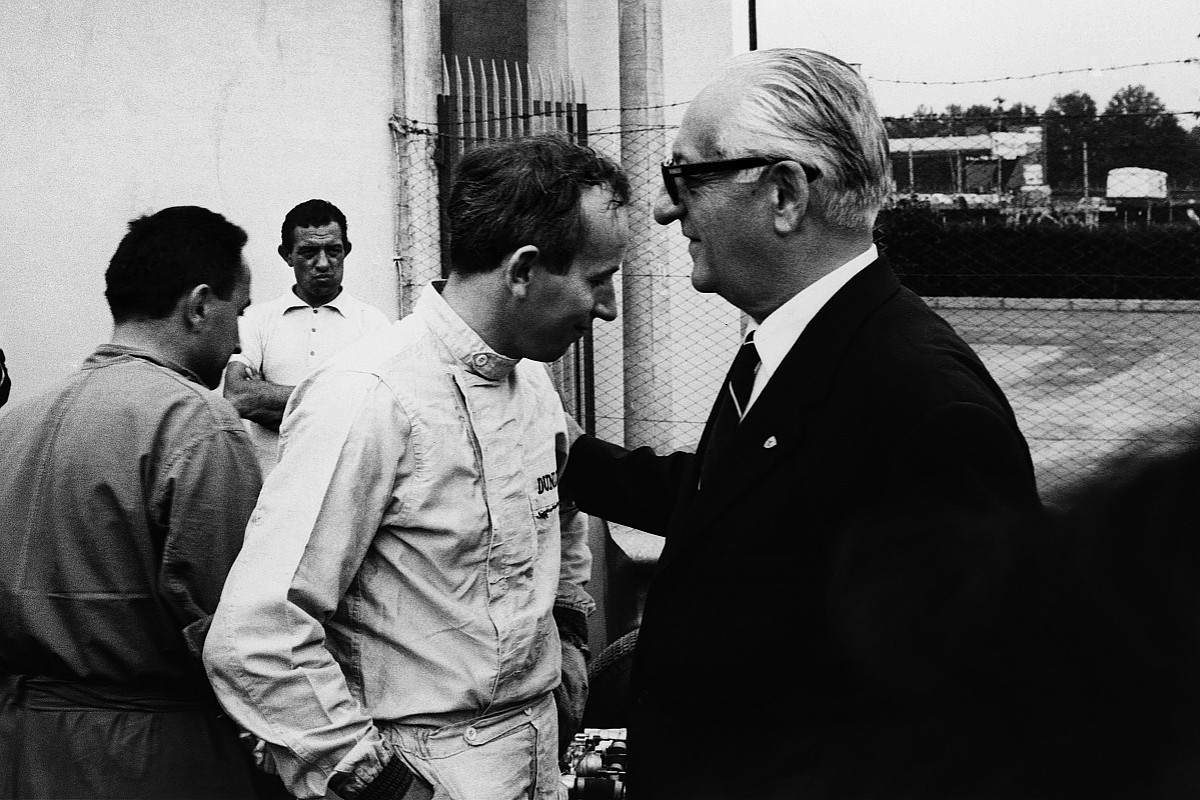 As soon as they had overcome the fast-starting Bruce McLaren, Gurney and poleman Surtees started battling for the lead. Clark also joined the trio to form an early four-car breakaway.
Around the pre-chicane Monza, places changed constantly. Just taking positions across the line, Surtees and Gurney swapped the lead 27 times!
"It was the GP of the slipstreamers, with positions changing rapidly on every part of the circuit," said Autosport's report. "Even blase press men caught the fever of this fantastic struggle."
When Clark's Lotus hit engine trouble, causing McLaren to lose his towing partner, Surtees and Gurney were left out on their own.
On lap 56 of 78 Surtees once again moved to the front and this time the Ferrari stayed there. Gurney's Brabham started suffering with a misfire and he fell back, leaving the Ferrari to pound on to victory with a new lap record.
More importantly, problems for Clark and Hill (clutch failure on his BRM) meant that Surtees had closed to within four points of the championship lead with two rounds to go.
3. 1967 Italian GP, Monza

Car: Honda RA300
Started: 9th
Result: 1st
"The struggle between Surtees, McLaren, Chris Amon and Rindt provided the fiercest contest seen on the track for many years," said Autosport.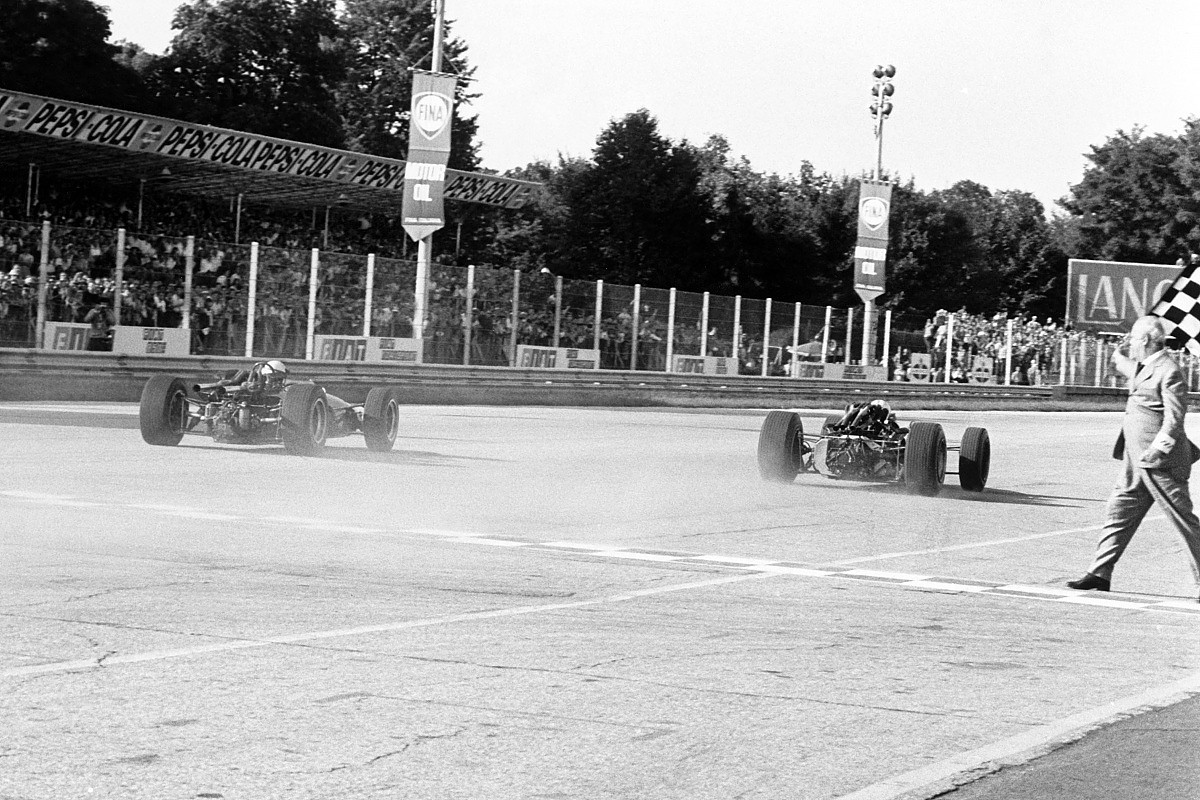 "However, it was the last-lap drama that set the seal on the finest grand prix of 1967."
That year's Italian GP is largely remembered as one of Clark's great drives - fighting back from a lap down to snatch the lead. But it was also one of Surtees' finest.
Surtees had joined Honda at the start of the year and had the new V12-engined RA300 at his disposal for Monza. It was not a match for the Cosworth DFV-engined Lotus 49s of Clark and Hill, but the poor early reliability of the green cars often gave others a chance.
After suspension problems, Surtees only qualified ninth and he made gradual progress in the opening laps. While the Brabhams and Lotuses battled at the front, Surtees joined the battle for fifth that so enthused Autosport.
Then Clark pitted with a puncture and Hulme retired with a blown head gasket. With Hill well out in front, Surtees eventually managed to break away from his group and started to close on second man Brabham.
With 10 laps to go of the 68-lapper, Hill's DFV blew up, leaving Brabham in the lead with Surtees closing and Clark catching them both. Clark swept by and into the lead on lap 61, with the Honda passing Brabham shortly afterwards. Surtees then edged back towards Clark, taking Brabham with him. On the final lap, Clark slowed with a fuel pump problem. Surtees shot past, with Brabham diving down the inside into the final corner.
With cement dust down on the inside line, Surtees elected not to defend. Brabham took the lead, but ran wide, allowing the Honda to slip back by. Brabham then tucked back into Surtees' slipstream but lost the drag race to the line by a car's length.
2. 1964 Mexican GP, Mexico City

Car: Ferrari 158
Started: 4th
Result: 2nd
Hill 39 points; Surtees 34; Clark 30. Three drivers could take the crown at the 1964 F1 finale in Mexico.
In one of the most dramatic title deciders ever, Surtees came out on top, but only after an incredible late turn of events.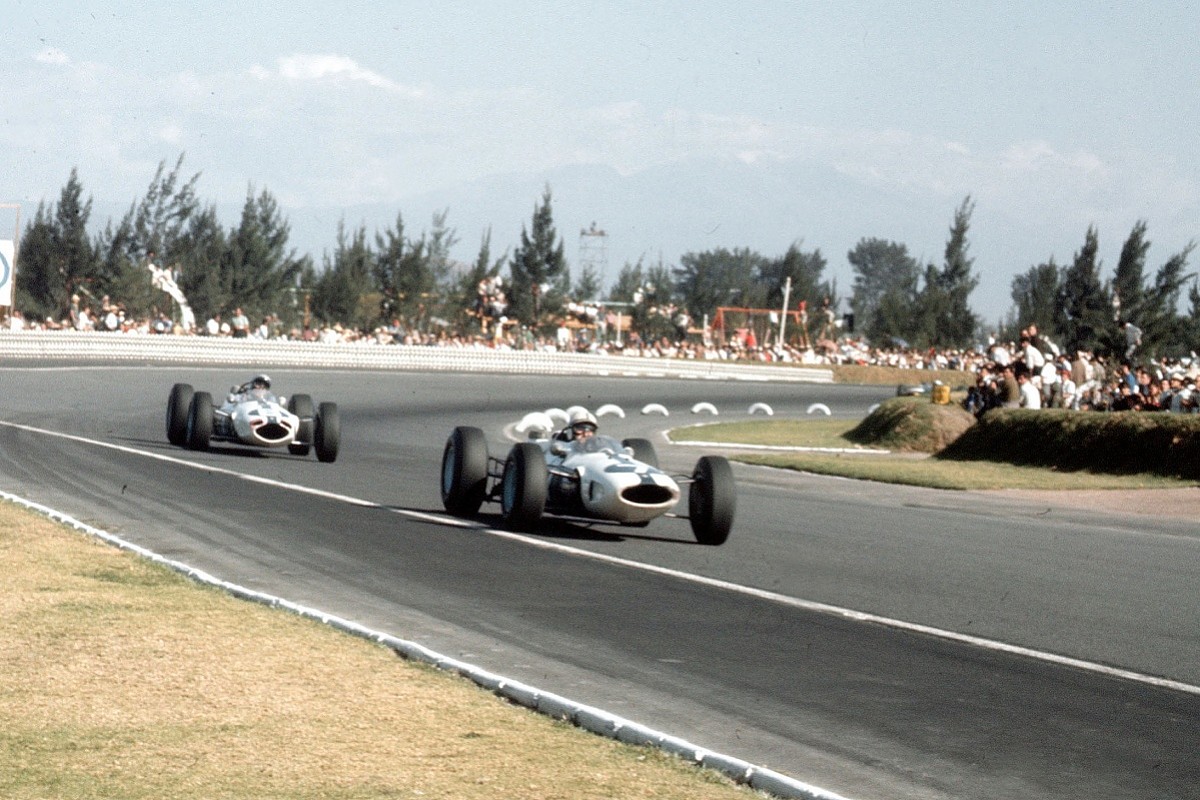 Clark comfortably took pole, with Surtees struggling into fourth with engine issues.
"We found it difficult to adjust the injection for the [high] altitude," said Surtees in a 2014 Autosport interview.
Clark simply cleared off from the start, while Surtees' engine was still playing up as he left the line and he fell into the midfield. Once hot, however, the eight-cylinder engine started to work and Surtees began his charge through the field.
He caught the fight for third between his team-mate Lorenzo Bandini and Hill. Controversially, Bandini and the BRM clashed, leaving Hill out of contention.
But Clark was still well out in front, chased by Gurney, with Bandini and Surtees next. That would be enough to allow the Lotus man to retain his crown.
Then an oil line broke on the Lotus. Gurney swept into the lead on the penultimate lap as Clark slumped to fifth. Bandini moved aside for his team leader, allowing Surtees to finish second - and take the title by one point.
Lucky he might have been in the final round, but Surtees felt that merely made up for his earlier problems - and Autosport had already put him first in its GP driver ratings for 1964.
"The 158 suffered quite a bit from being late and not having quite as much dedication into the package as we would have liked," added Surtees of his early-season unreliability and referring to Ferrari's refusal to focus on F1 until the Le Mans 24 Hours was over.
"I had some good fortune that Jim had that problem, but I think that balanced it up!"
1. 1963 German GP, Nurburgring
Car: Ferrari 156
Started: 2nd
Result: 1st
Surtees had continued his learning process in 1962, twice scoring podiums and finishing fourth in the championship for Lola. He now felt ready to join Ferrari.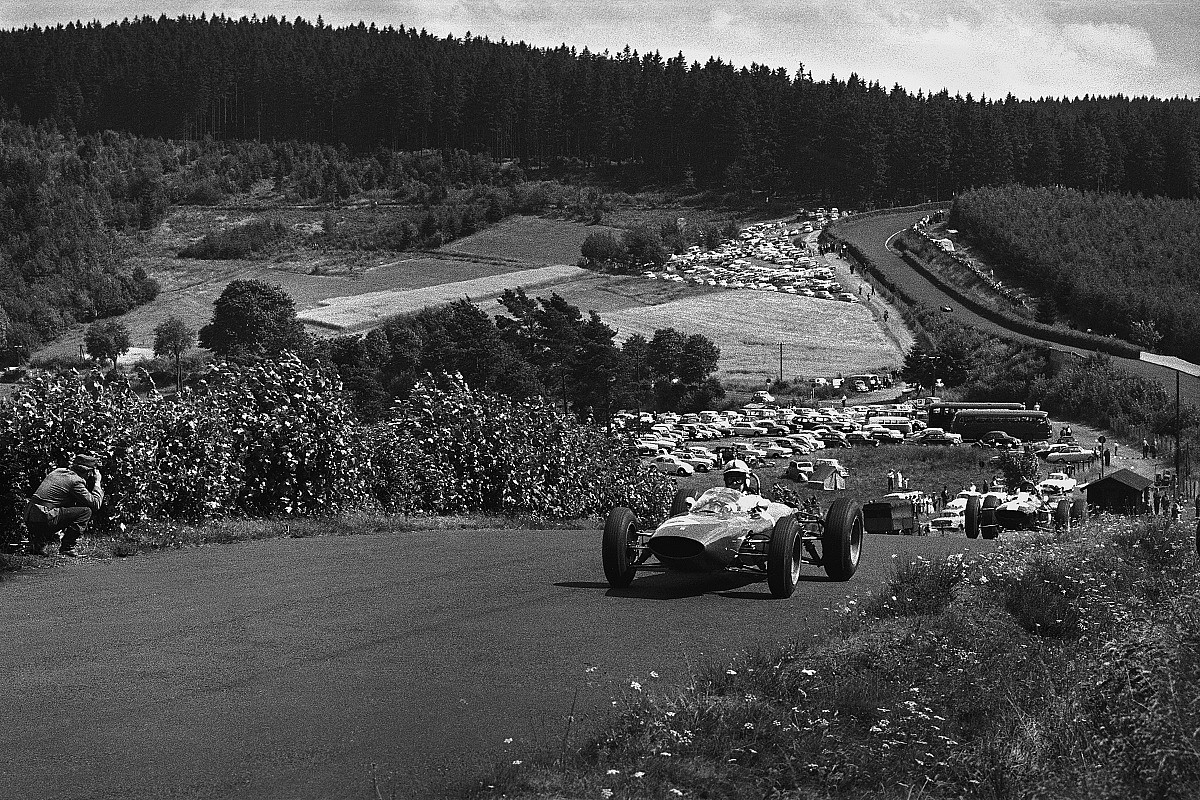 The combination proved ever-stronger and at the Nurburgring - where Surtees had only been beaten by a brilliant Hill drive in the wet in 1962 - the Briton finally scored his first world championship F1 victory.
It came in fine circumstances too, Surtees defeating the Lotus of runaway championship leader Clark in a straight fight around the world's greatest circuit, with an estimated crowd of 350,000.
Richie Ginther's BRM and the Cooper of Bruce McLaren jumped poleman Clark at the start, but they did not stay in front for long. Surtees, who also got ahead of Clark on the opening lap, soon took the lead, followed by the Lotus.
Surtees and Clark put on a superb duel, with Clark briefly getting in front on lap four before the Ferrari reasserted itself. Everyone else was left far behind.
"Surtees, driving an inspired race, began to increase his lead slightly," wrote Grant. The Ferrari was five seconds ahead at half distance.
As Surtees broke the lap record, the Climax engine in Clark's Lotus started lapsing onto seven cylinders. The Ferrari was left to complete a dominant win - over a minute clear of Clark and nearly three minutes ahead of Ginther.
"Surtees fully vindicated those who felt that, given the machine, the former champion motorcyclist would be a most difficult man to beat," reckoned Autosport.
And not forgetting
1965 Italian GP, Monza (DNF)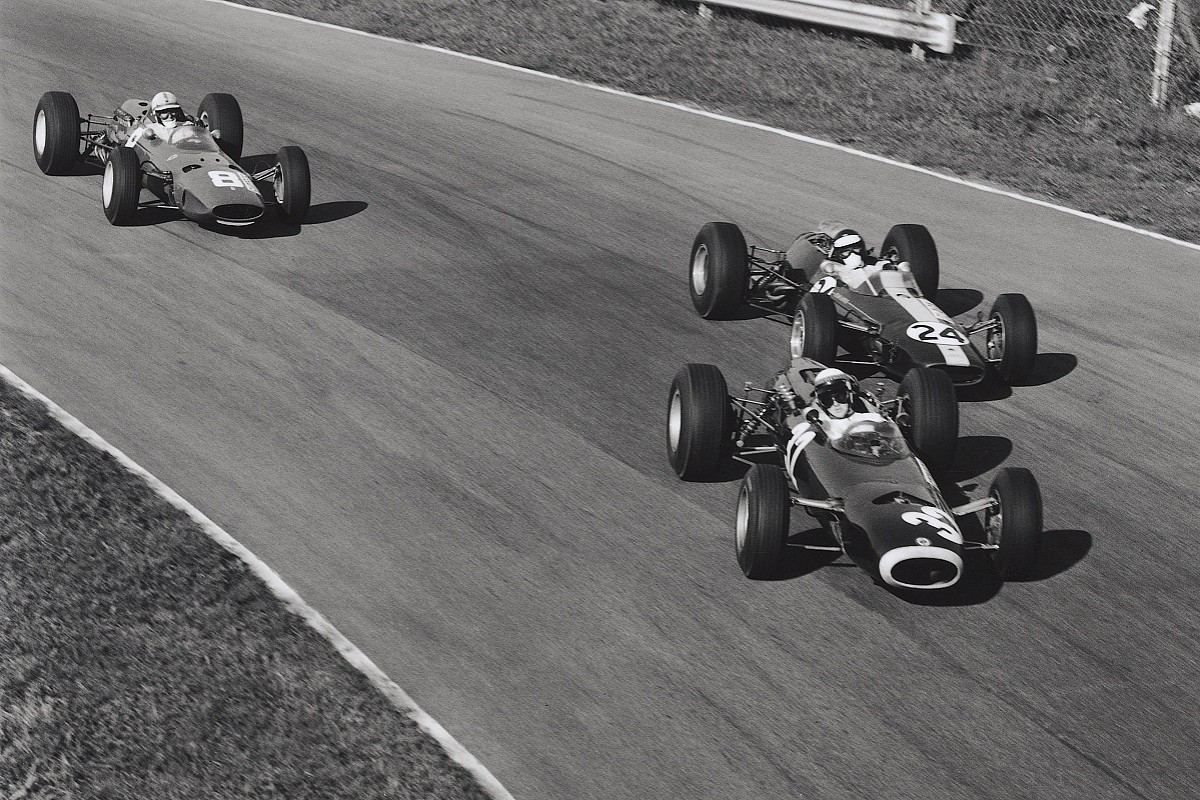 Clutch problems dropped Surtees to 14th on the opening lap, but he soon powered the new Ferrari 1512 through the field.
Shifting gear without the clutch, Surtees (pictured third behind Stewart and Clark) reached the front on lap 11. He remained engaged in the lead slipstreaming battle until clutch failure put him out.
1966 Belgian GP, Spa (1st)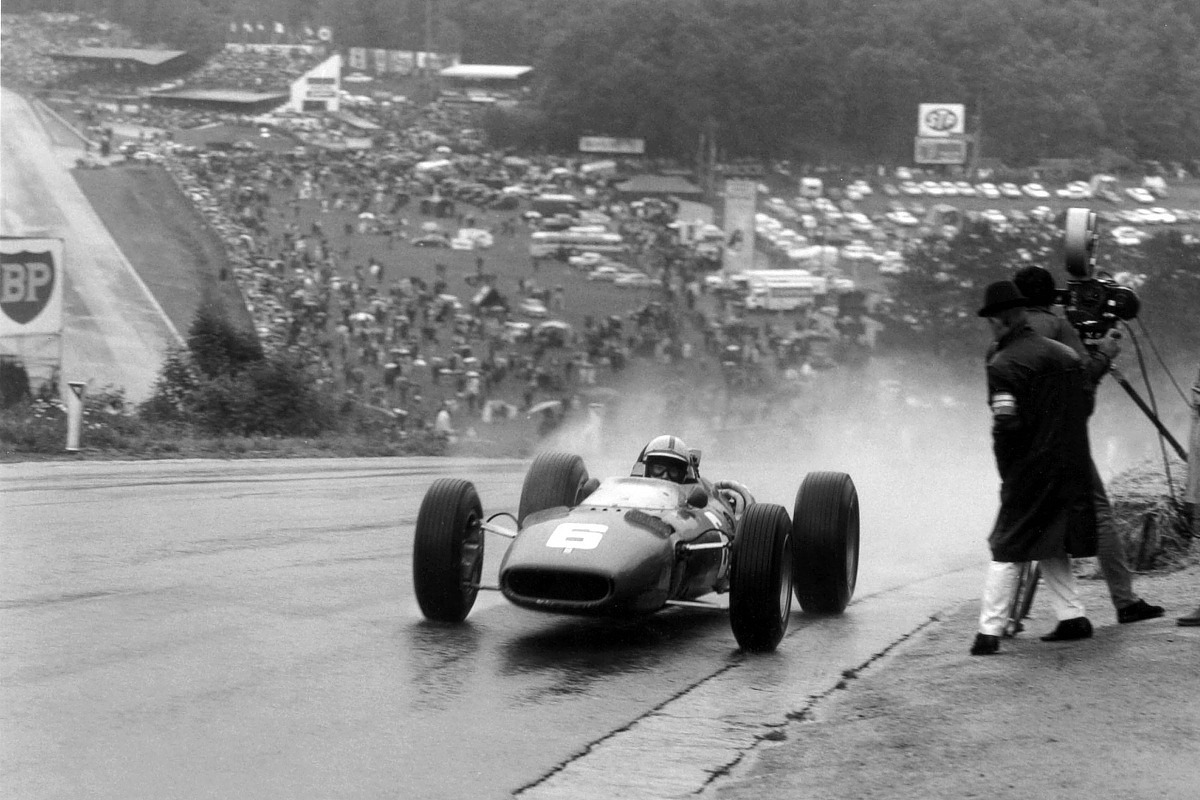 On pole by 3.2 seconds in the new Ferrari 312, Surtees chased Jochen Rindt's Cooper-Maserati for much of the race after a rain shower caused many drivers to crash.
After biding his time, Surtees moved to the front when Rindt started struggling with gearbox problems, and won by 42.1s.
1966 United States GP, Watkins Glen (3rd)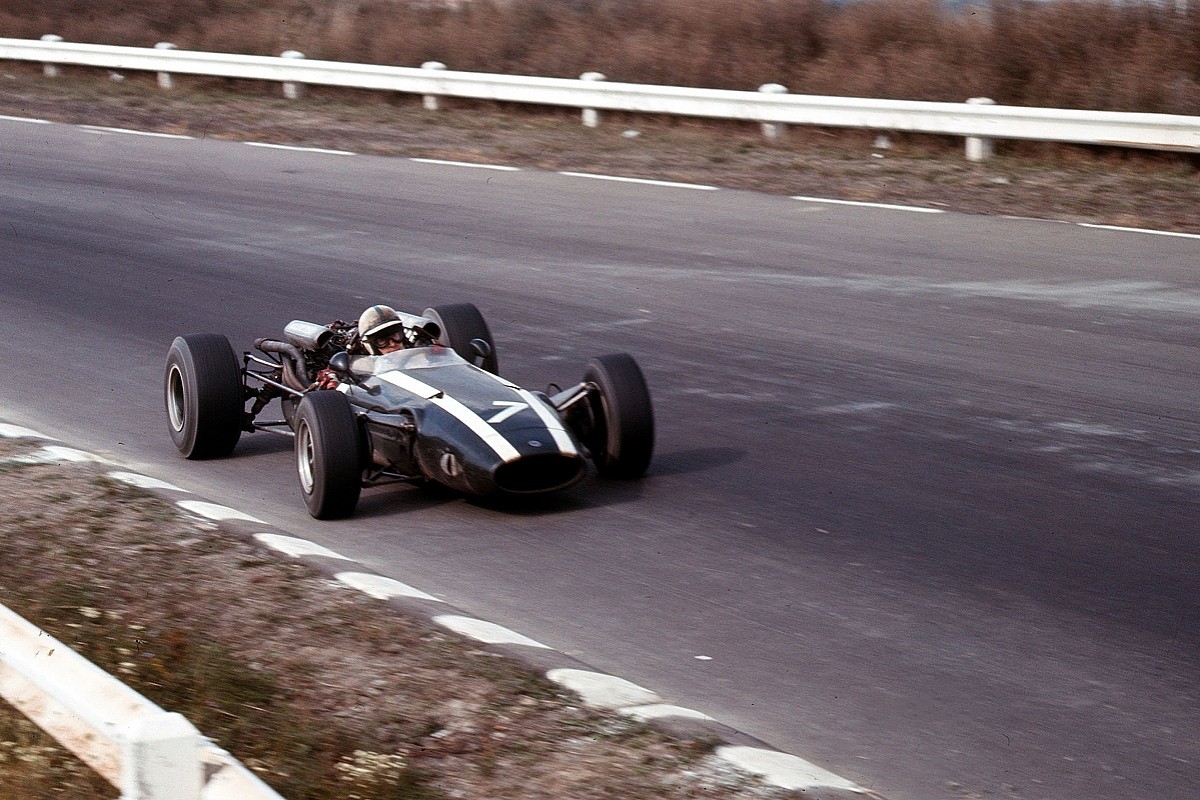 Surtees ran with Brabham and Bandini in a fight for the lead until he clashed with Peter Arundell's Lotus while trying to lap it. Surtees drove back to the pits and wasted time remonstrating with Arundell before heading back out.
He then lapped faster than the rest of the field, to such a degree that victory might have been possible without the argument.