"I was taken to a room. The desk was clear, except for one sheet of paper. Ferrari said this was the press release that would be released in half an hour saying our relationship was over. 'That's it. You are out of our team'"
Just like the man himself, the office 
of Ivan Capelli is quietly understated. Capelli was recently appointed president of the Automobile Club of Milan (ACM), yet he does not flaunt the authority that comes with high office and embraces, among many things, the Monza circuit and the Italian Grand Prix.
Capelli prefers instead to work with the same gentle enthusiasm he brought to a career spanning karts, Formula 3, Formula 3000 and 93 Formula 1 
grands prix. He led a couple of races and managed to split the all-conquering McLaren-Hondas with his March-Judd 881 at Estoril in 1988.
But the prevailing memory, in Italy at least, is of his struggle in 1992 with one of the lemons that appear periodically from Maranello.
Capelli now has a major role in Italian motorsport and the country's F1 presence © XPB
The disappointment associated with a dream turning into a career-wrecking nightmare in a matter of months is something he addresses with honesty and good humour as we adjourn for lunch in a classic Italian establishment close to the imposing automobile club headquarters. It may be a short walk but it's quite a step in another sense. Had you asked Ivan 40 years earlier, he would have known everything about AC Milan and precisely zero about the ACM.
Ivan Capelli: I was a soccer player from the ages of 10 to 14. Like all Italian children, I dreamt 
of playing for the national football team.
My father was a cameraman for Italian TV before he started his own company in the publicity business, mainly in sport. One of his clients was Parmalat, who sponsored Brabham and a number of drivers including Niki Lauda and Clay Regazzoni when they were Ferrari drivers.
My father went to Maranello one day to produce some footage and he took me with him. I was 13 years old and I loved his work because every sport was something different. My father was very strict, watching me all the time and saying: "Do not move!"
Ermanno Cuoghi was Lauda's mechanic. We were in the garage at the Fiorano circuit and Cuoghi said: "Come with me." I was really worried about moving from the spot, but I looked at my father and he said "OK." Ermanno said: "I am giving to you the possibility to dream. Take this as a very big opportunity - but do not touch anything." He put me inside the Ferrari 312T.
Maurice Hamilton: What year was this?
IC: It was 1977. So I'm 13 years old, sitting in Niki Lauda's car, the steering wheel right in front of me with Prancing Horse in the middle. It was like a hammer between my eyes! I didn't touch anything; I just sat there, experiencing the smell of motorsport - the fuel, the oil, the rubber. Seeing this steering wheel. Incredible.
Without saying anything to my father, I started to buy motorsport magazines. I was reading, drawing the cars, understanding the technology they were applying in F1... trying to get closer to that world.
MH: Were you thinking about racing then?
IC: I had no thoughts about that, but I was fascinated by what I saw. That increased when I went with my father to the Italian Grand Prix at Monza in 1977. There were no restrictions like there are now, and I was behind the guardrail with the cars 50 metres from me. 
Now I had even more intense feelings. But still 
I didn't say anything about it to my father.
A chance to try this cockpit started it all for Capelli © LAT
One day, we were watching TV and there was footage of a kart race. I said to my father: "I wonder how it feels to drive a car like that?" He didn't say anything. About 15 days later, we had a kart, engine, tyres, everything. He was crazier than me! But it was the worst kart we could have bought because it was the wrong one: a 125cc engine with gears. It was like starting with F1.
We went to a kart place and the guy said to my father: "You are crazy because you bought a kart you cannot use. Maybe for you, but not for your son." They told us what to do and we spent one winter organising ourselves, understanding how my father should become a mechanic and I should become a driver. That's how we started.
MH: When you finally drove a kart, did you like it?
IC: I can clearly remember my first lap of the San Pancrazio track in Parma. I was cruising and smiling; big grin, like an idiot.
I was very lucky because I found a driver called Pietro Sassi, who was already competing in the top class. He had a very clever mechanic called Vittorio. Pietro gave me the first idea of the racing line, teaching me how to drive. And Vittorio instructed me how to feel the differences and how to find the right setup. They were surprised by my consistency in lap time and this made them think it was worth putting in more effort to help me.
I didn't have much money. I worked for a shop connected with the circuit and would test new things they were trying and run in engines for other drivers. I was learning all the time because at that age you are a blank page. You record all the feelings; remember everything you're told.
Vittorio became my mechanic. Towards the end of my first season in 1978, he said: "Look, you have to come with me to see a driver who is competing in the world championship. You need to spend time watching him."
The monstrous Brabham-BMW was the first F1 car Capelli tried © LAT
I agreed to fly to Estoril. Vittorio didn't point out which driver, but I watched and noticed one guy doing something completely different. He had a yellow helmet. Vittorio said he was the guy. It was Ayrton Senna. I immediately understood that he was the driver I should follow. Later, in 1981, he returned to compete in the world championship at Parma. We were racing against each other and he was just in front of me on the track.
MH: Did you still think he was very special?
IC: Absolutely. He was the first driver to combine a lot of things: speed, the ability to set up the car, managing the team, attention to every detail.
MH: By today's standards, you had started karting quite late because, in 1978, you were 15.
IC: Yes, now they are starting at eight years old! 
I was 22 when I got into F1; now they are 16.
MH: Is it too young, in your opinion?
IC: It's not like it was. The cars are easy now.
MH: Certainly compared to your first F1 test which was in a Brabham-BMW turbo, wasn't it?
IC: Yes, the BT53. And it was at Brands Hatch. Can you imagine that car round there? It was only a small circuit - but that was enough. Parmalat supported Brabham and I was invited by them because I was winning the Italian F3 Championship. I stopped after 10 laps, like they told me to do.
Herbie Blash was team manager, and he said I had to get out because Davy Jones was going to have a turn. I said to Herbie that he would have to help me get out. I was holding the steering wheel and couldn't let go!
I was so shocked by the power of that engine. I was asking why I had put myself in this situation, because it was really crazy to drive that car on that track.
Stepping into the ex-Bellof Tyrrell at Brands Hatch in 1985 started Capelli's F1 career © LAT
MH: In fact, your first F1 drive would be with Tyrrell. How did that come about?
IC: I was competing in Formula 3000 and had a good race at Donington Park, which was the final round of the 1985 championship. I came through from the back of the grid - there had been a problem with my gearbox in qualifying - and finished third in wet conditions. Ken Tyrrell was at that race and came to see me afterwards. He said I did a very nice race, I was quick, and so on. He didn't say anything else.
MH: That would be typical Ken, giving nothing away. But you knew he was looking for a driver because Stefan Bellof had been killed in a sportscar race a few weeks before.
IC: That's right. I was still living with my parents. Not long after, my mum answered the phone very early in the morning. She realised it was someone speaking in English - which she couldn't understand - and handed the phone to me. The voice at the other end said: "This is Ken Tyrrell." I said: "Yeah, yeah. I'm Niki Lauda. Very funny." My friends were always making jokes like this and it wasn't until he said: "No, this is Ken Tyrrell" that I realised.
He asked if I would like to race for him in the European Grand Prix at Brands Hatch, which was coming up very soon. I said I would, but I'd like to try the car first. He said: "We only have engines for the races, so you cannot try the car." So I said: "OK, but I've only ever done a few laps in a F1 car and that was a couple of years ago on the short circuit at Brands Hatch. Maybe I can do a test with a Formula 3 car to learn the grand prix circuit?"
"No money, no time. Do you want this drive or not?"
"I don't have any money."
"Don't worry. You just have to pay the travel and the hotel. We'll take care of everything else."
"OK. I'm coming!"
Between winning the F3000 title in 1986, Capelli also made a brief F1 return with AGS © LAT
MH: How difficult was that weekend for you? The Tyrrell-Renault turbo wasn't an easy car.
IC: It was very difficult. I remember, on the dash, we had the turbo gauge which was right in front of me and really big, but the rev-counter was very small. When I said to a mechanic they were the wrong way round, he just smiled and said: "No, they're not. You'll sound find out why." 
I soon learned that the most important thing was to have the turbo always on boost, especially coming out of the corners.
MH: Drivers always say that Ken was a fantastic teacher for a young racer.
IC: Incredible. I learnt so much. He was so professional, the way he did his job. I have two memories of him which explain that. On the Friday, I made a very big mistake at the exit of the last corner [Clearways]. I was in fourth gear, pushing too hard, and I lost control. I spun four or five times, right in front of the mechanics who were having to pull their pitboards back! I got going again, but instead of just having a flat spot, the compound had actually come away on the tyres. That's how fast the spin had been.
I came down the pitlane and as I approached my pit, nobody was there. Everybody was inside the garage - except Ken. He was standing on the pit apron waiting. He signalled for me to get out of the car. I was stood in front of him - remember, Ken was nearly two metres tall - and looking up at him. He told me to take the helmet off. Then the balaclava. Then he signalled for me to remove the ear-plugs. Now I was ready to receive, you know...
MH: A telling-off?
IC: That's what I thought. But he looked me in the eye and asked what happened. I said: "I did a mistake because probably the tyres were not warm, and I was overdriving." He said: "Now you understand the risks you had spinning like that?" I said I did. He nodded and told me to put my helmet on and get back in the car. Only then did the mechanics come out to work on the car.
MH: Absolute classic Ken Tyrrell. What's the other story?
The Leyton House opportunity was Capelli's big break © LAT
IC: During qualifying, Keke Rosberg was on a flying lap in his Williams and I found myself in the middle of the road. I had spoiled his lap. He is alongside me, making gestures and I'm trying to say I'm sorry, that I didn't do it on purpose. At the corner before the hairpin, I was behind Keke's car and he braked. I crashed into the back of him. I came back into the pits and when Ken asked why the front wing was broken, I explained what had happened.
After practice, he said: "Come with me. Now we have to speak to Keke." I said: "No, no. It's OK." But Ken said it definitely wasn't OK. We walked into the Williams garage and Ken went up to Keke, who said he didn't want to talk about this. Ken said: "No! No! No! You are an experienced driver and you have to teach this young man how to behave on the circuit. You don't to have to do things like that." They start 
to argue and Keke says: "This guy's a f***ing idiot." And Ken says: "No, you are a f***ing idiot." Can you even begin to imagine something like that happening these days?
MH: I can't. We are talking about a completely different era and way of working. As far as Ken was concerned, these things were very clear and needed to be dealt with. Straight away.
IC: The next race was in Adelaide, the last of the season, and Keke won. I finished fourth but my seat was broken and I had pain in my back. In parc ferme, Keke took time to try to help the doctor get me out of the car before he went to the rostrum. Maybe he understood he'd done the wrong thing at Brands Hatch. Or he remembered the lesson Ken Tyrrell had taught him...
MH: That was a very brave performance on the bumpy streets of Adelaide. What caused the seat to break, because that's very unusual?
IC: I'd gone backwards into the barrier on Friday. The carbon-fibre seat had cracked and then it started to bend. To stay upright, I had to hold the steering wheel under acceleration and brace myself when braking. Doing this for an hour meant my back was completely finished.
MH: Afterwards, we were on the same flight home. It was in a jumbo in the days when there were economy seats in the bubble upstairs.
Capelli was one of the first in F1 to get a taste of a Newey design © LAT
IC: And we had to go up a spiral staircase.
MH: Correct. You were in the middle of three seats and the flight lasted for 26 hours because it went to Sydney, Singapore and Muscat. Each time we stopped, you could barely get up.
IC: Yes, yes, I remember. It was absolute agony. And then I had to fly to Italy after that.
MH: Fourth place in Adelaide was a fantastic result. But you didn't have the money for F1 in 1986, so you did F3000 and won the title.
IC: It's funny how things work out. That's when 
I met Akira Akagi, the owner of Leyton House...
MH: ...which led to F1 in 1987 and the eventual formation of the Leyton House March team.
IC: The first race was at Jacarepagua in 1987. Including me, my father, my manager Cesare Gariboldi, the translator, Akira Akagi, his girlfriend and another person from Leyton House, the total team was 17 people. Total!
MH: But you still managed to finish sixth at Monaco. That was quite a result.
IC: It was, because I think it helped convince Akira Akagi that the project was an important one for him. As soon as he started his deal with March, he learnt that becoming an owner of a Formula 1 team put him at a high social level in Japan. He was obviously already very rich, but 
in Japan you need to be more than rich to be considered on a very high level. The F1 team gave him the credentials to enter in some higher areas.
MH: The next big thing then was getting Adrian Newey on board. Did you know about him?
IC: They told me this clever young engineer was going to draw our car. Other than that, I didn't know much about him The 1988 car [the March 881] was very nice, opening a new F1 concept.
MH: But it was narrow... very narrow.
IC: When I first tried it, I discovered how small the hole for the driver's legs was in the bulkhead: 25cm by 25cm. I had to get in with one leg on top of the other. The steering wheel was 25cm; it was like driving without power steering.
France 1990: The Leyton House pitwall signals to Capelli that he's leading the race ahead of Alain Prost's McLaren © LAT
MH: And what about your knuckles?
IC: The monocoque was very high, so the steering wheel was inside and so close to the carbon fibre. It was painful to drive that car.
MH: Wasn't there a regulation that you had to be able to evacuate the cockpit in a certain time?
IC: There was, yes. We had to make a special seat to get out. And a special steering column to help get your legs out. We were crazy! The other thing I found when I first sat in the car was that I couldn't actually get my hand around the gear lever.
I asked Adrian what we could do. He said: "Stay there," and called a mechanic. They took out the gear lever and went to the back of the garage. I heard this 'Bang! Bang! Boom! Boom!' and Adrian came back with the gear lever completely bent forward at an angle. He said: "Can you get it now?" When I said I could, he said I'd have to learn how to use it like that.
MH: So the lever was now more or less parallel with the chassis and you were having to lift it up and down instead of going back and forward?
IC: That's right. We did one season like that.
MH: That can't have been easy. And yet you had some good results that year.
IC: We finished second in Estoril, third at Spa.
MH: Respect! And you briefly led at Suzuka.
IC: Yes. Again, with rain, I was between Alain Prost and Ayrton Senna in the McLaren-Hondas.
MH: It's typical of F1 that after a good season '89 was bad. In fact, it was bad in many respects...
IC: It was. Cesare Gariboldi had a fatal accident in his car. He started the Leyton House project and I had a fantastic relationship with him. In 1989, the car was no good and we also had the problem that Adrian chose to move to Williams.
Joining Ferrari changed perceptions of Capelli in Italy © LAT
MH: But you survived and 1990 and '91 were good. Which led to the offer from Ferrari. A time when you must have wished Cesare was by your side was when the Ferrari season went so wrong. I don't know how much you want to talk about that. It's probably pretty painful, even now.
IC: When Ferrari said they would like to give me the chance to drive with Jean Alesi in 1992, I already had a contract with Scuderia Italia, but Ferrari said it was no problem. But the Ferrari contract was blind in terms of understanding the kind of project they were developing; what kind of car. But it was Ferrari. So I signed and found myself, 29 years old, at Ferrari with the F92A.
When I saw it for the first time I thought it must be a fantastic car with its double flat bottom; it looked like a fighter. At the first test in Estoril, Williams were developing electronic suspension and were 1.5 seconds quicker. And we realised immediately we had a big problem. At that test, Jean had the F92A and I had the old car. I always had to carry at least 150 litres of fuel to keep the car slow. Meanwhile, Jean was saying the car was fantastic - that we would win races.
On the last day, they let me drive the car in the afternoon. I found that Jean was driving with a different setup to what I liked, so I tried to change it. The car had a lot of problems; the mono-shock system did not work well, the car bounced a lot and I couldn't feel the downforce you would expect from the double floor.
So, one driver is saying he'll win, and the other driver is saying the car is - without using the word - shit. I said we'd have to work hard to put together a car that let me compete with the others. They said, no; they had to follow Jean. From the start, I was outside the team.
MH: Was the pressure of being a Ferrari driver worse than you expected?
Capelli thought the 1992 Ferrari looked incredible. Then he drove it... © LAT
IC: In Italy, there is a big difference between the two Ferrari drivers and everyone else on the grid. When I was a Leyton House driver, I could go to the pizzeria near my house with friends. I would say, "We are four people," and they would say, "It's a 20-minute wait." After I became a Ferrari driver, same place with my friends, they threw people out to give me a table. I said I would wait but they insisted I come in and sit down.
Going from Milan to Maranello to sign the contract, I stopped for petrol on the motorway near Piacenza. It was about 7am. I paid and went on. Later that day, Maranello issued the press release that said Ivan Capelli is becoming a Ferrari driver for the '92 season. In the evening, going back to Milan, I stopped in the same petrol station but on the other side of the motorway. I was there for nearly 20 minutes because people were taking photographs, getting autographs. In 12 hours, my life had changed completely.
MH: So you had all that, but you were struggling with the car and not getting results. That must have been very hard, particularly for an Italian?
IC: Very hard because I had been dreaming about this from the very beginning. When I tested the car for the first time in Fiorano, I closed my eyes in the cockpit just for a few seconds and I was thinking of my father, of Ermanno Cuoghi putting me in Niki Lauda's car. And now I had the Prancing Horse on my steering wheel; my car. It was a nice moment. But can you imagine the pressure that brings?
MH: I can only begin to understand. How did you feel at the end of that year?
IC: I felt very alone because I didn't have anyone to help me. I felt everybody except my mechanics and my engineer was trying to push me down. They were so quick to criticise.
MH: Even worse, you weren't allowed to finish the season. How was that handled?
IC: I'll tell you exactly. After Estoril, the third race from the end of the season, I received a phone call from the secretary of Luca Di Montezemolo, calling me to Maranello. I got there, but, instead of going to the president's office, I was taken to a room where there was the team manager Sante Ghedini, the press officer and Harvey Postlethwaite. Three chairs on one side of the table and one for me on the other side. The desk was clear, except for one sheet of paper, face down.
They said this was the press release that would be released in half an hour saying our relationship was over. "That's it. We will pay all of the contract in terms of money but because we want to develop the suspension for next year with Nicola Larini, you are out of our team."
I didn't have a manager, so I asked if I could make a phone call. I went into another office and called my father and told him they were giving me half an hour. He said: "Don't worry. We don't need this any more. Just say goodbye" - he used other words - "and come home."
It was like a dream that became a nightmare, every day getting worse and worse. I was sharing my life with the woman who in 1993 would become my wife, and I remember I developed a rash because I was so anxious. She almost had to tie my hands to stop me making it bleed because of the situation where, even if everybody knew the car was not good, Capelli was at fault.
A final fling with Jordan didn't work out © LAT
MH: And then your old friend Ian Phillips invited you to try the Jordan.
IC: Yes, let's say I found another new experience. If Ken Tyrrell and Akira Akagi were icons in my F1 life because of their attitude, we can say that Eddie Jordan had another kind of attitude even though he was an icon, especially in that period. Eddie was really tough because I should have put together $1million of sponsorship to race for him. I was able to find just $250,000.
The Jordan was no good, and I put pressure on myself by approaching F1 with revenge. That's the worst thing you can do because you overdrive the car and can't control the situation. After two races, Eddie said that if I didn't have the money, I couldn't race. I said to Eddie: "If after 93 races I 
still have to pay to drive, there is something wrong with F1". So I stopped.
MH: One thing before we finish. In 1988, I was in the press room after the race in Montreal. I looked out the window and saw you feeding seagulls on the pit straight. I went down and took a photo. Do you remember what happened?
IC: Yes, I remember it well. I was giving them some food and a van with McLaren mechanics came through and killed at least two or three. We reported this to Ron Dennis and, I remember very well, Ron fined the mechanics and this money went to an association to save wild birds.
MH: You seemed very at peace out there on your own until this happened.
IC: I liked that time of the weekend. It was important to me to have all the pictures of the weekend; starting on Thursday with all the preparation, then practice and qualifying, then the race when the noise and atmosphere is at its peak. In the evening after the race, at Hockenheim for instance, I would walk into the middle of the autodrom to experience the silence. That really gave me a special feeling.
MH: And I have to say, Ivan, this has been very special, too. Thank you so much.
This feature also appears in the latest issue of F1 Racing, along with an extensive review of the 2014 season.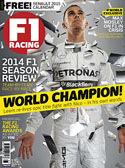 Lewis Hamilton and Nico Rosberg's epic title battle is relived by the protagonists, while Peter Windsor gives his expert analysis of all the key events and storylines of the year just ended.
The issue also includes:
* The F1 Racing Awards: find out who topped the reader poll
* In a world exclusive, former FIA president Max Mosley offers his view of F1's financial state
* Kevin Magnussen recounts the highs and lows of his rookie season