Fernando Alonso's love affair with Japanese samurai philosopher Miyamoto Musashi is well documented; you only need to see his back and neck tattoo to see the warrior he carries into battle with him.
But even he could do with revisiting the famous 'Book of Five Rings' in greater depths after a weekend of off-track battles in Hungary.
For while he often makes reference to learning from the ancient Japanese swordmen's spirit to help his own title ambitions, he could also rediscover a thing or two about how opponents use the same tactics to bring him down.
"In battle, if you make your opponent flinch, you have already won."
Musashi's comment sums up perfectly how Ferrari and Alonso found themselves at the eye of a storm on a Hungarian Grand Prix weekend that tested their spirit to the maximum.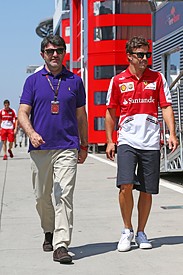 Luis Garcia Abad and Fernando Alonso © XPB
Whatever the ultimate motivation of Alonso's manager Luis Garcia Abad going to see Christian Horner at the Red Bull motorhome, it was how that single event has been used in the interests of those involved that is perhaps more intriguing.
For this is a classic case of conspiracy; manipulating affairs to deliver your own end game. It's about making rivals flinch. It's the art of war; in a sport that is pure war.
Exactly what was said in the conversation between Abad and Horner will only ever be known to the two men who were there, and even their versions of that same chat may well be very different.
But while Abad insists they talked only about Carlos Sainz Jr, Red Bull sources with good knowledge of the situation insist the topic of Alonso being potentially available and interested did come up - and caused some surprise because the team always believed he was locked in to Ferrari for years.
So we have two versions of the same event, with a reality probably somewhere in the middle.
Ultimately, is it conceivable that the manager of one of the sport's biggest stars would meet with the team boss of its most successful team that has a vacant seat and not at some point talk about their own current situations?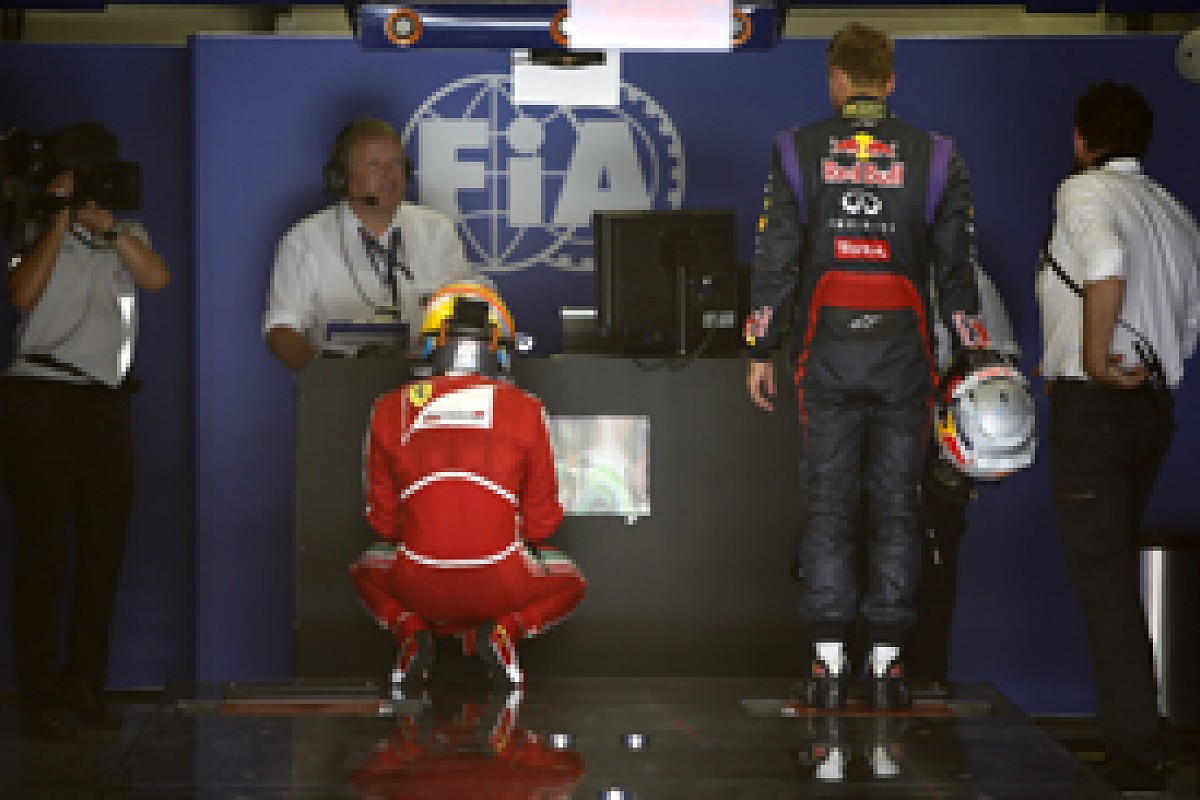 Seeing Vettel escape again is not pleasant for Alonso © LAT
In some senses it would be more a surprise if they didn't - and you could even argue that Abad would not be doing his job if he had not sounded out Red Bull and let them know of Alonso's true contractual situation; just as Horner would want to know for definite that Alonso was completely locked down.
It is the duty of every driver manager in the paddock to know exactly what seats are available and what the situation of their men is; just as it is the duty of every team principal to know exactly which drivers are and are not on potential shopping lists.
But there is a big jump between the notion that a driver could in theory be available, and it actually being a push for the seat with all the huge political implications that would cause.
Like everything in life where money is involved, knowledge becomes power; and in the tight-knit world of F1, people sense opportunities to use the knowledge to get more power.
"If you do not control the enemy, the enemy will control you."
Red Bull, knowing full well the trouble that potential 'Alonso wants out of Ferrari' headlines would cause at Maranello, was never going to bat the matter away once the story emerged.
It suits it to cause a bit of trouble to its opposition, just as it also serves to remind Kimi Raikkonen's management that perhaps they should be realistic in demands for the 2014 seat because there could be other options out there.
Ferrari has not maintained its momentum © LAT
On the Alonso front, it suited him to not go out of his way and pledge total allegiance to Ferrari - even when offered the opportunity once the Red Bull rumours were in full swing.
Keeping the speculation out there serves as a reminder that he and his efforts should not be taken for granted, and that there is a duty at the team to deliver him the equipment he wants for the championship. This is especially true at what is a difficult stage of the campaign for Ferrari.
That was almost certainly the intention of his television answers on Sunday night when he half-jokingly suggested that he wanted 'a car like the others' when pushed for what he desired for his birthday.
Of course, the manner that those comments were interpreted - allied to the Red Bull rumours - left Luca di Montezemolo distinctly unimpressed: and led to one of the more remarkable press releases of modern times when it was made clear in no uncertain terms where Alonso's loyalties must lie.
"You should not have any special fondness for a particular weapon, or anything else, for that matter. Too much is the same as not enough. Without imitating anyone else, you should have as much weaponry as suits you."
All drivers, in their down moments, privately dream of what it would be like to have a dominant Red Bull underneath them. Alonso is almost certainly no different - and he has come close to a drive there in the past.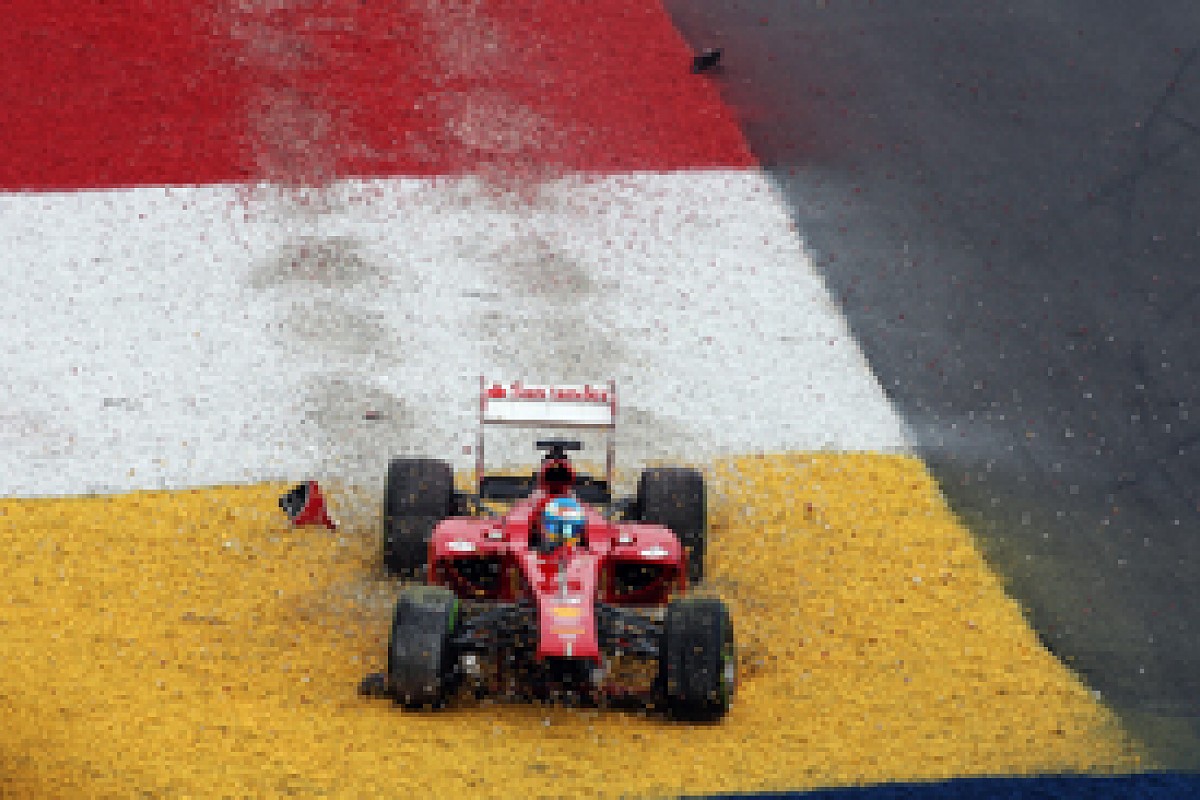 The Malaysian GP crash was an early setback for Alonso - should Ferrari have brought him in? © XPB
Equally, such thoughts must surface on the back of the kind of frustrations he has had during his 2013 campaign. There have been the missed opportunities in Malaysia and Bahrain; the much-vaunted updates in Britain not delivering; the ongoing windtunnel correlation issues, and the political wranglings over tyres.
But equally Alonso knows Ferrari has the capabilities to get it right; he has won races on pure pace already this season and it can happen again.
Alonso's comments, and the Red Bull media circus, have to be interpreted as just his way of putting the metaphorical knife in the mouth of the members of staff at the team to get on with it - exactly what di Montezemolo did on Monday.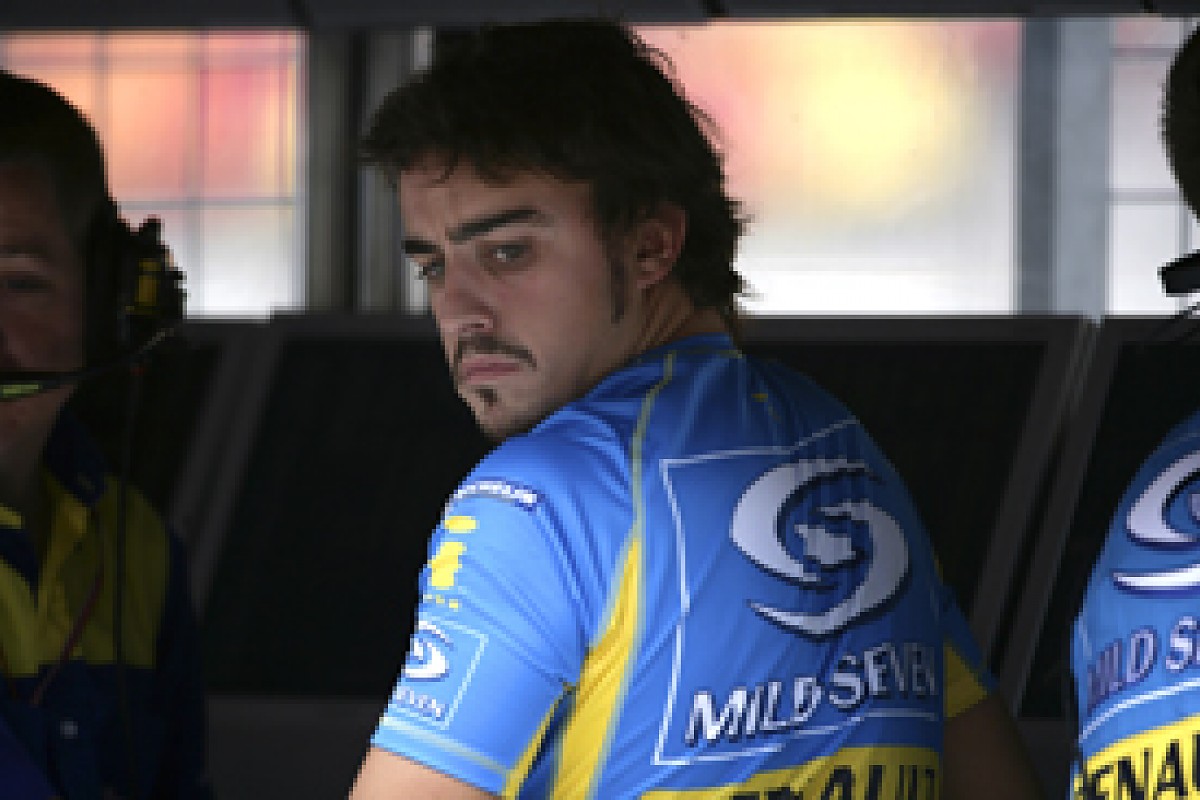 Alonso put pressure on his Renault team late in the 2006 title chase © LAT
It's a tactic Alonso has employed before - remember him feeling 'alone' at Renault en route to the 2006 championship - and it's one that will no doubt reappear again. It's a call to arms. He doesn't want to leave - he wants Ferrari to be successful with him.
If Fernando was going to lose faith in the future and start looking outside his current surroundings, then now would not be the time to do it. Equally, Red Bull knows that an Alonso/Vettel partnership would never work.
Ferrari has acted on the weaknesses in its technical structure to secure the services of James Allison - and has been bold enough to restructure the role of Pat Fry to ensure it gets the best out of both men.
Amid all the furore over 'testing' this year, Ferrari is also at Magny-Cours this week with a 2011 car working on simulator correlation data gathering to ramp up its efforts on that front. This is the very action that Alonso wants to see.
"The only reason a warrior is alive is to fight, and the only reason a warrior fights is to win."
Whatever people suggest about where Ferrari and Alonso go on from here, there is one truth that cannot be denied.
It is that Ferrari wants nothing more than to win a championship with Alonso; and Alonso wants nothing more than to win a championship with Ferrari.
That is where this story starts and ends.