RACE
• This was the third career win for Nico Rosberg, his first without starting from pole. It's also Mercedes' 12th win across the two incarnations of its works team, the first at Silverstone and the first in the British Grand Prix since 1955, when Stirling Moss, Juan Manuel Fangio and Karl Kling monopolised the Aintree podium, lapping the entire field.
• Mark Webber recorded his fifth straight podium at Silverstone. It's the 37th of his career, equal with Riccardo Patrese at 19th in the all-time list. Only one other driver has scored podiums at Silverstone in five consecutive years: Kimi Raikkonen, from 2003-07.
• After Silverstone, Ferrari counts 500 races on the podium out of 859 started (674 total podium places).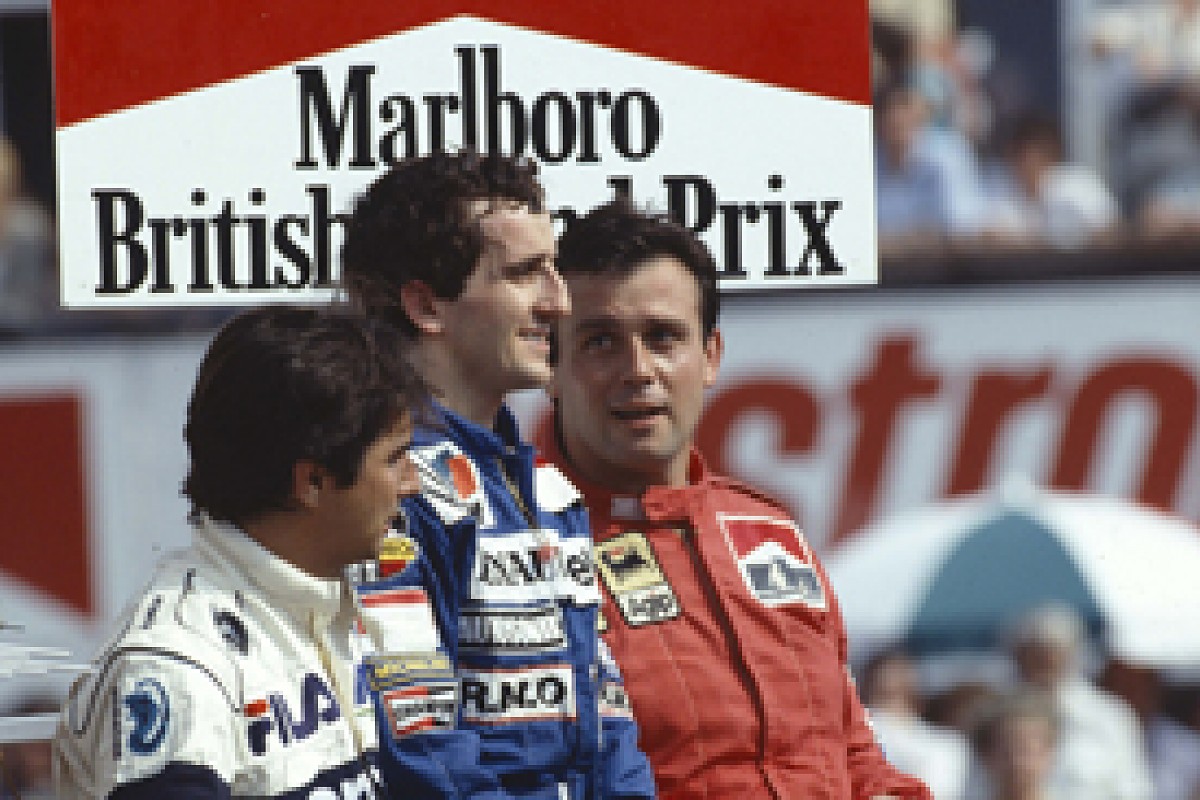 Alain Prost's first Silverstone podium came when he won in 1983 © LAT
• This was the 150th race in the points for Fernando Alonso, and his sixth podium at Silverstone - the same number as Alain Prost and Rubens Barrichello and just behind Michael Schumacher (seven).
• Kimi Raikkonen is the first driver in history to record 25 consecutive races in the points. His last non-score was the 2012 Chinese Grand Prix, which is also the only race where he hasn't scored since his F1 comeback. Raikkonen is also the only driver who has won points in every race this year.
• Felipe Massa recorded the best start of the year, gaining six places on the opening lap.
• Adrian Sutil came close to his maiden podium: seven laps to the end he was running third, but he eventually finished seventh. He's now notched up 98 races with no podiums - the same as Pedro Diniz at the end of his career. Diniz and Sutil are third in this ranking, behind Pierluigi Martini (119) and Philippe Alliot (109).
• Sebastian Vettel suffered a mechanical failure while leading the race, which also happened at the European Grand Prix last year, Abu Dhabi in 2011, and Korea, Australia and Bahrain in 2010.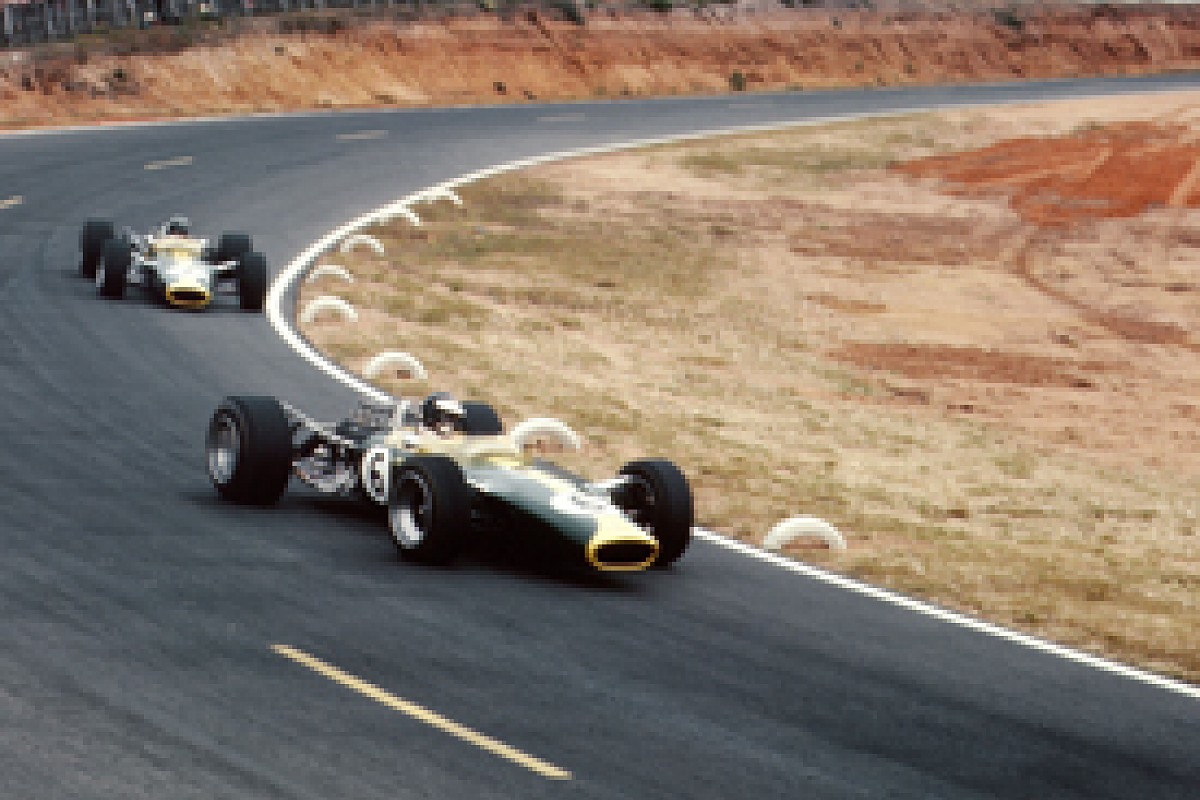 Vettel has now led more F1 kilometres than Jim Clark © LAT
At Silverstone, though, when Hamilton had his puncture, Vettel became the fifth driver in history to have led for at least 10,000km. He led for 33 laps, passing Jim Clark (10,125km) in the process. Now the all-time rankings have Michael Schumacher on top with 24,144km led, followed by Ayrton Senna (13,676km), Alain Prost (12,481km) and Vettel (10,193km).
This was the first technical failure for the German since his alternator issue at Monza last year. In the 14 races that followed, Vettel collected seven wins, four more podium places and always finished in the top six.
• For the first time in its history, Force India has scored points with both cars in three straight races.
• McLaren was left without points in its home race for the first time since 2009. It has also now failed to score in back-to-back grands prix. This hasn't happened since 2009, when it was pointless for a string of four races, from Spain to Great Britain.
QUALIFYING
• Lewis Hamilton scored his 28th pole, now only one shy of Juan Manuel Fangio. This was his fourth straight front-row start, a feat not matched since the 2011 German to Italian Grands Prix.
In the race he failed to convert his pole spot into a win, finishing fourth. This is the fifth straight time this has happened, after the 2013 Chinese Grand Prix (third), Brazil (accident), Abu Dhabi (fuel pressure) and Singapore (gearbox) last year. Lewis's last win from pole came at Monza last year.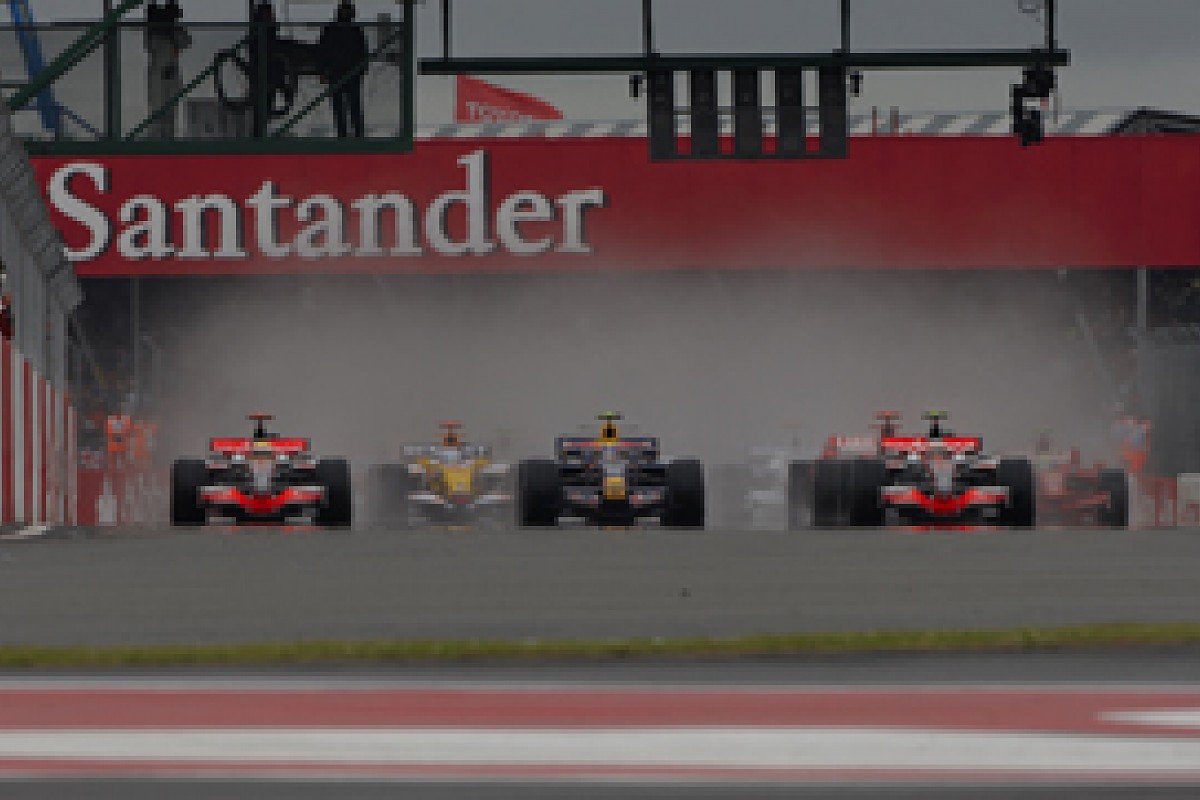 Even before Red Bull hit race-winning form, Webber got it on the front row at Silverstone in 2008 © LAT
• Nico Rosberg completed the third front-row lockout of the season for Mercedes after Spain and Monaco. Stirling Moss and Juan Manuel Fangio were first and second on the grid for the Silver Arrows in the 1955 British Grand Prix at Aintree (pictured top).
• With two cars on the second row, this was Red Bull's worst grid placement here in the last five years. It missed a front-row spot at Silverstone for the first time since 2007.
• Fifth place was Daniel Ricciardo's best career finish, up from the sixth he took at last year's Bahrain Grand Prix. Paul di Resta's disqualification allowed Toro Rosso to record a top-five grid spot for the third time in its history - in the 2008 Italian Grand Prix Sebastian Vettel started from pole and Sebastien Bourdais from fourth.
• Romain Grosjean outqualified his Lotus team-mate Kimi Raikkonen for the first time after 12 straight races.
• A disappointing qualifying session for Ferrari: Fernando Alonso recorded his worst grid spot (ninth) since last year's Italian Grand Prix, when he was 10th after a suspension issue.
This was a negative landmark for Alonso, as he equalled his longest front-row drought. The Spaniard has missed the front row for 18 straight races, the same number as his first season with Minardi (17, pictured below) plus his first race with Renault. He scored his maiden pole at his 19th race, in Malaysia 2003. Felipe Massa was 11th, so they recorded the same grid spots as Ferrari had at Silverstone back in 2009.
• Jenson Button missed the third qualifying stint in back-to-back races for the first time since Spain and Monaco last year (but he was back in the top 10 thanks to di Resta's penalty).